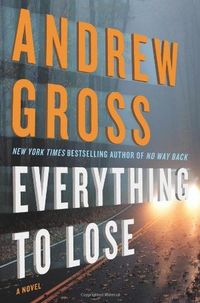 Purchase
William Morrow
May 2014
On Sale: April 22, 2014
Featuring: Hilary Blum
336 pages
ISBN: 0061656003
EAN: 9780061656002
Kindle: B00E3CV24Y
Hardcover / e-Book
Add to Wish List

A determined, (down on her luck,) mother caring for her handicapped son becomes entangled in a murderous conspiracy to keep a twenty year old secret buried in this blistering thriller, set during the tragic aftermath of Hurricane Sandy, from Andrew Gross, the New York Times bestselling author of 15 Seconds and No Way Back.
While driving along a suburban back road, Hilary Blum, who's just lost her job and whose deadbeat husband has left her alone to care for her son with Asperger's, witnesses a freakish accident. A car ahead of her careens down a hill and slams into a tree. Stopping to help, she discovers the driver dead—and a satchel stuffed with a half a million dollars.
That money could prevent her family's ruin and keep her special needs son in school. In an instant, this honest, achieving woman who has always done the responsible thing makes a decision that puts her in the center of maelstrom of dark consequences and life-threatening recriminations—a terrifying scheme involving a twenty-year-old murder, an old woman who's life has been washed out to sea, and a powerful figure bent to keep the secret that can destroy him hidden.
With everything to lose, everything she loves, Hilary connects to a determined cop from Staten Island, reeling from the disaster of Sandy, to bring down an enemy who will stop at nothing to keep what that money was meant to silence, still buried.
Comments
13 comments posted.
Sounds very good. I have not read his books yet.
(Sue Brandes 10:20am May 19, 2014)
This sounds like a book I would enjoy reading. Thanks for the sweepstakes.
(Anna Speed 12:19pm May 19, 2014)
Good luck on your new release. You are in good company with James Patterson.
(Susan Coster 12:55pm May 19, 2014)
You are a new author to me but I love James Patterson so I am
going to give you a try.
(Denise Austin 3:54pm May 19, 2014)
working with James Patterson must have been enlightening. Good luck to you and can not wait to read you book.
(MaryEllen Hanneman 4:03pm May 19, 2014)
Really enjoyed 15 Seconds! Hope to win!
(Diane Pollock 7:16pm May 19, 2014)
James Patterson is a good writer so your books will be good reading
(Ron Frampton 7:52am May 20, 2014)
Working with Patterson has to have been a great experience.
(Pam Howell 10:25am May 20, 2014)
You couldn't have started out with a better mentor, and I'm
looking forward to reading your book. It sounds like the
plot is going to be a real page-turner, and I'm looking
forward to having a good book to read to usher in Spring
with!! Congratulations on your latest book, and good luck
with your future writing!!
(Peggy Roberson 10:57am May 20, 2014)
How fortunate. Your book would be enthralling. best wishes.
(Sharon Berger 11:06am May 20, 2014)
Ohhhh.....sounds good!!
What a list of people you have worked with! Wow!
(Lisa Hutson 3:24pm May 20, 2014)
One moment, one decision, that can change your life forever...now that's a story. Would love to read this book.
(Brenda Rumsey 7:23pm May 20, 2014)
Hi Andrew. I've loved your books ever since The Jester!
(MaryAnne Banks 10:22pm May 20, 2014)
Registered users may leave comments.
Log in or register now!