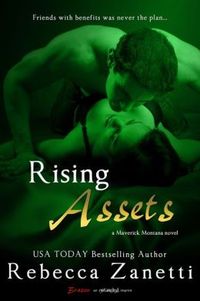 Purchase
Friends with benefits was never the plan?
Maverick Montana #3
Entangled Brazen
April 2014
On Sale: March 31, 2014
Featuring: Melanie Jacobs; Colton Freeze
155 pages
ISBN: 1622665392
EAN: 9781622665396
Kindle: B00IQOFT5I
e-Book
Add to Wish List

Melanie Jacobs is in trouble. With three jobs—including running her ranch—and dwindling funds, she's exhausted. Not to mention desperately trying to hide a secret. Unfortunately, her best friend Colton Freeze knows all too well that's something is going on, and he won't give up until he knows exactly what he needs to fix.
Then Colton learns the truth—that Melanie's future happiness rests in the fickle hands of fate, and her chances for having a family are shrinking with every passing day. Her only comfort is Colton, but when a heated argument between them turns into an even hotter kiss, the boundaries of their friendship are erased, leaving only a scorching-hot hunger for more.
Every kiss—every touch—is a stolen pleasure. But will their new friends-with-sexy-benefits arrangement bring them closer together, or destroy everything they once shared?
Maverick Montana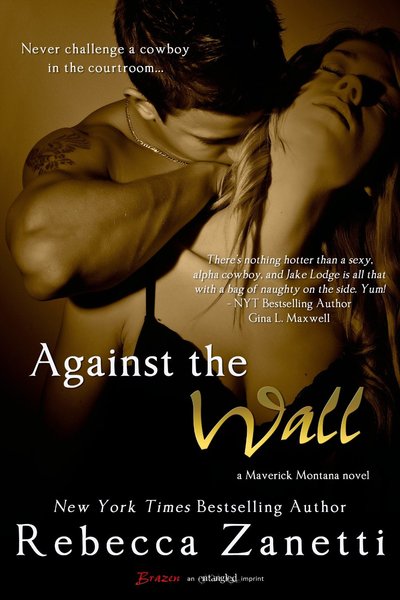 Against The Wall
#1.0
Kindle | BN.com | | |

Under the Covers
#2.0
Kindle | BN.com | | |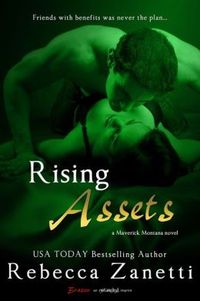 Rising Assets
#3.0
Kindle | BN.com | | |
Comments
21 comments posted.
Re: Rising Assets

What makes me crazy? Someone talking to me when I'm reading a really good book! Can't they see the "Do not disturb" on the cover?
(Jen Barnard 1:21am April 3, 2014)
Family. Especially brothers, they know just what buttons to push.

We use to tease my cousin, before she married, that every time she
needed to do a deep clean she would just move, she moved that often for a
while.

I've been looking at this book for a while & if I'm buying it! I just have to talk
myself into it.
(Laura Gullickson 1:30am April 3, 2014)
What makes me crazy?? My world class husband not rinsing out his milk glass. Grrr....
(Lisa Hutson 6:47am April 3, 2014)
People who think they're always right, even when they're not.
(Karin Anderson 9:40am April 3, 2014)
What makes me crazy? Intolerance and people thinking they "know better." But, poor and reckless drivers are a main reason I try to limit my driving to necessary trips, only.
(Michelle Mazuros 10:19am April 3, 2014)
People being unorganized. We were at Disney World last week and waiting for our food in those lines was crazy. They take the orders quickly, but the people in the back getting it together needed help. At times we'd see our tray sitting there for 3 - 5 minutes just waiting for someone to hand it to us. Every time this happened, I'd tell my hubby "If I was running this, they would be doing this and not doing that." He just humored me.
(Sue Galuska 12:04pm April 3, 2014)
What/who drives me crazy? Folks who just don't know when to stop talking....people who put on their turn signals WHILE THEY ARE TURNING or who cut you off only to make a turn a few seconds later....so, what's the rush?
(Felicia Ciaudelli 12:45pm April 3, 2014)
Hmmm, what makes me crazy... sometimes my family... little quirks that bug me big time!
(Colleen Conklin 12:50pm April 3, 2014)
What makes me crazy is when I am reading a really good book and I keep
getting interrupted. It's like everyone knows I am at a really good part!!!
Or when you are telling a friend about a great book you are reading that
they have already read and they ruin the end for you.
(Hillary Kaltenbach 12:55pm April 3, 2014)
Getting interrupted when reading, studying or listening to a favorite television program. Thanks for the giveaway.
(Kathleen Beale 4:59pm April 3, 2014)
i dont have much that drives me crazy
(Denise Smith 8:17pm April 3, 2014)
getting interrupted constantly when I am immersed in an
awesome book...
(Nyala Edwards 10:33pm April 3, 2014)
Samsung has quietly listed its latest Galaxy S3 Neo
smartphone on its India site without pricing and
availability details. Notably, the Samsung Galaxy S3 Neo
appears to be an India variant of the Galaxy S…

Science technology news
(Hema Cute 3:48am April 4, 2014)
I am so glad that authors "hear voices", it makes a book more interesting, especially when the authors talk back in print. I think its really called having a wonderful imagination and being able to write what you see and hear. If the book is something I am interested in, I hate to leave a page just to do something like answer a phone or the doorbell. Your latest book sounds just like a good one to get lost in.
(C Culp 5:38am April 4, 2014)
Moving again would make me crazy. We last moved when my son
was 4 and daughter 2 -- they are currently 19 and 18. I've
sworn that if my husband ever wants to move he has to drug
me and show the house with me passed out in our bed. I will
NOT participate. :-)

Also, 2 faced people who kiss up and complement everything
about you to your face when you both know they don't like
you. Please people. Let's just be honest.
(Glenda Martillotti 11:23pm April 4, 2014)
What drive me crazy is being constantly interrupted when I working with numbers and data and there are some people that don't seemed to understand deadline and focus.
(Kai Wong 11:56pm April 4, 2014)
Politics!! Ugh and everyone seems to have very strong feelings about their positions now.
(Betty Hamilton 3:37am April 5, 2014)
Stupidity makes me crazy!!
(Mary Preston 11:36pm April 5, 2014)
I do not own an electronic reading device. I enjoy reading paperbacks. Please DO NOT include me into your contest for this, but I wanted to comment on what drives me crazy. I must say, just the other day, I had an appointment for an oil change, and upon lowering my car from the lift, they broke the large spring by the stabilizer. Instead of telling me they did this when they drove my car out, I had to find out for myself as I tried to leave. The car was making a very loud noise and scraping by the front tire. Upon inspection, they admitted they did this, however, only bent it away from tire so that car was driveable. No offer to replace at their cost...but told me they'd order the part and I could have it put on the following day for $100-$150. Came the next day for appt., and they didn't have the part even ordered yet to put on! He saw me walking in and started going online to order the part, but couldn't find one, only sold in pairs for $359. He finally decided to try salvage yards for used and found one, which couldn't be gotten until the following day. He wasted my day telling me to come back tomorrow! This was so irritating and very inconsiderate when someone does this. Used cost was $159. Quote wasn't even right, since he'd told me less than that for new!! Great customer service! I also dislike when people lie to you and try to worm out of what they've said, when confronted. They lose your trust by not being honest about it.
(Linda Luinstra 3:37pm April 6, 2014)
Captain America -The Winter Soldier Hash Line: Soldier got
too cold Language : English 3D Cast : Chris Evans,Scarlett
Johansson,Sebastian Stan,Anthony Mackie,Cobie Smulders,Frank
Grillo,Emily VanCamp,Hayley Atwell,Robert Redford,Samuel L.
Jackson Direction…
Regional news
(Hema Cute 7:00am April 7, 2014)
When I tell someone that I am low on minutes and to call my
other phone or message me and they call me 27 times on my
cell in less than 24 hours. Ugh!
(Vanessa Primer 8:11am April 8, 2014)
Registered users may leave comments.
Log in or register now!