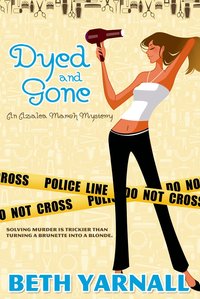 Purchase
Solving murder is trickier than turning a brunette into a blond.
Azalea March Mystery #1
Entangled Select
April 2014
On Sale: March 25, 2014
Featuring: Juan Carlos; Azalea March; Alex Mann
400 pages
ISBN: 1622661230
EAN: 9781622661237
Kindle: B00EBRDEYC
Trade Size / e-Book
Add to Wish List

Mystery Woman Sleuth | Romance Suspense | Mystery Cozy
Hairstylist Azalea March is looking forward to a wild weekend in Las Vegas with her friends. Oh, sure, they're supposed to be there on business, attending the biggest hair show on the west coast, but that doesn't mean they can't have a little fun. But fun quickly turns to drama. On the first morning of the show, Dhane, the biggest celeb of the hair-styling world, is found dead. As it urns out Azalea's friend, Vivian, not only knew Dhane, but the tale she weaves of how they met is faker than a showgirl's uh… assets. When Vivian confesses to the murder and is arrested, Azalea knows there's no way she could have done it and suspects Vivian may be trying to protect someone. But who?
Azalea now has to convince Alex, the sexy detective from her past, to help her prove Vivian's innocence and comb through clues more twisted than a spiral perm. But the truth is stranger than anything found on the Las Vegas Strip, and proving Vivian's innocence turns out to be more difficult than transforming a brunette into a blonde.
Comments
57 comments posted.
Re: Dyed and Gone

what an innovative way to use the bobby pins and to introduce me to a new author!
(Mal Kaplan 8:20am March 29, 2014)
Oh! I love those pale pink pins! I never thought of using
them except for holding back my hair (I'm growing out my
bangs now) and I normally use something else when I leave the
house as I didn't feel that a bobby pin looked nice enough.
LOL! Thanks for the contest too!
(Linda Townsend 9:40am March 29, 2014)
These are fun. Some good ideas. My hair is now too thin to use
them but I see there are other uses.
(Leona Olson 9:45am March 29, 2014)
I've heard that whenever you learn something new that it's a good day. Today, for me, it must be an excellent day!! In all these years, I never knew there was a right and wrong way to use a bobby pin, and learned a couple of new ones!! The floral pins are very pretty, and could be put to good use!! I love the cover of the book that is being shown on your posted page, and I'm sure the story is very good!! Congratulations!!
(Peggy Roberson 10:48am March 29, 2014)
Who knew? Thanks for all these ideas. Especially the hemming.
(Pam Howell 10:49am March 29, 2014)
When I was younger my mother used bonny pins everyday in the
1950's. She always had several in her purse and used them
for many purposes. In the kitchen especially for cleaning a
small and hidden area. Congratulations and best wishes.
(Sharon Berger 11:20am March 29, 2014)
Ingenuis! Loving these tips...will definitely have to try them soon and I love the title of your novel.
(Rachel Cropper 12:14pm March 29, 2014)
Wow I have never heard of any of these ideas. Thanks for the
tips I will use them for sure!
(Denise Austin 12:27pm March 29, 2014)
When I was using bobby pins, they were an everyday staple.
Glad storage bags for the kitchen weren't invented yet, but so many things came in plastic or cellophane bags. No zippers or sealing together, so we used bobby pins to hold down the folded tops like a chip clip does now. Everyone had bobby pins in drawers for easy use. Boy have we advanced with time. I'd love to have the pink rose pins and I would use them in my hair. I love these cozy mysteries and the play on the names are great.
(Rosemary Simm 2:38pm March 29, 2014)
What a beautiful set of bobby pins. I still use them on occasion. These are so pretty would love them. It amazes me all the things they can be used for. You never quit learning !!!
(Barbara Wells 3:20pm March 29, 2014)
Never thought about necklace of bobby pins. Its cool looking!
(Leesa Laird 3:57pm March 29, 2014)
I love all the ingenious ideas for using bobby pins! They also work well when you need a makeshift zipper pull. I think the pink rose bobby pins are very pretty. And, who doesn't need a cute little inexpensive bookmark? Thanks!
(Linda Luinstra 3:57pm March 29, 2014)
Great uses. I like the idea of keeping thin cords secure with them it's great (like cell phone recharging cords that tangle). Will have to give some of these a try and pass these ideas along.
(Rich Cook 4:52pm March 29, 2014)
Good Ideas, I'd love to read the book.
(Wilma Frana 6:02pm March 29, 2014)
You are so clever! There are some great ideas here. Unfortunately, I've never had the kind of hair that requires bobby pins. Still--I really enjoyed the post. Thanks so much.
(G S Moch 6:14pm March 29, 2014)
Lots of interesting uses. I've used them to pit cherries. My grandmother had a fruit farm and taught me that trick.
(Marcy Shuler 7:05pm March 29, 2014)
Sure could use some bobby pins, for lots of different
projects
(Jeri Dickinson 7:31pm March 29, 2014)
really like the nail holder & cherry pitting ideas :)
(d Kenney 8:34pm March 29, 2014)
What great ideas for bobby pins...I love them! Thanks for the contest. Your book looks like a great cozy read.
(Mary Vehlies 8:47pm March 29, 2014)
Hope I remember this the next time I need to hammer a nail! Thanks so much!!!
(Elaine Seymour 8:48pm March 29, 2014)
Thanks for the bobby pins tips.
(Deb Pelletier 9:48pm March 29, 2014)
Looks like bobby pins are coming back with new uses. You book sounds very entertaining. Thanks1
(Cynthia Cook 10:00pm March 29, 2014)
Wow, I never thought about how many creative ways to use a bobby pin. More power to you.
(Catherine Myers 10:21pm March 29, 2014)
You said you had to give lock picking a try - did it work?
(Jen Barnard 10:57pm March 29, 2014)
What will people think of next? Bobby pins have been around a long time
and sure are handy!
(Melanie Backus 11:09pm March 29, 2014)
You do not want to know how we used bobby pins as a complexion aid when I was a teenager. OMG. I need to read this book. I thought I was the only person left alive who remembers spiral perms. I had this miserable and, obviously, memorable experience as a child. Pin curls, using bobby pins, were a most welcome alternative!!
(Judith Youngblood 12:58pm March 30, 2014)
I absolutely had no idea that the bumpy side went on the bottom!! Seriously. The oldest of 3 girls and we all had long hair. Mom as well. Bobby pins were everywhere!! And the flat side always on the bottom! I think of all the pains we endured when they came loose and mom had to redo them. If only we had known, perhaps they would have come loose half the time???!! LOL And all the other ideas!! Fabulous. Only now, I have short hair and no daughters. LOL Not a bobby pin to be seen anywhere in this house. haha
(Lisa Hutson 1:45am March 30, 2014)
I love all the ideas for bobby pins. It would be fun to try to make jewelry with the pins.
(Ginger Hinson 2:56am March 30, 2014)
I just love the idea of pitting cherries as I love cherries
and hate having to get the pit out. This is a genious idea! I
also think the pins are beautiful. I would love to get your
boo and use the pin as a bookmark. thanks
(Irene Nash 3:53am March 30, 2014)
My grandmother was always very inventive and thrifty,when it came to Arts
and Crafts. However,I don't recall her having anything unusual or
creative,when it came to the BobbyPin! Sorry!
(Elizabeth Calligan 6:33am March 30, 2014)
I like the ear bud - used the hem - didn't know about the cherries! These things aren't usually so "info-you-can use" thanks...Makes me wonder how they fit in your story.
(Beth Elder 8:09am March 30, 2014)
I love all those ideas with bobby pins.
(Cathy Thomas 10:45am March 30, 2014)
Great uses for the bobby pins!
(Richard Proctor 12:44pm March 30, 2014)
Adorable bobby pins!
(Maria Proctor 1:00pm March 30, 2014)
love the ideas they can come in handy when in need love all
the great ideas you can do with a bobby pin
(Denise Smith 1:01pm March 30, 2014)
What good ideas! I never thought about using bobby pins in any way except holding hair in place. The flower ones are lovely.
(Anna Speed 1:29pm March 30, 2014)
HI BETH,
I REALLY ENJOYED READING YOUR POST ABOUT ALL THE
DIFFERENT WAYS TO USE BOBBY PINS. I JUST BOUGHT SOME
COLOURED ONES FOR MY GRANDDAUGHTER IN ALL THE PASTEL
EASTER SHADES, SO THAT NECKLACE IDEA COULD BE USED
WITHOUT HAVING TO GO TO THE TROUBLE OF COLOURING THEM!
I REALLY ENJOYED THE SYNOPSIS OF DYED AND GONE. LOOKS
LIKE IT CONTAINS LOADS OF HUMOUR -- WHICH I ALWAYS
APPRECIATE WHEN READING. ALL THE BEST!
(Susan Huston 2:07pm March 30, 2014)
What good ideas! I have a package of bobby pins and I am going to put one of them on a tube of toothpaste tonight. I hope it works as well as I think it's going to, anyway thanks for posting tips for all of us to use.
(Carole Abel 2:24pm March 30, 2014)
What ingenious ideas for using a bobby pin! They really are awfully pretty. But, I am wanting to read your book win or lose. It sounds like great fun! Thanks for the giveaway and the introduction to a new author.
(Vennie Martinisi 3:17pm March 30, 2014)
cool ways to use bobby pins the only one i knew of is to pick a lock. great tips thanks
(Jennifer Beck 3:33pm March 30, 2014)
The bobby pins are lovely. :) Great tips will definitely be
using a few of the ideas.
(Leslie Davis 3:58pm March 30, 2014)
What creative ideas for the bobby pins...I think they are making a comeback! Vera Bradley even has a line of them in their new and colorful patterns....I guess they could be turned into a necklace as pictured above. Thanks!
(Susan Coster 4:12pm March 30, 2014)
actually knew most of these--remember the jewelry from the 70s
(Denise Holcomb 4:26pm March 30, 2014)
Wow what alot of funny ways to use the bobby pin and I love the yarn one as I am always doing something with yarn. As a teacher years ago I used to keep new pins in my desk and when one's bangs were too long or she complained of a headache I would then suggest that if her hair was out of her eyes she might feel better. So many times girls would go in my drawer and grab one and they were always real excited to take one home . Needless to say I was always buying bobby pins but I am going to tell others the uses I have now read about plus try some. I bet the girl who cuts my hair dowsn't even know .
(Peggy Clayton 4:33pm March 30, 2014)
Fan of Beth's work. Can't wait to read her latest book!
(Amy Mark 7:37pm March 30, 2014)
My life is changed forever.
(Mary Ann Dimand 8:01pm March 30, 2014)
There are many ways that I have used a bobby pin from unlocking a door
to holding a button on my shirt closed when it was going to pop off
(Niki Edwards 9:03pm March 30, 2014)
I would never have thought of using a bobby pin to pit cherries. And using one as a nail holder would save many fingers.
(Julie Bishop 9:05pm March 30, 2014)
I would definitely use it for nail art and bookmarks!
(Kirsten Kimball 9:28pm March 30, 2014)
I love the earbud idea! The nail polish is a great idea. I'm going to try using
bobby pins again now that I know which side is up. I saved this article!
(Laura Gullickson 10:36pm March 30, 2014)
Wow, Congrats on your new book: DYED AND GONE. I love the
book cover too! I love the pretty bobby pins that you are
giving away and I love all the fantastic ways that bobby pins
can be used too! I would love to win and read your book in
the New Year 2014. Thank You very much. Cecilia CECE
(Cecilia Dunbar Hernandez 11:07pm March 30, 2014)
These are great ideas. I will defintely share. Thanks for the info!
(Kim Akers 10:38am March 31, 2014)
Thanks so much everyone for your comments. And thank you to Fresh Fiction for having me.
(Beth Yarnall 8:20pm March 31, 2014)
Wow! I had no idea you could do so much with bobby pins!
(Martha Lawson 9:43pm March 31, 2014)
wow, i never thought i could use them for so many things
(Sarah Hansrote 10:19pm March 31, 2014)
I always love to read books set in Las Vegas! And adding the combination of a hair dressers conference is so fun! I already use bobby pins as book marks...but you showed some great other uses. And I did not know there was a correct way to use them! Thanks!
(Jan Terry 12:16pm April 2, 2014)
Congratulations on the new book. Loved to read about what bobby pins could be used for. My mother uses the large bobby pins to save her place when she crochets--it works great.
(Sharon Extine 1:12am April 4, 2014)
Registered users may leave comments.
Log in or register now!