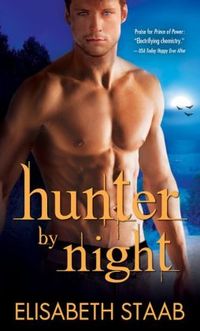 Purchase
Sourcebooks Casablanca
June 2014
On Sale: June 3, 2014
Featuring: Alexia Blackburn; Lee Goram
384 pages
ISBN: 1402297181
EAN: 9781402297182
Kindle: B00IJEVO5O
Paperback / e-Book
Add to Wish List

She wants out
Party girl Alexia Blackburn is only hanging around the vampire compound until her best friend—the queen—has her baby. After that, nothing is going to stop Alexia from getting back to daylight, safety, and feeling like a normal human being. But leaving the vampire world has one big catch...
He needs her to stay
Head of vampire security Lee Goram has hated and distrusted humans for centuries. Feeding on vampire blood has kept him strong...but now it's killing him—and he's horrified to discover that Alexia may hold the key to his cure. He'd rather die defending his king than admit his weakness, but time is running out for the great vampire warrior...
Comments
19 comments posted.
Re: Hunter By Night

Oh man I love this cover!! I can't wait to read this book! Thanks for the great giveaway!!
(Bonnie Capuano 8:31am June 12, 2014)
omg! I look forward to reading ur book!
(Sally Hayes 8:34am June 12, 2014)
I love the cover and I cannot wait until I get to read this :)
(Amanda White 3:53pm June 12, 2014)
Have not read your books before... liking what I see!
(Colleen Conklin 9:10pm June 12, 2014)
Thanks so much for having me on Fresh Fiction today and to
everyone who stopped by! I hope you enjoy Hunter by Night!
(Elisabeth Staab 10:20pm June 12, 2014)
What a great giveaway. Liked learning more about Elisabeth and why she wrote
this story. Can't wait to get my hands on this.
(Angela Caldwell 10:28pm June 12, 2014)
Amazing cover! One way or another I am going to get this book!
:-)
(Glenda Martillotti 10:55pm June 12, 2014)
It's amazing how much baggage people come with especially once you get to know someone well.
(Laura Gullickson 12:03pm June 13, 2014)
This sounds so good. I love how he's going to struggle for
quite a while :).
(Victoria Sloboda 3:43am June 13, 2014)
I must confess that I haven't read the other series that you
alluded to in your posting, because this isn't my normal
genre, but you made this book sound so interesting and
alluring, that I would really love to give it a try!! The
cover doesn't hurt, either!! I'm sure this is going to make
for quite a Summer read, and I'll be looking forward to
something like this book to shake up my reading list a bit!!
(Peggy Roberson 8:26am June 13, 2014)
I'm looking forward to reading this book. Gotta say I love those eyes!! WOW what a cover!!
(Bonnie Capuano 8:35am June 13, 2014)
Your new book sounds great, and love the cover.
(Jen Frederick 2:35pm June 13, 2014)
"Sizzling, heart-wrenching, sexual-tension inducing angst"
Okay, you hooked me with that one! I do love to torture myself with a good, angst-ridden story.
(Debbie Kelly 3:16pm June 13, 2014)
love the cover i love to read this the story sounds really
interesting
(Denise Smith 4:59pm June 13, 2014)
I love tension in books. It really makes or brakes it for me sometimes. And yes Baggage can be a blast! Thanks for the chance to win.
(Sally Hannoush 6:12pm June 13, 2014)
Love the cover! I am so glad the hunky 700 year old vampire
isn't going to have it easy with the human... so totally sold
on this book it isn't even funny!
(Marcia Berbeza 7:32pm June 13, 2014)
I like my characters, especially the hero, to have a lot of baggage, too.
(Janie McGaugh 8:57pm June 13, 2014)
There is a long history between humans and the creatures of the night. Somewhere along the way, we start to see humanity existing within these two races. So the question goes: Who is the monster here? Great way to have a great plot and romance.
(Kai Wong 11:55pm June 13, 2014)
Love vampires and have added this book to my TBR list!
(Bonnie H 10:30pm June 17, 2014)
Registered users may leave comments.
Log in or register now!