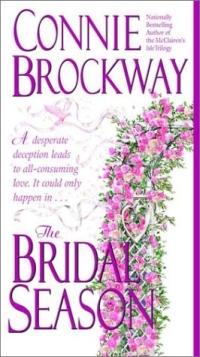 Purchase
When someone drops a pearl in your palm, make a fist.
Dell
November 2001
Featuring: Letty Potts; Elliot March
384 pages
ISBN: 0440236711
Paperback
Add to Wish List

Letty Potts has gotten into a few fixes in her twenty-five years, but this is her worst predicament yet. A petty schemer by necessity, the struggling music hall performer has decided to go straight.
But after narrowly escaping the wrath of her partner in crime, she finds herself at Paddington Station with nothing but the gown she's wearing ... and another woman's train ticket clutched in her hand.
Now masquerading as the redoubtable "Lady Agatha," of Whyte Wedding Celebrations, Letty arrives in the backwater burg of Little Bidewell, where she is to arrange the nuptials of a young society bride.
Amid the dizzying whirl of pre-wedding festivities, nobody suspects Letty's secret ... except the sensual and aristocratic Sir Elliot March.
A war hero who has forsworn love, Elliot senses something decidedly amiss about this outspoken young woman. Yet she awakens a passionate yearning he'd thought was lost to him forever.
Soon a desperate masquerade embroils them both in a web of scandal and danger as Letty's past catches up with her — threatening their lives ... and a love without peer.
Comments
No comments posted.

Registered users may leave comments.
Log in or register now!