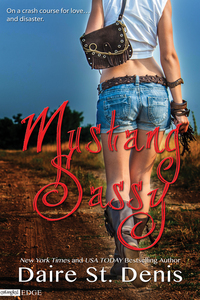 Purchase
On a crash course for love and disaster
Entangled Edge
March 2014
On Sale: February 24, 2014
Featuring: Sass Hogan; Jordan Michaels
ISBN: 1622661125
EAN: 9781622661121
Kindle: B00I6ZXO9U
e-Book
Add to Wish List

When Sass Hogan catches her boyfriend slow-dancing and doing the tongue-tango with Tori Double-D-Cup Hunter, she pays him back the only way she knows how—by taking a tire iron to his beloved '67 Mustang Fastback. There's only one problem.
She's destroyed the wrong car.
Jordan Michaels wants his car fixed, now, and he wants Sass's auto body shop to do it. But the handsome blond has a secret−he's really Jordan Carlyle of Carlyle's Classics, Hogan's biggest competitor, and he's determined to prove himself to his family.
As Sass and Jordan get to know each other, the depth of the attraction has them falling in love. But a relationship based on lies will only leave them primed for the worst wreck of their lives.
Comments
21 comments posted.
Re: Mustang Sassy

I don't have a special song, but I do love the new one called "Happy"...or maybe it's "Because I'm Happy." It's very upbeat and catchy. :)
(Marcy Shuler 3:31am March 5, 2014)
I have alot of songs because i'm such a musicaholic lol.
Katy Perry's "Roar", Sara Bareilles "Brave". Imagine Dragons
"Radioactive", Kelly Clarkson's "Stonger",... and my newest
one "Somebody Loves You" by Betty Who, they all get me up &
dancing & singing along lol. I have sooooo many more songs,
but I don't want to bore you lol.
(Brandi Dagwan 6:34am March 5, 2014)
I will listen to ABBA songs or to Michael Jackson's Thriller
or oldies... pretty soon I'll be singing with them and the
world will look different. Thanks for the giveaway!
(Linda Townsend 8:12am March 5, 2014)
I listen to 60s songs while working as they are great to keep me on track. When I am happy and want to dance I listen to 80s music.
(Pam Howell 10:10am March 5, 2014)
Oh your book sounds great! I listen to a wide variety of music, but some must haves are Loreena McKinnett, Enya, Sara Brightman, and Josh Groban. Thanks for sharing!
(Colleen Conklin 12:06pm March 5, 2014)
Anything country usually makes me happy. If I need to feel empowered, it's Adele. Love her attitude!

When I first read the blurb and it said about trashing a '67 Mustang, I'm like who would do that? But then when I saw it was the wrong Mustang, that cracked me up! ;)
(Sue Galuska 1:18pm March 5, 2014)
This sounds like a pretty realistic story! I may not think of trashing a classic Mustang, or any car for that matter. But, if I did, well, I'm sure I'd do something stupid like trashing the wrong car! :)
(Vennie Martinisi 3:44pm March 5, 2014)
I don't have any real favorite songs but I do love the oldies.
(Denise Austin 4:00pm March 5, 2014)
I love oldies songs. Everytime I go to a classics car show, they have them playing as background music. I will never tire of any of Elvis' songs or The Beatles either (they will always be in my memory as favorites)!
(Linda Luinstra 6:10pm March 5, 2014)
I LOVE IT!!! IT SOUNDS AMAZING!! CANT WAIT TO READ IT!!
(Aravy Pirabaharan 8:37pm March 5, 2014)
Glory of Love (Theme from the Karate Kid) by Peter Cetera is one of my favorites.
(Sheila Veikune 9:31pm March 5, 2014)
I listen to a lot of music when I am sewing. I seem to lean towards country. I listen to Bill Engvall's Dorkfish over and over again. City of Angels and Armageddon sound tracks are great too.
(Laura Gullickson 9:34pm March 5, 2014)
These are my go-to-songs:

Say You Say Me by Lionel Richie
Secrets by One Republic
Stronger by Kelly Clarkson
(Kai Wong 12:21pm March 6, 2014)
oh i have a few and my husband hates me profoundly when i
listen to them because i would start singing and be silly,
especially with the song "Kiss" By Prince.
for when i'm feeling a little blue or i just want to sing
till i don't have anymore breath in my longs i prefer
listening to Emilie Autumn, a self made artist that is also
an incredible violinist.
(Sarah Hansrote 3:53am March 6, 2014)
I don't have a favorite song, but I do listen to lots of different music.
(Carol Woodruff 7:27pm March 6, 2014)
No go to song. Mozart maybe.
(Mary Preston 5:58am March 7, 2014)
I love Michael Bolton songs. Thanks for the giveaway.
(Kathleen Beale 8:52am March 8, 2014)
I like all the songs.
(Judy Ferguson 10:31am March 9, 2014)
I actually had a minor one, and a major one. The minor one happened in High School. There was a guy that liked me, but I really didn't like him. He would wait around after one of my classes, to walk the hall with me to my next class, which gave me the creeps. At lunch, when he wasn't around, I told my friends, and one of the guys said that he would show up and pretend to be my boyfriend for a while, which he did!! I was so thankful to get this guy off of my tail, because I was really getting creeped out!! As for the big one, I was getting married. On the big day, my Dad said to me that "I could back out," right before he was going to walk me down the aisle!! We had dated for 5 years, and I thought my parents liked him!! As for my feelings?? Well... I wasn't head over heels, but I cared about him a lot. Anyway, all these years, there was one guy who I carried a torch for, but my Parents hated. He disappeared from my life, and reappeared through a mutual friend 5 years after I got married. My friend called me, and told me that he really wanted to see me again. At this point, my marriage wasn't that great. I was living under a microscope. Everything had to be approved by his parents, pretty much, even though we had our own house. My Husband was in constant contact with his Parents, and we went there every day. I didn't care if I lived or died, and went down to 80 lbs. Anyway, I worked it out to see HIM again, and it was like no time passed. The flame was still there for me, and it increased. I filed for a divorce, and moved out of my house. My family was livid, even though my Dad didn't remember what he said to me the day I got married, but eventually started to soften up once they saw how much better I was doing on my own. My Doctor, who was treating me for an injury I suffered on the job, said that I would have died, had I not gotten a Divorce, and he was a strict Catholic!! I ended up getting remarried within months, and have been married fo
(Peggy Roberson 11:29am March 9, 2014)
I like an old John Denver CD. Country Roads...Take Me Home.
(Alyson Widen 4:59pm March 14, 2014)
I broke up with my brother's friend, which had him peeling
out of the driveway leaving tire tracks on the road. Then,
of course, he kept visiting my oldest brother, so it sure was
awkward for quite awhile.
(Alyson Widen 6:57pm March 14, 2014)
Registered users may leave comments.
Log in or register now!