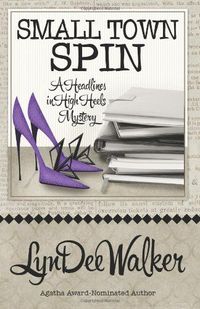 Purchase
Headlines in Heels #3
Henery Press
April 2014
On Sale: April 8, 2014
Featuring: Nichelle Clarke
280 pages
ISBN: 1940976030
EAN: 9781940976037
Kindle: B00JH2RAFA
Paperback / e-Book
Add to Wish List

When a superstar athlete's son turns up dead in a tiny town on the Virginia coast, crime reporter Nichelle Clarke gets the inside scoop. But she quickly spies a gaping hole her inner Lois Lane cannot ignore.
Determined to unravel the mystery, Nichelle fights off paparazzi cameras and an unexpected rival. She uncovers an illegal moonshine operation, a string of copycat suicides, and a slew of closets stacked with more skeletons than slingbacks. Chasing a killer who's a breath from getting away with murder, Nichelle realizes too late the culprit has her number—and it might be up.
Headlines in Heels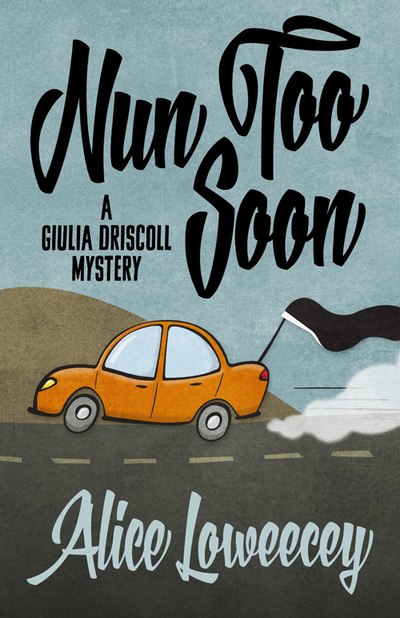 Devil in the Deadline
#0.0
Amazon.com | BN.com | | |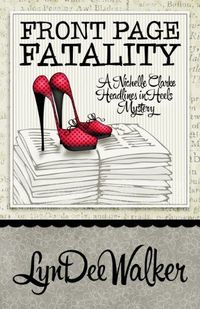 Front Page Fatality
#1.0
Amazon.com | BN.com | | |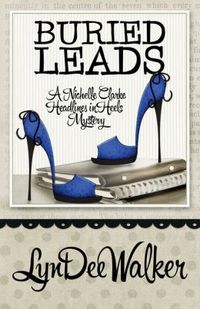 Buried Leads
#2.0
Amazon.com | BN.com | | |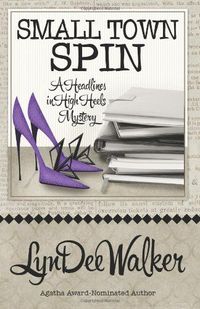 Small Town Spin
#3.0
Amazon.com | BN.com | | |
Comments
22 comments posted.
Re: Small Town Spin

the wackiest news story wow that is hard i guess the one where
the ducks came up over the road and there was a flock of them
and they could not get them off the road
(Denise Smith 12:18pm April 14, 2014)
I am a news junkie and I cant think of a wacky one right now. I was watching the news and they reported a building collapse in Sprague where I lived. I ran outside and sure enough it was on my street only 2 blocks away and I hadn't even heard it. No one was hurt luckily but the buildings were destroyed.
(Denise Austin 1:23pm April 14, 2014)
I enjoyed the excerpt, sounds like an interesting story.
(Julie Duffy 3:26pm April 14, 2014)
Wow, the wackiest news story. HHHMMM.. let's see... there
is the one about the kids who tried to rob their parents
diner using a spoon or the one that the person robbed a
convenience store and left his wallet with his id inside or
then there is the one that hit a police car and left his
drivers license at the scene. Hard to choose one.
(Tina Ullrich 5:38pm April 14, 2014)
The one about the girl that went to the change machine at the car wash with a $20 bill attached to a string...she wanted to get the change for the $20 plus, yank her $20 bill back by pulling on the string. The string broke, it took her $20 and it failed to give her any change at all! So the following day, she complained to the manager at the car wash that his machine wasn't working last night, and didn't give her back any change and ripped her off. He found the $20 bill with the string taped to it, figured out what she had done and had her arrested (with her trying to say that wasn't her $20 bill)!!! This happened in my hometown. Then, there's the one where the two guys tried to buy lottery tickets at the counter. One walked off, grabbed two half gallons of milk and walked out the door with them, yelling back to his friend, "Come on Jim, we have to get going or we'll be late." They tracked them down right away a couple blocks away where JIM lived. Nothing like using his real first name (very intelligent)!
(Linda Luinstra 5:51pm April 14, 2014)
OK, I took this directly from an AP release:

Two Minnesota burglary suspects are arrested after police say one of them accidentally called 911 and left the line open as the pair discussed the crime.

Maplewood Police Chief Paul Schnell says the dispatcher got a call and hang-up, then another call that stayed open.

Isn't it true that fact is often much stranger than fiction?
(Sandy Fielder 7:13pm April 14, 2014)
Aw, thanks, Julie Duffy! I hope you enjoy it. Pretty sure if you hurry, you can still
snap up the first in the series for kindle for just 99 cents, too!

Tina, Linda, and Sandy: Wow. Those are a special kind of stupid, aren't they?
Not-so-bright criminals always make fun news copy.

And Sandy, truth is DEFINITELY stranger. I'm having that issue with the book I'm
writing now, because much of it is based on interviews, and my hubby insists no
one will ever believe it's possible that it COULD happen. I may have to dial back
the crazy to create believable fiction. ;)

Thanks for stopping by, and good luck, y'all!
(LynDee Walker 9:02pm April 14, 2014)
it seems every day there are wacky stories!!! can't pick
one...
(Barbara Studer 10:23pm April 14, 2014)
Recently some entitled teen sued her parents for tuition. As
a side note she ended up with a full ride scholarship...
(Glenda Martillotti 11:05pm April 14, 2014)
Wackest - hum - let me see - A young boy got in his Mother's car while she was napping. He strapped in his little sister in car seat and drove 5 miles to his grandparents house. Almost got there before got stuck in snow. (True Story)
(Jane Squires 11:31pm April 14, 2014)
I'm not sure if it's news or not but I love the video about the twins talking in
twin speak. They were so cute
(Debbie Rudder 12:33pm April 15, 2014)
I can't think of a wacky news story and yet I know I have one.
(Kai Wong 1:47am April 15, 2014)
The police were called to a department store robbery. The
silent alarm had gone off that night. Instead of searching all
over fruitlessly. One officer - being funny - called out:
"Shave and a hair cut.." The robber called out: "TWO BITS!!!"
Busted.
(Mary Preston 5:56am April 15, 2014)
while I have not read any of your books they look very interesting. I love to read new books. Thanks for contests and Happy Easter.
(Gloria Vigil 7:56am April 15, 2014)
There are so many of them, but a few of them that come to mind quickly are the snake that was in the sewer system in some city and ended up coming up into someone's toilet and biting the "sitter" in the butt.

And there are always stories about women who go to the doctor or hospitals with stomach pains and thinking they have a stomach flu or stomach bug and they are ready to delivery a baby that they say they never knew they were pregnant with.

And on the news last night was a story about the guy who was running around a Georgia neighborhood totally naked wearing just a cowboy hat and trying to steal a motorcycle at one house, and at another he went in and made himself something to eat, had a beer and watched the baseball game before leaving again. They have no idea why he was naked and only wearing a cowboy hat either. That is weird.

And an old one which is from CT where I am from was always being talked about when I was young is that one of the local drive in movie theatres was haunted. Even after the drive in closed there were things that happened to reinforce the fact that it was haunted since so many people had seen these visions and that they could be documented by many so the authorities knew "something" was happening but refused to say it was actually "haunted".

Cynthia
(Cynthia Blain 10:27am April 15, 2014)
Gee whiz! I watch the news daily and enjoy the whacky stories, but right now, I'm as blank as a sheet of paper. Happy Easter!
(Anna Speed 12:08pm April 15, 2014)
Sounds like a great story!
(Richard Proctor 1:35pm April 15, 2014)
I love stories set in small towns!
(Maria Proctor 2:53pm April 15, 2014)
I cannot wait to read this book
(Susan Atkins 5:39pm April 15, 2014)
Sounds like a great book!!
(Stepfanie Webb 7:42pm April 15, 2014)
As for wacky news, anything on fark.com labeled with the
FLORIDA tag. :-)

Sounds like a great book!
(Abby Thorne 9:42pm April 15, 2014)
Well, I can't really think of anything at the moment! The book sounds awesome and I'd love to read it. Thanks for the giveaway.
(Martha Lawson 9:01pm April 16, 2014)
Registered users may leave comments.
Log in or register now!