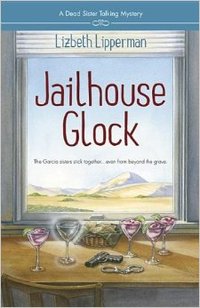 Purchase
Dead Sister Mystery #2
Midnight Ink
May 2014
On Sale: May 8, 2014
Featuring: Maddy Castillo
288 pages
ISBN: 0738739936
EAN: 9780738739939
Kindle: B00JMJJX76
Paperback / e-Book
Add to Wish List

As a rookie cop in Vineyard, Texas, Maddy Castillo—war widow, single mom, and the oldest of the five Garcia girls— is not exactly flush with cash. But her money problems are nothing compared to the trouble that starts when she's framed for the murder of an obnoxious drunk.
Lucky for Maddy, the ghost of her dead sister and her three living sisters are on the scene to help. And help is exactly what Maddy needs—hardened criminals have descended on Vineyard, and one of them has lost a prized possession that turns out to be a treasure worth killing for.
Dead Sister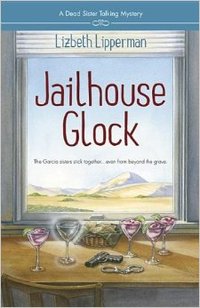 Jailhouse Glock
#2.0
Amazon.com | BN.com | | |
Comments
10 comments posted.
Re: Jailhouse Glock

Yes, I've had to go to bat, pitting one Family member
against the rest of my Family, and even going to court over
the event in question. I unfortunately can't give you
specifics, because it's a personal matter, but I felt so
strongly about the matter, that I took it to the ends of the
Earth!! I was victorious in court, and what this matter
showed me was the true colors of my Family. Although things
haven't been rectified with them, a couple of them are
starting to come around slowly to my way of thinking, and to
the others in my Family, although it still hurts me to this
day, I just say to myself that it's their loss!! I did
nothing wrong but protect someone that deserved it, and
would do it again in a heartbeat!! They would do the same
thing, and are acting like the witches they really are!!
(Peggy Roberson 10:20am May 12, 2014)
Peggy, I commend you for standing up to some of your family members to protect a child. It takes a lot of courage to do that, especially when you know it could harm relationships with those you love. Kudos!!
(Liz Lipperman 12:49pm May 12, 2014)
sorry i never did..but your book sounds very good.
(Mal Kaplan 12:59pm May 12, 2014)
I have many times. I'm fierce when it comes to anyone in my
family. The latest though was when my son was getting
bullied in school. He's too nice and trusting, most 6 year
olds are. He kept coming home saying her lost his lunch box.
On the third lunch box I finally got out of him that a kid
kept taking it and throwing it in the trash. I blew up at
the kid, his parents and the teacher.
(Robin Tindle 3:29pm May 12, 2014)
Peggy and Mai, I'm so glad you never had to deal with this. thanks for commenting, though. And L.Lam, I commend you for standing up to those you love when you had to. Kudos.
(Liz Lipperman 5:25pm May 12, 2014)
Jailhouse Glock. Fabulous title!! Love it.
Cant think of a moment I had to tiger style fight anyone. Sorry. ha
(Lisa Hutson 10:50pm May 12, 2014)
No, I've been fortunate and haven't had to defend any of my loved ones.
(Anna Speed 12:14pm May 13, 2014)
NOT YET but i think i would sounds good book. thanks
(Debbi Shaw 8:56pm May 13, 2014)
I love the title! My husband has a Glock so I know what it is
and what it looks like. The book sounds great. I've never had
to defend anyone.
(Brenda Rupp 9:35pm May 13, 2014)
Does war with the loved one count?
(Laura Gullickson 11:05pm May 13, 2014)
Registered users may leave comments.
Log in or register now!