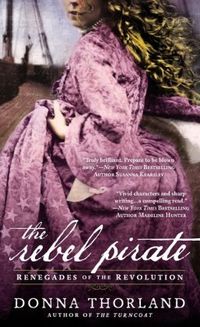 Purchase
NAL
March 2014
On Sale: March 4, 2014
Featuring: Sarah Ward; James Sparhawk
416 pages
ISBN: 045141540X
EAN: 9780451415400
Kindle: B00DMCPNAK
Trade Size / e-Book
Add to Wish List

1775, Boston Harbor. James Sparhawk, Master and Commander in the British Navy, knows trouble when he sees it. The ship he's boarded is carrying ammunition and gold…into a country on the knife's edge of war. Sparhawk's duty is clear: confiscate the cargo, impound the vessel and seize the crew. But when one of the ship's boys turns out to be a lovely girl, with a loaded pistol and dead-shot aim, Sparhawk finds himself held hostage aboard a Rebel privateer.
Sarah Ward never set out to break the law. Before Boston became a powder keg, she was poised to escape the stigma of being a notorious pirate's daughter by wedding Micah Wild, one of Salem's most successful merchants. Then a Patriot mob destroyed her fortune and Wild played her false by marrying her best friend and smuggling a chest of Rebel gold aboard her family's ship.
Now branded a pirate herself, Sarah will do what she must to secure her family's safety and her own future. Even if that means taking part in the cat and mouse game unfolding in Boston Harbor, the desperate naval fight between British and Rebel forces for the materiel of war—and pitting herself against James Sparhawk, the one man she cannot resist.
READERS GUIDE INCLUDED
Comments
27 comments posted.
Re: The Rebel Pirate

I have so many favorite authors. I love the classics. Jane Austen is one I come back to again and again. And I have started reading Georgette Heyer.
(Pam Howell 7:51am March 4, 2014)
Oh my... I have so many! Lisa Kessler, Rachel Harris, Monica
Burns, Danielle Monsch, B.J. Daniels, Robin Bielman, MK
McClintock, Sabrina Jeffries, Terry Spear, Avery Flynn, Annie
Seaton, Sara Humphries... LOL! Wait! Were we only supposed
to list one? I can't... Thanks for the giveaway!
(Linda Townsend 8:12am March 4, 2014)
I have so many favorite authors...some are Sabrina Jeffries, Nora Roberts, Susan Mallery, Suzanne Brockmann, JR Ward...as you can see my loves of good reading goes in many wonderful directions. Would love to read this book.
(Bonnie Capuano 9:14am March 4, 2014)
It wouldn't be fair to the Authors on this site to name just one, so I'm going to deviate. I'll have to say Leila Meacham, who I got acquainted with within the past couple of years. I'm also a big Janet Evanovich fan, and read her books as soon as they hit the shelves!! As for the Authors of Fresh Fiction, they know who they are!!
(Peggy Roberson 10:41am March 4, 2014)
My favorite author is Jacqueline Winspear.
(Sharon Berger 10:55am March 4, 2014)
When I first started reading romance books, I liked the author Bertrice Small
She wrote several books with pirates in them. Love reading the jack Sparrow-
type books.
(Joy Isley 11:48am March 4, 2014)
Jane Austen
(Richard Burr 1:28pm March 4, 2014)
It's hard to chose just one author. It seems to me that each author has something special that others do not have. But, If I were to chose one right ow I'll say Debbie Macomber.
(Vennie Martinisi 3:55pm March 4, 2014)
Mary Kay Andrews
(Lisa Garrett 4:09pm March 4, 2014)
I also enjoy Lauren Willig.
(Doris Losey 5:13pm March 4, 2014)
I have many I love and enjoy: Sarah Jio, Jodi Thomas, Toni Blake, Carolyn Brown, Karen Kelly, Juliana Stone, Susan Mallery, Cindy Holby, Lori Wilde, Susan Elizabeth Phillips, Carla Neggers, Jason Starr, Debbie Macomber, Nora Roberts, and V.C. Andrews. I usually read each one of their books as they are released. In the meantime, I always try new authors and read their books too.
(Linda Luinstra 6:20pm March 4, 2014)
this book looks great
(Janet Gould 6:33pm March 4, 2014)
Robyn Carr is one of my all time favorites!
(Sheila Veikune 8:55pm March 4, 2014)
Lillian Jackson Braun for cozy mysteries; Doranna Durgan for fantasy.
(Sue Farrell 11:15pm March 4, 2014)
Georgette Heyer has been one of my favorite authors since I first read her books many years ago.
(Janie McGaugh 11:37pm March 4, 2014)
Too many wonderful authors to choose from.... I just finished
Jennifer McQuiston's What Happen's In Scotland and Summer is
for Lovers. She's on my fav author list now!
(Glenda Martillotti 11:53pm March 4, 2014)
I have a lot of favorite authors. Some of them are Tawny Weber, Joanne Rock, Eloisa James, and Julia London.
(Cathy Phillips 11:55pm March 4, 2014)
My favorite authors are Nora Roberts, Susan Mallery, Rachel Vincent, Julie Kagawa, Gena Showalter, and Christina Dodd.
(Kai Wong 12:35pm March 5, 2014)
A few of my favorite writers are Eloisa James, Sabrina Jeffries, Jade Lee, Lucy Monroe, Jillian Hunter, Elizabeth Boyle, Mary Balogh and many many others.
(Sharon Extine 10:03am March 5, 2014)
My Favorite author was Anne McCaffrey, but have lots of others that I adore reading Lori, Foster, Susan Mallery, Sabrina Jeffries, Lucy Monroe, Tawny Weber and the list goes on and on.
(Norma Storms 12:28pm March 5, 2014)
I love the era and I love Boston! This sounds great! Thanks for the giveaway.
(Vennie Martinisi 3:45pm March 5, 2014)
Gemma Halliday!
(Denise Austin 3:56pm March 5, 2014)
My favorite authors are Georgette Heyer and Julie Garwood historical books.
(Carol Woodruff 7:17pm March 5, 2014)
I couldn't choose my top 5. It changes all the time & I love
them all.
(Mary Preston 9:57pm March 5, 2014)
My favorite romance author has to be Nicolas Sparks
(Sheila True 11:08pm March 5, 2014)
well i think i have to go a little in the cliche' cause i
still have a lot of authors to discover so my list for now
is this one and they're not in order of importance neither.
Laurel K. Hamilton, Gena Shawalter, Eliza Lloyd, Laurey
Rosemary and Armstrong Kelley.
Thank you for posting this giveaway :)
(Sarah Hansrote 4:34am March 6, 2014)
Georgette Heyer was the first romance author that I couldn't
get enough of.
(Alyson Widen 4:52pm March 14, 2014)
Registered users may leave comments.
Log in or register now!