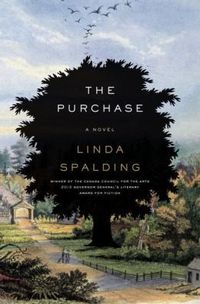 Purchase
Pantheon
August 2013
On Sale: August 6, 2013
Featuring: Daniel Dickinson
ISBN: 0307908410
EAN: 9780307908414
Kindle: B00BE255N0
Hardcover / e-Book
Add to Wish List

Fiction | Literature and Fiction
In this provocative and starkly beautiful historical novel, a Quaker family moves from Pennsylvania to the Virginia frontier, where slaves are the only available workers and where the family's values and beliefs are sorely tested.

In 1798, Daniel Dickinson, recently widowed and shunned by his fellow Quakers when he marries his young servant girl to help with his five small children, moves his shaken family down the Wilderness Road to the Virginia/Kentucky border. Although determined to hold on to his Quaker ways, and despite his most dearly held belief that slavery is a sin, Daniel becomes the owner of a young boy named Onesimus, setting in motion a twisted chain of events that will lead to tragedy and murder, forever changing his children's lives and driving the book to an unexpected conclusion.

A powerful novel of sacrifice and redemption set in a tiny community on the edge of the frontier, this spellbinding narrative unfolds around Daniel's struggle to maintain his faith; his young wife, Ruth, who must find her own way; and Mary, the eldest child, who is bound to a runaway slave by a terrible secret. Darkly evocative, The Purchase is as hard-edged as the realities of pioneer life. Its memorable characters, drawn with compassion and depth, are compellingly human, with lives that bring light to matters of loyalty and conscience.
Comments
28 comments posted.
Re: The Purchase

Wow, this sounds like an extremely interesting read.
(Christine Schultz 1:30am January 8, 2014)
A burning question indeed. This book sounds extraordinary!!!!
(Mary Preston 6:01am January 8, 2014)
This sounds like a book I'd definitely love to read! Thanks and good luck!!!
(Bonnie Capuano 6:19am January 8, 2014)
sounds like a totally different kind of story..and would love to read it.
(Mal Kaplan 7:58am January 8, 2014)
Sounds like a great book! I would really like to read it.
(Kathy Morrison 8:34am January 8, 2014)
Due to the amount of research you did, I'm sure you nailed the story!! I'm anxious to get my hands on your book, after reading the synopsis. History, as painful as it is at times, has to be kept alive, and we owe a debt of gratitude to Authors such as you who do their best to keep parts of History alive, so that others will know how our great Country began. Thank you for your work!!
(Peggy Roberson 9:49am January 8, 2014)
Sounds very interesting!
(Richard Proctor 9:57am January 8, 2014)
sounds really good thanks
(Denise Smith 10:10am January 8, 2014)
Sounds like a great book! Can't wait to read it!
(Maria Proctor 10:24am January 8, 2014)
Sounds awesome! Who is your favorite author to read? Thank you for the
chance!
(Vickie Schultz 10:42am January 8, 2014)
I am most fascinated by your captivating novel. Best wishes
and much success. Congratulations on your awards.
(Sharon Berger 10:45am January 8, 2014)
I most definitely will read this book! Thanks so much for the contest!
(Vennie Martinisi 1:45pm January 8, 2014)
I am definitely intrigued by this one. Keeping my fingers crossed!
(Melanie Backus 2:20pm January 8, 2014)
One of my dad's cousins was doing some research on family history. He was looking at land titles. One of the documents that he came across and that my dad shared with me shook me up quite a bit. There was a document that stated that piece of land had been traded for "an 8 year old slave girl". Thinking of that child as a piece of property that could be bought and sold really brought the meaning of slavery home to me! I was stunned that anyone could think of a child as property!
(Sandy Fielder 3:15pm January 8, 2014)
I don't always read historical but this sounds like so much more than historical and it sounds amazing!
(Denise Austin 4:13pm January 8, 2014)
Southern fiction, especially historical, is my favorite genre. Having said that I was wondering if you have read Page From a Tennessee Journal, Mudbound, The Kitchen House, etc. They are breathtaking!
(Susan Coster 4:37pm January 8, 2014)
I love the cover, it is a peaceful looking place. My sister has done research on our family, very interesting.
Thank you for the giveaway.
(Barbara Wells 4:54pm January 8, 2014)
Now I need to read this book to find out if Daniel"s wife was a bought slave. My
mother's family was very influent in a Virginia county and owned many slaves, all
between her grandfather and his five brothers. Such an interesting subject and
I'd like to know how it was approached by you.
(Suzanne Gonneville 5:15pm January 8, 2014)
This book sounds very interesting, captivating and worth reading. It is always interesting to learn new facts through authors that do their research and incorporate this into their novels. I didn't know that winter coats were not worn in the winter either. I definitely want to read this! book.
(Linda Luinstra 5:16pm January 8, 2014)
This book sounds like it would be an interesting read! I love to read, always carry books around with me every-where I go!!
(Carol Oddy 7:19pm January 8, 2014)
Wow, Congrats on your new book: THE PURCHASE. I like the
book cover too! Hello, Linda, Happy New Year 2014 to You. I
was born and raised on a huge farm in Kansas. I am now
living in Austin, TX and your new book sounds fantastic.
Congrats on all your awards too! I would love to win and
read your new book in the New Year. Thank You very much.
Cecilia CECE
(Cecilia Dunbar Hernandez 9:36pm January 8, 2014)
Your book sound very interesting. Thanks for a chance to win.
(Linda Hall 10:12pm January 8, 2014)
Sounds like my kinda read, really injoyed your blog.
(Sheila True 10:31pm January 8, 2014)
I think I would like this book; adding it to my TBR list
(Barbara Studer 10:58pm January 8, 2014)
The idea of owning another person is just so foreign to me that I can't imagine how I would feel about it.
(Sue Farrell 11:09pm January 8, 2014)
The Purchase sounds like a real intense story but someone has to tell this story. I do like the interview that you have done research so the readers can really see it through the characters' eyes.
(Kai Wong 11:37pm January 8, 2014)
Would love to read this story. Very interesting and thanks for the chance to win.
(Kathleen Beale 9:11am January 10, 2014)
The Purchase definitely caught my attention. Your research proved to write depth into the pages that make the book a touch more painful and intense. Sounds like a wonderful read.
(Rosemary Simm 5:00pm January 11, 2014)
Registered users may leave comments.
Log in or register now!