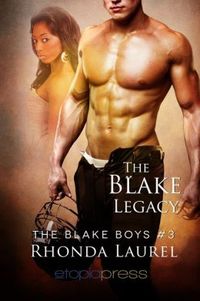 Purchase
Etopia Press
November 2013
On Sale: November 13, 2013
ISBN: 0148861393
EAN: 2940148861393
Kindle: B00GO4J81I
e-Book
Add to Wish List

Two lovers. Two dreams. One hell of a hard decision…
NFL quarterback Seth Blake is having an unbelievable hot streak—he's won his third Super Bowl title the same day his wife Morgan gave birth to their son. Life couldn't be better for the new father and MVP. His contract with the Philadelphia Titans expires in a year, giving him a chance to make a professional dream come true: to play in his home state for the Texas Wildcats and return to his much-missed Twelve Horseshoes Ranch—this time, for good.
Morgan Reed-Blake has never been happier. She's got the best husband, the cutest baby, and she's successfully juggling career and family. Her bookstore is expanding, her charitable organization is growing, and she's been offered her dream job on the literacy council. Everything in her Philadelphia world is coming up roses. Until Seth's contract with the Titans expires, and his dream of returning home comes close enough to touch…and then the powers that be in Texas start romancing Seth in earnest. Morgan and Seth both have dreams. But a choice has to be made…
Comments
28 comments posted.
Re: The Blake Legacy

I think the site looks really clean, I like the opportunities for cover artists!
(Darci Paice 1:18am December 6, 2013)
Wow, Congrats on your new books and I love the new website
too! I would love to win and read your new books this
Christmas. Happy Holidays and Thank You very much. Cecilia
CECE
(Cecilia Dunbar Hernandez 1:18am December 6, 2013)
I love the way it sounds can't wait to checkvit out more.
(Jane Thompson 2:56am December 6, 2013)
I just checked out the site for the first time. I like the colors and the way you scroll down for each book. I am looking forward to December's offerings.
(Kathleen Yohanna 4:11am December 6, 2013)
Neat site. Ho!Ho!Ho! Off to buy gift cards for books for my family and friends. Easy for me and fun for them to select a good read for a cold winter's night. Happy Holidays.
(Patricia (Pat) Pascale 7:47am December 6, 2013)
i love the site i love gift cards and i love giving gift
cards for the holidays so i will be checking them out and i
am a book lover i read all the time so this is great
(Denise Smith 8:19am December 6, 2013)
Congrats! I love your site! It's easy to find authors and their books.
(Nicole Laverdure 8:26am December 6, 2013)
I really like the site..thanks for the great giveaway and congratulations!!!!
(Bonnie Capuano 8:38am December 6, 2013)
Sounds like a great prize, I'd love to win it.
(Wilma Frana 10:50am December 6, 2013)
Excited for the opportunity!
(LeeAnne Hardin 12:51pm December 6, 2013)
GREAT covers!
you caught my eye & interest!!
PICK ME!!
(Pamela Faye Howell 1:52pm December 6, 2013)
Congratulations on the new site and thank you for the oppty to win!
(C Culp 2:02pm December 6, 2013)
You caught my attention. I hope you pick me
(Misty Gee 2:48pm December 6, 2013)
Congratulations on the new site:) I love the quality of books released by Etopia Press and can't wait to read more. The new website is certainly one of my "Favourites" now!!
(Laurel Hache 3:04pm December 6, 2013)
It looks like a great line.
(Maureen Emmons 3:33pm December 6, 2013)
Great looking site. Love the color scheme and navigation. :)
(Leslie Davis 3:57pm December 6, 2013)
Love the covers!
(Courtney Haas 4:03pm December 6, 2013)
All the books sound great and what a windfall it would be to win the contest! Thank you for your generosity.
(Vennie Martinisi 5:09pm December 6, 2013)
Nice layout. The colors aren't distracting me from the books, like some sites do.
(Laura Gullickson 5:37pm December 6, 2013)
Thank you for introducing us to the new site and your exciting line of books! Congratulations!
(Denise Austin 5:56pm December 6, 2013)
these books look great!
(Janet Gould 6:26pm December 6, 2013)
More books I will have to read! Looks like interesting reading. Thanks for the giveaways!
(Barbara Wells 6:30pm December 6, 2013)
wow! I am so excited!
(Debby Creager 8:39pm December 6, 2013)
Congratulations ! Thanks for a chance to win your prizes.
(Linda Hall 8:48pm December 6, 2013)
great covers!!!thanks for the chance and merry christmas!!!
(Jennifer Beck 9:07pm December 6, 2013)
Wow! Big changes! Congrats!
(Vicki Hancock 11:25pm December 6, 2013)
I have been hearing great reviews of the Blake Boys. I would love to read this series.
(Kai Wong 12:14pm December 7, 2013)
Thank you for the opportunity to profile Moonstone Obsession on Fresh Fiction, if you love historical romance, I'm sure you'll love mine.

Don't forget to check out the other great authors on Etopia Press's brand new website.
(Elizabeth Ellen Carter 1:29am December 7, 2013)
Registered users may leave comments.
Log in or register now!