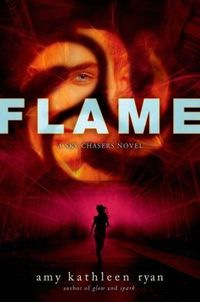 Purchase
Sky Chasers
St. Martin's Griffin
January 2014
On Sale: January 7, 2014
Featuring: Waverly; Kieran; Seth
336 pages
ISBN: 0312621361
EAN: 9780312621360
Kindle: B00ANI9EEM
Hardcover / e-Book
Add to Wish List

In the thrilling conclusion to Amy Kathleen Ryan's Sky Chasers series, Waverly, Kieran, and Seth struggle to survive on-board the New Horizon and take down their enemies before it's too late.
Waverly and the other members of the Empyrean have been scattered, and their home ship destroyed. Their mission to rescue their parents didn't go as planned, and now they're at an even greater disadvantage: trapped with their enemies on the New Horizon, trying to find a way to survive. Kieran has been pulled under Anne Mather's wing, but is she really trying to make peace, or just using Kieran to build her own power? Meanwhile, Waverly is taken in by a mysterious old man who wants to help her bring Anne Mather down—but the more Waverly cooperates with him, the more dangerous her position is, and the more at odds with Kieran she becomes.
Seth's situation is even worse. After setting out from the Empyrean on his own, with only a vague strategy to guide him, he is a fugitive aboard the New Horizon. He's doing what he can to challenge the power of Anne Mather, but he's badly hurt, and getting sicker. All the while, unknown to him, the terrorist Jacob is making plans of his own.
Will Seth ever see Waverly again? Will his health hold out long enough to help her topple their enemies? And will Waverly find a way to unite with her friends before they all fall? Nothing is sure and every moment is a risk in Flame, the explosive finale of the Sky Chasers series.
Comments
16 comments posted.
Re: Flame

Your posting really moved me, and made me stop and think. I
am looking forward to reading your book so much, and am
saving it for my Fall reading, on my TBR list, should I be
so fortunate as to read it. The reason why is because this
is a book that should be slowly read and savored. You have
put a message in the book, and want the reader to think
while they are reading. I plan on taking my time, and not
breezing through the book, even though this isn't my normal
genre. You caught my attention with your posting, and
definately caught my attention with this book!!
Congratulations!!
(Peggy Roberson 11:50am August 1, 2014)
Some of the world's most terrible villians were religious leaders. Jim Jones immediately comes to mind. There have been quite a few cult leaders that have lead their followers to a very bad end.
(Sandy Fielder 3:58pm August 1, 2014)
goody looks contest
(Kent Cook 4:45pm August 1, 2014)
It's about power and sex. Everyone is trying to buy their way to Heaven. A Cult Leader gives the desperate and hopeless what they want and need to hear and it is a great factor of maintaining control over the masses.
(Kai Wong 12:07pm August 2, 2014)
Sounds like a book you wouldn't want to put down until you've read the last page
(Mary Smith 6:57am August 2, 2014)
The exceprt seems very interesting that now I would have to
find the series to read
(Toni Whitmire 1:43pm August 2, 2014)
Always looking for a different type of book to read and venture from the world of Louie Lamore for a change
(John Zeiger 3:31pm August 2, 2014)
excellent series! the books kinda "haunted" me for a while--nice treat when so many books leave me when i finish them. thanks!
(Barbara Bradley 7:29pm August 2, 2014)
Oooo I love me a good villain! Esp one referenced against the evil Dolores
Umbridge!!
(Josie Ikeda 9:54pm August 2, 2014)
I HATED Delores Umbridge. She was so certain she was right.
That is truly the scariest of villains. I'll be interested to
see what you do with it. :-)
(Marcia Berbeza 1:43am August 3, 2014)
This sounds like a book I'd love to read! Thanks for a great giveaway!!
(Bonnie Capuano 9:34am August 3, 2014)
It sounds like some great book. I like how you described your villain. It sounds interest and a lot of fun to read.
(Larena Hubble 8:18pm August 3, 2014)
When your book gets turned into a movie I'd love to be an extra. Villian or not.
(Deborah Stackpole 8:37pm August 3, 2014)
This book sounds really interesting! I will have to put it on my 'to be read' list!
(Joanne Schultz 9:12pm August 3, 2014)
Loved reading more about Anne Mather! It's really interesting
to see a little background on how the character was created :)
(Ashley Ferguson 1:11pm August 4, 2014)
Looks like a riveting book. I like reading when characters
have flaws and ways they overcome or make amends with others
they have offended intentionally or not.
(Alyson Widen 3:49pm August 10, 2014)
Registered users may leave comments.
Log in or register now!