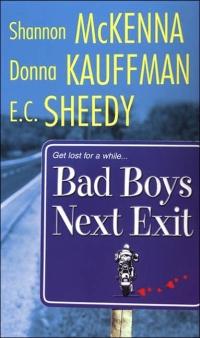 Purchase
Kensington Brava
June 2005
384 pages
ISBN: 0758205570
EAN: 9780758205575
Trade Size
Add to Wish List

Forget the straight-and-narrow. When it comes to the uncharted off-ramp of desire, these sexy bad boys can show you exactly where to get off...
Meltdown by Shannon Mckenna:
All Jane Duvall wants is to bag another big account for her headhunting firm, even if it means stealing a key employee right out from under sexy hotel CEO Michael "Mac" McNamara's gorgeous nose. But Mac can tell that the luscious, elusive Jane is up to no good. He has to find out what game she's playing -- even if it involves giving her a very private tour of the hotel's finest suite, where she can take whatever she wants from him -- and he'll give her everything he's got in the process...
Exposed - Men of Rogues Hollow #2 by Donna Kauffman:
It's Christmas
Eve and Delilah Hudson is on a train stranded by a blizzard. At least she can snap a few pictures...if she can shake the constant presence of the ridiculously good- looking passenger who claims to be interested in her "equipment." As a professional photographer, Austin Morgan has had hordes of gorgeous women. So why is this bristly stranger getting under his skin? Something about her has him feeling exposed, excited, and hungry for more. And once they're alone together in his sleeper's tight quarters, Austin can't wait to see what develops next...
Pure by E.C. Sheedy:
Ginger Cameron has wasted too much time on the heybaby, great-sex, see-ya kind of guy, and her P.R. business is suffering as a result. From now on she's a beige woman, a serious woman, and a woman who sleeps alone. Enter Cal Beaumann, who wants to hire Ginger. But when his male radar kicks in, he bets himself that there's more to Ginger than coiled hair, orthopedic shoes, and industrial- strength underwear. And if anyone is skilled at penetrating defenses, it's Cal...
Comments
No comments posted.

Registered users may leave comments.
Log in or register now!