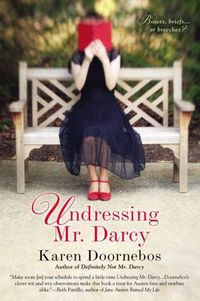 Purchase
Berkley
December 2013
On Sale: December 3, 2013
Featuring: Julian Chancellor; Vanessa Roberts
368 pages
ISBN: 0425261395
EAN: 9780425261392
Kindle: B00BI37KA6
Trade Size / e-Book
Add to Wish List

Jane Austen | Romance Contemporary | Romance
Taking it off in the name of history…
Thirty-five-year-old American social media master Vanessa Roberts lives her thoroughly modern life with aplomb. So when her elderly Jane Austen–centric aunt needs her to take on the public relations for Julian Chancellor, a very private man from England who's written a book called My Year as Mr. Darcy, Vanessa agrees. But she's not "excessively diverted," as Jane Austen would say.
Hardbound books, teacups, and quill pens fly in the face of her e-reader, coffee, and smartphone…
…Until she sees Julian take his tight breeches off for his Undressing Mr. Darcy show, an educational "striptease" down to his drawers to promote his book and help save his crumbling estate. The public relations expert suddenly realizes things have gotten…personal. But can this old-fashioned man claim her heart without so much as a GPS? It will take three festivals filled with Austen fans, a trip to England, an old frenemy, and a flirtatious pirate re-enactor to find out…
Comments
28 comments posted.
Yes I'd love to go to a undressing Mr Darcy party...I love to see Ryan Reynolds as Mr. Darcy!!!!
(Bonnie Capuano 7:50am December 9, 2013)
Colin Firth is the ultimate Mr. Darcy!
(Kathy Sullivan 11:08am December 9, 2013)
Please don't shoot me, but I've never read a Jane Austen book before. I'm really out of the loop, as far as reading goes, and have been trying to play catch-up. Your book really peaked my interest, and actually made my day!! I think a Mr. Darcy undressing show would be quite interesting, and Johnny Depp would have my first vote, then Robert Downey Jr. Since you're in the Jane Austen Society, I think I'm going to have to look up your books to get my feet wet, so to speak. Congratulations on your book, and have a Merry Christmas, and the best in the New Year!!
(Peggy Roberson 11:36am December 9, 2013)
If Colin Firth was Mr. Darcy, count me in!
(Abby Thorne 11:48am December 9, 2013)
Colin Firth is always a good choice, but what about Jason
Statham? I wouldn't mind doing "research" with him modeling
the regency style menswear.
(LaRonda Atchison 12:31pm December 9, 2013)
That is a fun idea. How about a show with all Jane Austen heroes.
(Maureen Emmons 1:00pm December 9, 2013)
I guess it really would depend upon who was undressing.
(Kim V 1:34pm December 9, 2013)
Definitely want to see Mr. Darcy...but I would not mind a few Regency-dressed hotties such as Henry Cavill, Ian Somerhalder, and Chris Hemsworth!
(Sandy Kenny 2:03pm December 9, 2013)
So Orlando Bloom might not be Darcy, but he would be smashing in an historical undressing show.
(Anna Mekus 2:35pm December 9, 2013)
Not sure who I would want to see historical undressing but a
fun idea! maybe Robert Downey Jr. :)
(Dianne McVetty 2:41pm December 9, 2013)
Sounds like a good book. I have your other one, Definitely Not Mr. Darcy, and I'd love to win this one. I'd watch the undressing if it was on T.V.
(Michelle Fidler 2:53pm December 9, 2013)
I always thought Davy Crockett was probably an imposing, handsome, adventurous guy. So, I would want to go to an undressing party for him. Wonder what he wore under those buckskins?
(Sandy Fielder 3:01pm December 9, 2013)
Hmm not sure but I would love to see Gerard Butler strip down to his underwear
;)
(Vickie Schultz 3:53pm December 9, 2013)
I have always loved Mr. Darcy and your book sounds so delightful. Love to win it.
(Nancy Wolfe 4:13pm December 9, 2013)
Your book sounds like such fun! I'd definitely go to an undressing Mr. Darcy party. LOL
(Marcy Shuler 4:42pm December 9, 2013)
Well, if we were to have an undressing party and I were to choose a historical fiction figure I would have to say Rhett Butler!I would enjoy such a party for sure!
(Vennie Martinisi 5:16pm December 9, 2013)
This is way out in left field for me......I don't know who I'd like to see undressed but I think I'll go with Michael Caine. I've loved him since Alfie and always will.
(Susan Coster 5:42pm December 9, 2013)
I would choose Chris Hemsworth or Johnny Depp for my choice in getting undressed (gotta have some eye-candy) at this PARTY! I better bring a fan! I love your book cover.
(Linda Luinstra 6:02pm December 9, 2013)
I would have a blast and of course George Clooney is my take it off man
he is so sexy can you blame me
(Michelle Dodd 6:38pm December 9, 2013)
Book sounds great, not to sure I'd like to attend an undressing.
(Sheila True 10:08pm December 9, 2013)
Hugh Jackman for the undressing of Mr. Darcy. He has sideburns.
(Kai Wong 10:14pm December 9, 2013)
So many images popped into my head when I read the title for this book. :)~
(Callie Stuck 10:24pm December 9, 2013)
Would have to say Colin Firth.
(Leslie Davis 10:33pm December 9, 2013)
Oh my! Where is my fan when I need to hide my red face? Would I like to see Mr. Darcy take off his historically accurate clothing? Um, well, yes! Colin Firth is still my go to guy for the role, though!
(Marcia Berbeza 10:33pm December 9, 2013)
Yes... But I would be blushing up a storm! I'll go with a Mr. Darcy and say Matthew Macfadyen :-)
(Chelsea Brooks 11:41pm December 9, 2013)
sounds like a good read. Having just watched Olympus has
Fallen I think Gerald Butler
(Susan Meikle 8:38am December 10, 2013)
What a wonderful occasion to attend. I was in Bath years ago
and loved the area.
I need to re-read these books.
Appreciate the giveaway.
(Leona Olson 9:57am December 10, 2013)
I'd be up for an educational show as well. Do we have to
stick with one model??
(Glenda Martillotti 11:06pm December 10, 2013)
Registered users may leave comments.
Log in or register now!