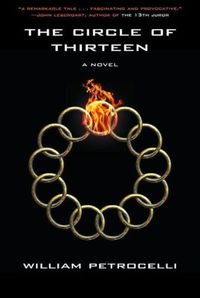 Purchase
Turner
November 2013
On Sale: October 22, 2013
336 pages
ISBN: 1620454149
EAN: 9781620454145
Kindle: B00F9KQ7CG
Hardcover / e-Book
Add to Wish List

In 2082, a catastrophic explosion rocks the dedication ceremony of the new United Nations in New York City. Security Director Julia Moro is on the job, chasing after the misogynistic leader of Patria, a long-disbanded international terrorist organization now being whispered about again on the streets. This dangerous, shadowy figure has been linked to several bombing attempts and vicious attacks on women, including the Women of Peace—an organization headed by thirteen bold women who have risked their lives to restore worldwide peace. As Julia's investigation unfolds, a deep secret from her past threatens to strip her of everything she cherishes and plunge her into unrecoverable darkness.

The Circle of Thirteen's gripping narrative weaves back and forth in time, from an act of domestic violence that created the disturbed personality of the Patria mastermind, to the two weeks leading up to the bombing at the UN, to events half a century before the bombing that directly influence it. The strong, relatable women and the unbreakable bond between them provide an emotionally grounded window into the future's unforgettable history.
Comments
23 comments posted.
Your book sounds very interesting! I would like to read it.
(Kathy Morrison 9:11am October 28, 2013)
Now this is the kind of book I could sit down and read but not want to put down! Can't wait to read this one. Thanks!
(Bonnie Capuano 9:25am October 28, 2013)
added to my to-read list
(Debbi Shaw 9:35am October 28, 2013)
sounds really good thanks so much
(Denise Smith 9:38am October 28, 2013)
this sounds like a good weekend reading book !
(Ron Frampton 10:22am October 28, 2013)
Usually the main characters are male in this type of thriller--I think I'll like this one with a female.
(Sue Farrell 10:43am October 28, 2013)
Would love to read this book....will be on my "to-read" list!
(Sandra Boen 10:46am October 28, 2013)
A novel that is compelling and unique. Best wishes and much
success.
(Sharon Berger 11:03am October 28, 2013)
This really sounds like a great book. Thanks for the chance to win. Best of luck with it.
(Nancy Reynolds 11:07am October 28, 2013)
I commend you for being an advocate for women's rights. That would make sense for where the story line came from. With your background, I'm sure that your book would be a real page-turner for this time of year. I'd have to make sure to keep a lot of hot chocolate on hand, to make sure I don't have any interruptions!! The good thing about this book is that I'm sure when I'm done reading it, I should be able to pass it along to my Husband to read it, too!! Congratulations on your first novel, and may it be the first of many to come!!
(Peggy Roberson 11:23am October 28, 2013)
As a woman of "today" I like the fact that you incorporate a woman in the story line....one where I want to see what happens from page one to finish. I just happen to like to read snuggled into my comfy chair with a nice cup of tea and read away.
(C Culp 12:58pm October 28, 2013)
This book sounds great. I would love to ready it.
(Lennette Daniels 1:22pm October 28, 2013)
Looking forward to reading your book!
(Michelle Schafer 4:36pm October 28, 2013)
looking to read this thanks for the giveaway
(Patricia Lambert 5:00pm October 28, 2013)
Love the idea of the way the story unfolds and sounds like it
will be a sitting-on-the-edge-of-your-seat read.
(LaRonda Atchison 6:21pm October 28, 2013)
This sounds like a cool book. My dad might swipe it from me before I could read it.
(Laura Gullickson 8:22pm October 28, 2013)
Book sounds interesting. Will add to my read list. Thanks for a chance to win.
(Linda Hall 9:18pm October 28, 2013)
It sounds like a sound premise. I will add it to my read list.
(Terri Poindexter 10:24pm October 28, 2013)
Wow, Congrats on your new book and 1st novel: THE CIRCLE OF
THIRTEEN. I love the book cover too! Yes, the golden rings
are like people and we are all connected in our world. I
truly would love to be one of those women seeking world
peace because there is too much violence in our country and
around the world too. We all need to put God First and live
by the Ten Commandments especially the one that says: Thou
Shalt Not Kill!!! Then, our world would be a better place
for all of us to live a better life in for sure. I would
love to win and read your special book this Fall. Thank You
very much. Cecilia CECE
(Cecilia Dunbar Hernandez 11:58pm October 28, 2013)
Congrats on your first novel. Circle of Thirteen has that intriguing ring to it.
(Kai Wong 12:24pm October 30, 2013)
Great cover and fascinating premise. I love layered plots and
it sounds as though you have achieved that delicate skill
(Janet Martin 8:46am October 30, 2013)
This does sound fantastic.
(Mary Preston 11:45pm October 30, 2013)
Flashbacks help stories make sense in that they are grounding
moments. To know each of the 13 women and how they
contributed to history, the backstories tell the tale. I like
reading stories that have history woven throughout.
(Alyson Widen 8:11pm October 31, 2013)
Registered users may leave comments.
Log in or register now!