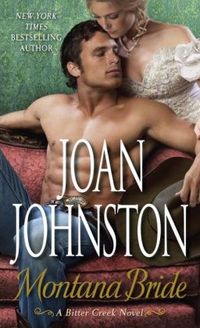 Purchase
Bitter Creek (Historical) #3
Dell
January 2014
On Sale: January 7, 2014
Featuring: Hetty Wentworth; Karl Norwood
432 pages
ISBN: 0345527488
EAN: 9780345527486
Kindle: B00DXKHGIS
Paperback / e-Book
Add to Wish List

A DESPERATE DECEPTION
THE PROMISE OF FOREVER
When Karl Norwood's mail-order bride meets an untimely demise on the way to the Montana Territory, Hetty Wentworth steps in to take her place. Hetty has no idea how she's going to pretend to be all the things she isn't—including the mother of two kids. She only knows her deception is necessary if she's going to save two orphans from the awful fate she suffered as a child.
Karl smells a rat when a much younger woman than he was expecting arrives with two children who look nothing like her. But his mail-order bride is so beautiful, he doesn't object—until he realizes that his charming new wife has been lying . . . about everything. Can a woman forced to keep secrets and a man hindered by distrust ever hope to find happily ever after in each other's arms?
Bitter Creek (Historical)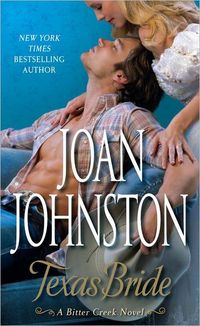 Texas Bride
#1.0
Amazon.com | BN.com | | |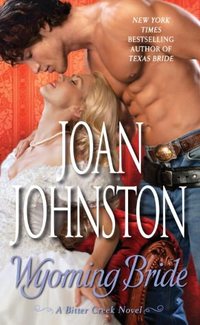 Wyoming Bride
#2.0
Amazon.com | BN.com | | |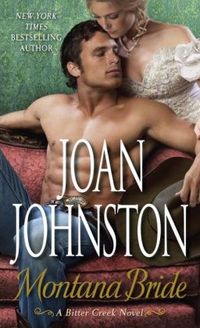 Montana Bride
#3.0
Amazon.com | BN.com | | |
Comments
32 comments posted.
Re: Montana Bride


(Cindy Olp 1:22am June 24, 2014)
LOL! I listened to my first mail order bride book a short
while ago and really enjoyed it. I'm glad to see you do them
also. You're a new author to me... glad I saw you on Fresh
Fiction. :-)))
(Linda Townsend 8:34am June 24, 2014)
I love the interconnected series of books. It just gives so much room for the stories to grow over the series.
(Pam Howell 9:21am June 24, 2014)
I'm looking forward to reading your series, and must commend
you on the covers of your books!! It's nice to see that you
didn't cut the heads off of your models!! I've seen so many
beautiful covers as of late, like yours, where for whatever
reason, the illustrator decides to cut the heads off of the
models, and destroy the cover!! You have really beautiful
covers to your books, which I'm sure will have just as
beautiful stories inside. To me, that's called attention to
detail!! (no offense to the other Authors)
(Peggy Roberson 11:02am June 24, 2014)
Sounds like a great book, I'd love to read it, she is one of my favorite authors.
(Wilma Frana 11:04am June 24, 2014)
My mother got me hooked on these types of books along with
the author Andrew Greeley. I use-to be one of those that if
I read by the time I hit the 5 line of the book I was
asleep. Trust me when I say I was asleep that is no joke.
I would get into trouble at school when it came to reading.
I am smart and can comprehend it all with no problem but to
sit an read it was a task so when you say keeping them all
straight I understand on some level what you mean. I also
have insomnia and that is what got me to be able to sit and
read a book. Now I have something to do when it acts up,
which is often. My mother loves the western books and she
reads you all the time. I would love to win this for her. I
do enjoy your books and read them and look forward to the
next one. Thanks for the opportunity to win. Congrats on
you new line of new books, can't wait to read them.
(Tina Ullrich 11:21am June 24, 2014)
I enjoy following the stories. that continue through the generations. Sometimes when I pick up a book from a series it seems like I am reconnecting with old friends. As a reader I am sometimes amazed at how well authors can weave the story lines and have the books work so well together.
(Denise Boyd 11:21am June 24, 2014)
I enjoy seeing characters and their future generations share their own stories... Congrats on your new series... love mail order bride stories!
(Colleen Conklin 12:58pm June 24, 2014)
I've been a fan for over 20 years. Keep them coming!
(Laurie Gommermann 1:42pm June 24, 2014)
I love a great interconnected series where each book is a
standalone, but the author manages to make me really want to
read the other books because the characters are so compelling.
Sounds like you manage despite a few mishaps along the way. :-
)
(Glenda Martillotti 1:50pm June 24, 2014)
Ooo! That makes my head hurt just reading about all the facts you have to try and remember and keep straight. It will be no difficulty for me to remember that I want to read Montana Bride, though. It sounds great. I love reading about distrustful men (or women) and the lies that inevitably come to light. They always seem to work it out though. I hope that is the case in Montana Bride.
(Debbie Kelly 3:19pm June 24, 2014)
Joan- Thanks, for the contest. I have been reading your books, historical & contemporary for years now, ie. I Promise & Heartbeat for example. You still capture my attention as you move thru your books with the amazing plots. Your reader.
(Lois Imel 4:23pm June 24, 2014)
I can imagine how hard it can be. Each character must be different and
must be believable. Job well done!
(Joanna Moreno 9:41pm June 24, 2014)
This series is one that I will enjoy reading. I'm glad I was
introduced to you through Fresh Fiction.
(Sharon DiPrima 11:03pm June 24, 2014)
Very interesting.
Love how you do this.
(Lisa Hutson 1:10am June 25, 2014)
i am very interested i love your books so keep them coming
(Denise Smith 8:37am June 25, 2014)
I would think that writing a book would not be an easy thing to do. But after reading your books...you make it seem so easy! would love to read this book! Thank you!!!
(Bonnie Capuano 9:26am June 25, 2014)
NOT entering because I alread have this book. I want to
comment this is a good read.
(Leona Olson 9:38am June 25, 2014)
love the books !
(Katarzyna Keen 10:26am June 25, 2014)
first congrats on the book they look great and then i love the
way you done the books the color and ten the title ar e eye catcher thanks for letting us enter
(Desiree Reilly 11:26am June 25, 2014)
Thank you for the chance!
(LeeAnne Hardin 11:38am June 25, 2014)
Fifty-six novels that is truly amazing!
(Denise Austin 3:28pm June 25, 2014)
I can understand how after a lot of novels the stories can be hard to remember. Thanks for the chance to win!
(Kimberly Woodall 3:37pm June 25, 2014)
Haven't read any of your books but this one sounds good. I'd love to win. I just took a quick glance at it on Amazon. Congrats on having so many books published!
(Michelle Fidler 5:00pm June 25, 2014)
Thank you for the chance. Congrats on 56 novels. Wishing you another 56 more :)
(Aimee Robison 6:27pm June 25, 2014)
Thanks for the chance to win this book. It sounds like a fun read.
(Anna Speed 6:30pm June 25, 2014)
Do you ever reuse names? I don't remember that happening but if I've read
all your books it's been a while.
(Laura Gullickson 7:24pm June 25, 2014)
I love the historical western romance novels more than any other genre. It's amazing the number of books you've written. This sounds like another great book. I will be sure to write these titles down of your latest books and get these to read. Thanks!
(Linda Luinstra 7:54pm June 25, 2014)
I love historical romance and I have never ever read a book of yours. *gasp* I
must remedy that ASAP as I love interconnected stories. And WOW! 56 novels.
Way to go and can't wait to read your books soon. Thanks for the giveaway.
(Val Pearson 8:40pm June 25, 2014)
I've always enjoyed mail order bride stories. I love the fun premise of yours.
(Cheryl Castings 10:53pm June 25, 2014)
Maybe you should keep a diary of each character! But then that
would be one thick diary considering how many books you have!
And imagine the time spent going through it to find the color
of someone's eyes?
(Alyn Yang 11:55pm June 25, 2014)
This would be my first read by Joan but the blurb piqued my
interest and all the comments are so positive that it's been
added to my TBR along with all the other books in the series
:)
(Joanna Moreno 1:42pm June 30, 2014)
Registered users may leave comments.
Log in or register now!