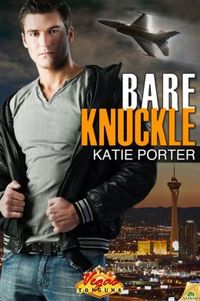 Purchase
Vegas Top Guns #5
Samhain Publishing
October 2013
On Sale: October 8, 2013
Featuring: Eric "Kisser" Donaghue; Trish Monroe
341 pages
ISBN: 1619210940
EAN: 9781619210943
Kindle: B00BLHTFHA
e-Book
Add to Wish List

Romance Military | Romance Erotica Sensual
Skin deep is never deep enough. Vegas Top Guns, Book 5 After a near-fatal plane crash, fighter pilot Captain Eric "Kisser" Donaghue is a changed man. By day he labors to regain his confidence in the cockpit. By night he moonlights as an off-Strip boxer, fighting for prize money to pay for his younger brother's third stint in rehab.
In the ring, no one cares he once had a face that launched a thousand one-night stands—and neither does Eric. He's only there to win. Yet he can't take his eyes off the new ring girl, a glitz-meets-pageant-queen vision of blonde perfection. Down on her luck but not quite out, Vegas showgirl Trish Monroe lives for the spotlight. The scarred, steely-eyed loner who stares at her from his corner of the ring gives Trish an extra reason to strut her stuff. Curiosity and the temptation of a no-strings good time bring them together. The discovery of their secret fetishes—she likes to show off, he likes to watch—turns mere sexual chemistry into a fiery exploration of matched passions. They're a natural fit. Trust in love, however, is harder to earn than trust in bed, especially when this beauty and beast hide even from themselves. Warning: This book contains a Sin City-style Beauty and the Beast love story, lots of naughty pics and vids, adrenaline-pumped base jumping, and a set of very important note cards. Oh, and as always, an incredibly hot fighter pilot.
Vegas Top Guns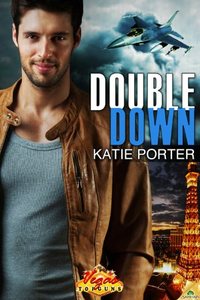 Double Down
#1.0
Kindle | BN.com | | |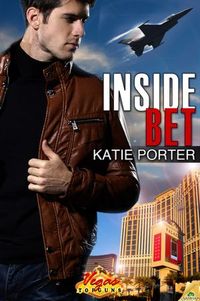 Inside Bet
#2.0
Kindle | BN.com | | |

Bare Knuckle
#5.0
Kindle | BN.com | | |
Comments
24 comments posted.
Re: Bare Knuckle

This looks very exciting-light a fire under an oldie??
(Barbara Wells 9:01pm October 8, 2013)
A hot fighter pilot. I'm sold! Whew! When it comes to series, if all the loose ends are tied up at the end of the last book then I don't feel like I'm missing anything at the end.
(Rhonda Brittingham 9:29am October 15, 2013)
I love winning contests and would love to win your book!
(Sharon DiPrima 2:32am October 16, 2013)
I have been wanting to read this book sounds really good
(Denise Smith 8:47am October 16, 2013)
I read Hold 'Em and loved it!! Can't wait to read this one too. Thanks!!!!
(Bonnie Capuano 9:26am October 16, 2013)
Can't wait to read it!! :-)
(LeeAnne Hardin 10:13am October 16, 2013)
Wow, Congrats on your new book: BARE KNUCKLE. I like the
book cover too! What I miss when it comes to end is getting
used to the characters in the book and it hurts because it
would be like me losing all the characters in my favorite
Soap Opera: Days of Our Lives which I have been watching
since being a child with my Mom. You get used to regular
characters and actors and you don't want to see the show end
or the books to end too! They are like family and you don't
want to see them go away. I would love to win and read your
great book this Fall. Thank You very much. Cecilia CECE
(Cecilia Dunbar Hernandez 11:42am October 16, 2013)
I always wonder what happened to the characters after the series ended. (But I don't want to know that they died.)
(Laura Gullickson 11:45am October 16, 2013)
This book looks really interesting, I can't wait to check it out.
(Meredith Richardson 12:23pm October 16, 2013)
When a series ends, I miss the characters. It's almost like
some of them become friends, or are the kinds of people you'd
want as friends.
(LaRonda Atchison 4:55pm October 16, 2013)
I love series!
(Marcy Shuler 12:29pm October 17, 2013)
Your are new for me, I always enough starting a new series with a new author. I expect to enjoy yor seies of erotic books.
(Cheryl Stillwell 12:29pm October 17, 2013)
Well done on such a happy collaboration! if any series appeals I am sorry to se it end. But if readers like it well enough the author may return. Some series should be left alone though, not dragged out forever to milk the loyal readers, so I would not say continuation is good in every case.
(Clare O'Beara 10:30am October 17, 2013)
I do enjoy reading series of books, you begin to know so much about the characters that you feel connected. Your latest sounds like a nice book to enjoy in your favorite chair with a nice cup of tea....
(C Culp 11:52am October 17, 2013)
Series... I enjoy them... the only thing I am not a fan of is if the series is based on one character and I miss of few of the books and get lost... I like series to have a link between characters but to enjoy their individual stories... I like a nice wrap up...
(Colleen Conklin 12:43pm October 17, 2013)
By the end of a series, if I like it, the characters seem almost real---so I miss them when it ends.
(Sue Farrell 2:43pm October 17, 2013)
I miss all the characters that have grown from the first book... they become real to me ... but I can just reread and have them back. I know it is hard to end a series ... but knowing when to do so is a mark of a good author. I've read a couple of series that got old before they ended. Good luck on the new boys!
(Annetta Sweetko 2:50pm October 17, 2013)
I missed the characters. It is like they are leaving on a long trip and will not keep in touch anymore. I do like to know from time to time how they are doing. Need a novella for these characters.
(Kai Wong 10:08pm October 17, 2013)
It's like I'm saying goodbye to old friends or family!!
(Martha Lawson 10:55pm October 17, 2013)
love to read this
(Patricia Lambert 1:39pm October 18, 2013)
The characters, of course!
(May Pau 7:18pm October 18, 2013)
"Visiting" with friends. It feels like goodbye
(Lenna Hendershott 3:57pm October 19, 2013)
When a series ends, I miss the characters and their continuing adventures.
(Bonnie H 12:51pm October 22, 2013)
Looks like a good series written by a pair who know their
magnetic guys and can't help but have escapades with women.
(Alyson Widen 7:01pm October 31, 2013)
Registered users may leave comments.
Log in or register now!