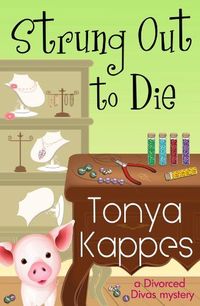 Purchase
A Divorced Diva Mystery
Author Self-Published
January 2013
On Sale: December 21, 2012
Featuring: Holly Harper
368 pages
ISBN: 1481948474
EAN: 9781481948470
Kindle: B00ARPYPNQ
e-Book
Add to Wish List

**BONUS BEADED BRACELET PATTERN IN THE BOOK**

Holly Harper's life is finally getting back on the right track after her divorce from ""what's his name."" She and a group of divorcees have formed a strong bond plotting creative ways to get back at their exes and created a self–help group known as The Divorced Divas where their meetings are held in Holly's bead store, The Beaded Dragonfly.

It's no secret that Holly's ex husband, Sean Harper, and the wealthiest bachelor in Swanee, Doug Sloan, don't get along because Sean is constantly fixing all of Doug's shoddy handy man work. Plus all the Divas would love to get their claws in some of Doug's money.

When Doug ends up dead on the floor of The Beaded Dragonfly with a string of cat eye beads around his neck, it's up to Holly to figure out whose framing her.
Comments
45 comments posted.
HI! After reading about you and "cozies".... I am already hooked and ready to string along! I am SO VERY EXCITED about your contest.. I really didn't know about "cozies" etc until just now (poor uneducated me! WOW what have I been missing!) Not for long though, I hope. If I am lucky enough to win your contest, I will be able to learn alot with all those books! It sounds perfect, a great story and learning new things (although I try to learn something new with every book I read, this makes it even better) Thanks for explaining about "cozies" to those of us un-aware and Thanks also for having this contest for your readers. Good Luck to all (but...sorry readers...I am truely hoping that I win! LOL). Have a great day and keep up the terrific writing!
(Cheri Minott 12:42pm August 19, 2013)
My goodness, I never knew anything about cozy mysteries before reading your story! I can attest that I am hooked and wanting more. As a woman and an avid reader of mysteries and thrillers which are my favorite types of books to read, especially when you can learn something you can relate to or never knew. Now I find myself salivating to read your latest book! Thank you
(C Culp 7:47am August 19, 2013)
I think I like the characters the most. If I can relate to
them, then the story just goes beyond. It's more enjoyable.
I actually feel comfy. Sometime however the so call cozy
mysteries aren't that cozy. When the characters don't match
up to the book, it kinda fails majorly. I hate to say it
but I've actually read quite a few of those in the past.
(Bj Gaskill 8:07am August 19, 2013)
I am ready to cozy up to a cozy mystery. Keeping my fingers crossed!
(Melanie Backus 8:57am August 19, 2013)
I usually like the humor that goes along with the mysteries. I love when a book can make me laugh out loud.
(Sue Galuska 9:47am August 19, 2013)
Cozy mysteries provide me with an enjoyable and unique plot,
great characters and wonderful wrilting.
(Sharon Berger 9:51am August 19, 2013)
What I love about a cozy is that you get into a more intimate look at the characters, which in time, makes you feel as if you've known them for years. The stories usually take place in the same setting, too, and you can practically picture yourself there. In a nutshell, they give you the feeling of home. I'm anxious to read your latest book. I think the cover is wonderful, and it brought a smile to my face. Even though it's been out a few months, I want to congratulate you on your style of writing, and on a story that I'm sure will resonate with a lot of readers, such as me, that are not familiar with you. Congratulations!!!
(Peggy Roberson 9:53am August 19, 2013)
I think I love how close-knitted the community is. And how everyone knows everyone!
(May Pau 11:03am August 19, 2013)
i like humor and a little romance with mystery books i think
the book sounds great
(Denise Smith 12:30pm August 19, 2013)
Hi Cheri! I'm excited to introduce you to a whole new genre!
Cozies are fun and light with a dash of romance. A must for
everyone ;)
(Tonya Kappes 12:56pm August 19, 2013)
Awe, BJ, that's a horrible experience. I think with any book
if the characters don't match with the story is a failure. In
Strung Out To Die, she's the shop owner and the body is found
in her shop :) You can't get more of a match than that ;)
(Tonya Kappes 12:58pm August 19, 2013)
Good luck, Melanie!
(Tonya Kappes 12:58pm August 19, 2013)
Hi, Sue! You are in luck! I only write humor in my books.
Fingers crossed.
(Tonya Kappes 12:59pm August 19, 2013)
I really like the cozies. Usually they are about something with which I am familiar, so that helps. But the weaving in of the characters with the cozy setting is most important. The laughter, determination, satisfaction, adventure - they all add up to something that keeps me reading and reading and reading...
(Mary Ellen Suter 1:18pm August 19, 2013)
I love that cozy mysteries have great female role models who try and get ahead no matter what life throws at them. The settings are always somewhere dreamy that you would love to visit and the characters are mostly fun and interesting and the plots are smart and it is fun trying to figure out how it will all be figured out before the end of the story.
(Edel Waugh 1:49pm August 19, 2013)
Cozy mysteries are just a comfortable read.
(Sheila True 2:35pm August 19, 2013)
Both my mother and I love cozy mysteries. They are more light and not as grusome.
(Lori Yost 2:54pm August 19, 2013)
I love Cozy mysteries unique plots that make them
entertaining! Thanks.
(Dianne McVetty 3:18pm August 19, 2013)
It is very easy to relate to cozy mysteries. I love the plot twists.
(Laura Gullickson 3:24pm August 19, 2013)
I love mysteries and if they have fleshed out characters that you can get to know even better. I read for pleasure now so cozies are great.
(Kathleen Yohanna 5:09pm August 19, 2013)
Sounds like a good book to read.
(Charlotte Wills 5:28pm August 19, 2013)
What do I love about a cozy mystery? The atmosphere, about all the things going on around you, the feel of closeness, including the spiritual. Like being wrapped up in a warm blanket on a cold night, all snug and comfortable. Mysteries are the best, most every type of book/novel has an element of mystery to it, I find. Your book sounds interesting, thank you for this chance to win it. The Best To You.
(Esther Somorai 5:57pm August 19, 2013)
Hi Tanya,
The Booktown store owners loved the cover cards I passed out. I love your books and would be thrilled if I were the lucky winner of a Dead Tree version of your book.
(Nora-Adrienne Deret 6:04pm August 19, 2013)
I think your book sounds great. I haven't read cozy mysteries, so I don't know what I'm missing. This is one I'd love to start out with reading, just because of the beading/jewelry making in it. I enjoy crafts and could learn something from it.
(Linda Luinstra 6:24pm August 19, 2013)
I love cozy mysteries. I love the characters and the settings and also, learning about hobbies that are different from mine. Sometimes I'm inspired to try something new!
(Juli Lear 6:42pm August 19, 2013)
I haven't read a cozy mystery yet.
(Lori Ringel 9:00pm August 19, 2013)
Cozy mysteries? That's a new genre to me, but I don't mind trying something new! :-)
(Lynne Stringer 9:24pm August 19, 2013)
I enjoy reading cozies with the endless settings that help fuel them. I've read the most interesting details in each and every one of them. Now if I could only bring forth all of that wonderful information whenever discussing these topics. Alas, my memory is no longer what it used to be.
(Karen Blossom 9:30pm August 19, 2013)
Love reading mysteries of any kind. Looking forward to reading
this one as well Thanks for the chance to win a copy!
(Teresa Ward 10:45pm August 19, 2013)
I love reading cozy mysteries! The characters are so interesting and you always feel right at home in the wonderful setting.
(Britney Adams 12:26pm August 20, 2013)
I think cosies are great fun as we get to learn as well as solve a murder. I love mysteries featuring animals or crafts, unusual jobs or locations. There is usually something practical going on in a cosy.
(Clare O'Beara 9:26am August 20, 2013)
I like the unusual settings.
(Sandy Giden 11:30am August 20, 2013)
I like all kinds of mysteries and guessing who did it.
(Maureen Emmons 3:51pm August 20, 2013)
I love the platonic relationships and the friendly bantering between friends while they try to solve a mystery.
(Kai Wong 7:24pm August 20, 2013)
That is exactly what I thought a cozy mystery was. While my mother was alive, this was the type of book I would search out for her. Especially when she refused to reread Agatha Christie!
(Marcia Berbeza 8:25pm August 20, 2013)
I like cozy mysteries because they don't have explicit sex or bloody gore---and yet have the excitement of mystery and often a romantic relationship.
(Sue Farrell 11:10pm August 20, 2013)
I have never heard of a cozy mystery but looking them up online I will definitely have to go out and find some to read. I am always looking for new books and authors to read.
(Lynne Pearson 12:19pm August 21, 2013)
The characters are usually very likeable and I like the humor.
(Rita Wray 3:32pm August 21, 2013)
I love all the elements of a cozy mystery. Fun to read &
figure out.
(Mary Preston 4:10am August 22, 2013)
Cozy mysteries are the best! You can read them with a nice cup of tea before bed
without having nightmares! :)
(Jackie R 4:47pm August 22, 2013)

(Laureen Sonia 9:36pm August 26, 2013)
Putting in for a win.. I have been a fan of your books for some time..so I'm
crossing my fingers too! Your an extraordinary writer!
(Laureen Sonia 9:52pm August 26, 2013)
I love cozy mysteries, especially the humorous and paranormals mysteries. I cannot wait to read the strung out to die darling cover.
(Kim McAllister 12:44pm September 4, 2013)
Webmaster Forum
(Leijon 19 9:46am February 25, 2015)
If more people that write articles really concerned themselves with writing great content like you, more readers would be interested in their writings. Thank you for caring about your content.Webmaster Forum
(Leijon 19 9:48am February 25, 2015)
Registered users may leave comments.
Log in or register now!