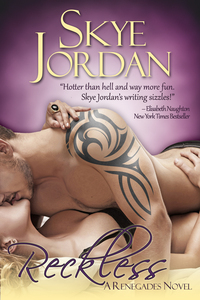 Purchase
Author Self-Published
August 2013
On Sale: August 1, 2013
Featuring: Lexi LaCroix; Jax Chamberlin
ISBN: 0985870117
EAN: 9780985870119
e-Book
Add to Wish List

A couture wedding dress designer to the rich and famous, Lexi LaCroix's image means everything. But crossing paths with a sexier-than-sin, bad-boy biker makes Lexi realize how much living she's sacrificed for her success and one touch is all it takes to threaten her carefully choreographed life. When that touch fills far more than just Lexi's physical needs, she finds herself torn between the career she needs and the bad-boy she craves.
Jax Chamberlin gave up the superficial life of acting for the thrill of running his own stunt company years ago. But a recent betrayal proves he's still too close to the limelight to find a woman who doesn't plan to use him as a stepping-stone to success. When the charming and mysterious Lexi offers him a totally anonymous hook-up during an out of town trip, Jax accepts. Only Lexi is more sextacular than charming, and Jax wants more.
But Lexi's got a major hang-up over his renegade lifestyle, and Jax isn't willing to change his ways. Especially not when he discovers who she really is. Because if she finds out his connections could catapult her to the top of her career, he's afraid the fantasy woman he's falling for might just end up like all the other gold-diggers. And this time, it's not just his bad-boy reputation at risk, but his heart, too.
Comments
57 comments posted.
Re: Reckless

Can't wait to read this book!
(Lynn Anderson 10:28am July 24, 2013)
Both Tombstone and Skyfall rate in my book!! Speaking of books, I can't wait to read yours!! It sounds like it's going to be a great read!!
(Peggy Roberson 10:39am July 24, 2013)
Something new to read to look forward to!
(Valeri Davila 11:35am July 24, 2013)
I love The Die Hard movies... lots of action there!
(Colleen Conklin 12:32pm July 24, 2013)
National Treasure is my favorite action movie. Reckless sounds great. I love the cover.
(Crystal Broyles 1:06pm July 24, 2013)
Sounds good.
(Penny Mettert 1:25pm July 24, 2013)
Sounds great! I'm looking forward to reading it!
(Betty Hamilton 1:30pm July 24, 2013)
What I really love are actors who do their own stunts! I think it's more common with TV actors rather than Movie actors, but Leverage had some great action scenes. Thanks!
(Angela Hoagland 1:35pm July 24, 2013)
What an interesting post! Thanks for visiting. I love the stunt work from the original Indiana Jones movie, Raiders of the Lost Ark. I especially like the scene with Indy taking on the convoy of vehicles and soldiers.
(G S Moch 1:46pm July 24, 2013)
I just watched Tom Cruise in The Ghost Protocol and he did a lot of those wild stunts. I was glued watching it and would put it up there with "some of the greatest stunts."
Look forward to your read.
(Patricia (Pat) Pascale 2:05pm July 24, 2013)
I loved watching the Expendables movies. It's fun to see the action heroes I grew up watching on the big screen again.
(Lisa Guertin 2:46pm July 24, 2013)
Hal Needham was one of the best and most productive stunt men ever, and he directed a few movies. One of the earliest stuntmen was Yakima Kanute who became a good friend to John Wayne.
(Annette Naish 2:46pm July 24, 2013)
Lethal Weapon, Die Hard, True Lies, Transformers, Casino Royale...I still have nightmares about jumping around on those cranes and half finished buildings! It's funny how I hate watching tear jerker dramas and have no hesitation about watching an action movie!
(Marcia Berbeza 2:50pm July 24, 2013)
I like the Lavern and Shirley episode where they are in California and see the backstage of movie sets. The stunts they do in that was kinda fun to watch.
(Sally Hannoush 2:55pm July 24, 2013)
I love the post. My favorite action movie is both action and sci-fi and
features one of my favorite hotties, Pitch Black. I remember watching it in
the theater, no one else was there because it was not one of the hyped
movies. I was hooked from the first scene with Vin Diesel. It's such a
fantastic movie never ending action with a storyline and Vin I'd a lot of his
own stunts.
(Stephanie Fredrick 3:20pm July 24, 2013)
I've always liked earlier Jackie Chan movies-- he was such a
pretty climber. And it's a sort of horribly amusing thing that
there used, at least, to be a website detailing all of his
breakages due to his stunt work....
(Mary Ann Dimand 5:42pm July 24, 2013)
I like the Die Hard movies.
(Cheryl McEwen 5:51pm July 24, 2013)
I like F/X and F/X 2 with Bryan Brown and Brian Dennehy.
(Mary C 6:02pm July 24, 2013)
I like Arnold movies. They are brainless and fun and requires no thinking whatsoever... I really like True Lies especially... Now as for the actor himself... can't stand him!
(May Pau 6:47pm July 24, 2013)
I like the Tom Cruise movies in which he did his own stunts. Ghost Protocol and Mission Impossible 4. He does a great job and it's amazing that he insists on doing these dangerous scenes himself. I also like all the movies that Hugh Jackman is in. He's a great actor.
(Rich Cook 7:11pm July 24, 2013)
can't seem to resist the chronicals of Riddick when ever I come across it on tv :)
(d Kenney 7:50pm July 24, 2013)
My favorite action movies tend to be superhero movies. A recent favorite is The Avengers.
(Janie McGaugh 7:58pm July 24, 2013)
I love the 80's movie The Last Dragon.
(Terri Quick 8:38pm July 24, 2013)
I loved the fast and furious as well as iron man.
(Rhonda Brittingham 9:37pm July 24, 2013)
The Hunger Games!
(Diane Pollock 10:19pm July 24, 2013)
My favorite action movies are the Transporter movies, I love
anything with Jason Statham in it! ;)
(Nicole Caroen 10:21pm July 24, 2013)
Wow, Congrats on your new book: RECKLESS and I really
enjoyed reading about all the stuntmen and the different
categories and things they do. I love the Die Hard movies
and Lethal Weapon and Fast and Furious and Dukes of Hazzard
from 1979 to 1985 had a bunch of great stunts with the
General Lee car. I love all the action and being on the edge
of my seat all the way through movies and books that are
great. I would really love to win and read your book this
summer. Thank You very much. Cecilia CECE
(Cecilia Dunbar Hernandez 10:37pm July 24, 2013)
I liked the Lethal Weapons movies---a little humor with action is just perfect for me.
(Sue Farrell 11:13pm July 24, 2013)
I really liked Taken. Sounds like a great book.
(Janea Carrell 11:20pm July 24, 2013)
I'm showing my age but I loved the movie Hooper with Burt Reynolds about stuntmen. Those guys (and gals) are amazing and have to be a little crazy (LOL). I've never been a chic flick girl, give me something that blows up, jumps out of a plane that might explode or dives onto a moving train and I am happy, happy, happy. Reckless sounds just like one of those movies.
(Annetta Sweetko 11:30pm July 24, 2013)
My Favorite Action Movie is Die Hard
(Stacey Smith 11:32pm July 24, 2013)
I love the Fall Guy TV series. There are clips on how a stunt is done even though the stuntman that Lee Major play is a bounty hunter and he used those stunt skills when he on the job.
(Kai Wong 11:39pm July 24, 2013)
I have never read a story about stuntmen. I look forward to this one.
(Marilyn Nowlin 11:52pm July 24, 2013)
I really love 007 movies, especially lately. I do
like Mission Impossible. Bruce Willis films, Die
Hard and RED. I also like other 'action' like Van
Helsing, X Men, The Brothers Grimm, Hansel and
Gretel. Also Star Wars. I can't forget Lord of The
Rings and Hobbit.
(Carla Carlson 1:58am July 25, 2013)
I liked Salt with Angelina Jolie. Whoever her stunt double was, was just great. The ladies can do it, too.
(Kathleen Yohanna 4:26am July 25, 2013)
i havbe read some of skye` books i really like her books i
love to read this one tos
(Denise Smith 8:07am July 25, 2013)
am told mr. cruise does all his own stunts so i enjoy watching all of his movies.
(Mal Kaplan 9:04am July 25, 2013)
The original Mission Impossible was my favorite. 24 was my
ultimate with Keifer and his great acts of valor.
(Sharon Berger 9:28am July 25, 2013)
Any of the Marvel Comic Book movies (The Avengers, Thor, Iron
Man, etc...). I love them all, and they have fantastic
stunts.
(Karin Anderson 9:53am July 25, 2013)
The new series sounds fantastic. I can't wait to get started. Thanks for a chance to win. Best of luck with Reckless - and the entire series.
(Nancy Reynolds 10:54am July 25, 2013)
I loved the Mission Impossible movies.
(Pam Howell 11:11am July 25, 2013)
The stuntmen are amazing and I'm glad to hear they have the Taurus World Stunt Awards to honor some of the best. I didn't realize this until now.
(Anna Speed 12:20pm July 25, 2013)
I'm a big fan of all the superhero movies - Avengers, Iron Man, Captain
America, Thor, etc. I also love the X-men and Wolverine movies. My
husband and our two teenagers love them all, too, so we have fun movie
time together. Congratulations and thanks for the giveaway!!!
(Linda Brennan 1:41pm July 25, 2013)
I think the stuntmen in the James Bond movies are amazing!
(Cheryl Castings 1:59pm July 25, 2013)
My favorite action movies are the james Bond ones. They do some awesome
stunts in those films. And I like the old time Westerns where the stars actually
did do their own stunts. I understand jJohnny Depp did a lot of his own stunts
in the new Lone Ranger movie.
(Joy Isley 4:46pm July 25, 2013)
James Cagney in the film Taxi 1932,he would allow himself to be shot at with live ammunition (a relatively common occurrence at the time, as blank cartridges and squibs were considered too expensive and hard to find to be used in most motion picture filming). He had been shot at in The Public Enemy, but during filming for Taxi!, he was almost hit.
(Deb Pelletier 5:11pm July 25, 2013)
Some of my most favorite action movies are the superhero movies--Iron Man, Thor, Captain America, Spiderman, Incredible Hulk, etc. I love all Johnny Depp movies (esp. all his Pirate movies). I think Angelina Jolie did great stunts in some of her movies. There aren't many female actors that do their own stunts. I can't wait to read this book! I love the cover...very eye-catching!!
(Linda Luinstra 5:28pm July 25, 2013)
My favorite action movie is Fast and Furious
(Shirley Younger 5:54pm July 25, 2013)
Thanks so much for the giveaway! I can't wait to read this one, I love
actions (novels, movies and more!)
(Katelyn Ringrose 8:26pm July 25, 2013)
Stuntmen make the action wilder and more realistic in movies,
so in a book, they take on the hard stuff and make it look
easy with a few bumps on occasion.
(Alyson Widen 8:52pm July 25, 2013)
My favorite action movie is definitely Taken... but I also have a soft spot for any of the James Bond movies. Even the bad ones are still awesome because it's 007.
(Jamie Fortney 9:22pm July 25, 2013)
I saw a show on Stuntmen/women and it talked about how many actors and actresses actually do a lot of their own stunts. What really amazed me was when I originally found out that Jackie Chan does pretty much 100% of his own stunts. I couldn't believe how many times he's been hospitalized and how many bones he has broken over the years.
(Donna Holmberg 10:29pm July 25, 2013)
Have never read a book about stuntmen, sounds like my kinda read.
(Sheila True 10:35pm July 25, 2013)
My favorite Action movie of all time is: A Man Escaped; it
was a 1956 French movie later translated in English. I have
a copy of this movie, and it is a keeper!

A fun fact about a stuntman; it would be the fact that, as
many already know, the actor Jean-Paul Belmondo has always
insisted in making his own stunts. He was in some very good
action movies too.
Thank you!
(Judith Venne 11:23pm July 25, 2013)
Mt favorite stunt movie was FX with Bryan Brown and Brian Dennehy.
(Carol Woodruff 6:26pm July 26, 2013)
My favorite movies have Clint Eastwood in them. He's always the winner and I love all the action. Thank you for a chance to win !!
(Susan King 9:05pm July 26, 2013)
I love the fact that the stuntmen get the recognition they
deserve.
(Mary Preston 9:28pm July 26, 2013)
Registered users may leave comments.
Log in or register now!