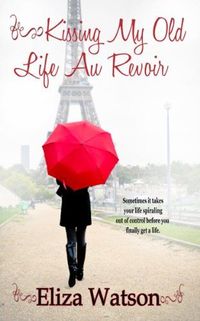 Purchase
Kissing My Old Life Au Revoir
Eliza Watson
Author Self-Published
July 2013
On Sale: July 22, 2013
ISBN: 0989521915
EAN: 2940148179801
Kindle: B00DVRJWFI
e-Book
Add to Wish List

Event planner Samantha Hunter is prepared for a few challenges when escorting a group of good ole boy beer distributors to Paris, the city of haute cuisine and fine wines. However, she doesn't foresee being passed up for a promotion because she is too professional and doesn't knock back beers with her clients.
Her focus soon switches from landing the well–deserved promotion to finding her free–spirited sister, who lives in Paris and has disappeared, leaving behind family secrets to be uncovered. A sexy puppeteer helps Samantha search for clues to her sister's whereabouts and teaches her to embrace her inner child. And a funeral–crashing psychic demonstrates the importance of living life to the fullest. It takes Samantha's life spiraling out of control for her to finally get a life.
Comments
55 comments posted.
Re: Kissing My Old Life Au Revoir

Oh Eliza, I am now a senior gal at the age of seventy.
I have done many things that I wish I could change. Losing track of a few good friends caused by moving away has had me looking for them again now that we would be in our golden age. How great it would be to see how our lives had taken us down different roads. Must have your new books, it would be a wonderful read.
(Rosemary Simm 2:27pm July 22, 2013)
I am so very impressed. How wonderful for you and your hubby. I have never done something so life changing. However, my parents sold everything and moved to Florida (from Pa.) with 6 of their (then) 7 children after a 2 week vacation! They had one more child after moving (Mom was 48 and Dad 50 when the last was born). It was really life changing for all of us.
The bravest thing I did was enroll in Junior college at the age of 32. I was newly divorced, raising my 2 children, with a small house, yard, and a demanding job. Yet, I somehow managed to eventually earn several degrees including a BS in Business Administration!
(Betty Hamilton 3:03pm July 22, 2013)
I would love to own a cottage in Ireland. What a wonderful adventure. That is what life is all about, taking chances.
(Rita Wray 3:18pm July 22, 2013)
Looking back on my life I realize I have done a number of brave things with little or no support, and probably with no clue how I was going to make it work! At the age of 28 I divorced in August and started college in September. That will be 22 years ago next month! I continued on to get my masters degree, and am now working in private practice. Continuing on with my education was a big leap of faith due to being a first-generation college student. Taking risks is essential to living life to its fullest!
(Sandra Watson 3:24pm July 22, 2013)
Sounds like a great prize.
(Wilma Frana 4:02pm July 22, 2013)
Every day is a choice and life is the adventure!
(Jackie Stieghorst 4:07pm July 22, 2013)
Envy, envy I so envy you.
(Theresa Norris 5:15pm July 22, 2013)
Just wondering when you plan to travel to Ireland to go inside the cottage you purchased and stay in it? At least you had a peak through the windows. I'm sure it's cute and a good investment. I've never done anything quite like that but have had to make some tough, yet wise, decisions during my life with no regrets. At least now, you won't have that would've, could've, should've feeling had you passed on it!
(Linda Luinstra 5:39pm July 22, 2013)
Betty and Sandra--Kudos to you guys for having the
determination to turn your lives around despite being single
mothers with numerous challenges!
(Eliza Watson 6:24pm July 22, 2013)
Linda--We are going to Ireland in September to check out our
house. If I can wait that long! Thanks for stopping by!
(Eliza Watson 6:25pm July 22, 2013)
Going to Ireland is the dream vacation my husband and I always talk about.
I cannot imagine a more beautiful country to visit. My husband and I are
both of Irish descent, so I always picture a trip to Ireland as "going home! I
hope the time from now until you can go to your cottage in September
passes quickly! Congratulations on your book and thanks for the
giveaway!!!
(Linda Brennan 6:53pm July 22, 2013)
I believe this adventure is meant to be for you and your husband sounds wonderful to share it with you. Nice plots coming from there and if and when you decide it's time to move on, just do that. Together you can do anything. Keep writing,Eliza, and enjoy!
(Patricia (Pat) Pascale 7:08pm July 22, 2013)
Congrats! Ireland is so scenic! :) So envious!
(May Pau 7:52pm July 22, 2013)
Admire your adventurous move. Thanks for the contest.
(Jackie Robertson 7:57pm July 22, 2013)
Wow! I have always wanted to visit Ireland, I can't imagine owning property there! I would be over the moon. Congratulations and enjoy the home.
(Martha Lawson 8:27pm July 22, 2013)
Ireland! How romantic....
(Diane Pollock 8:41pm July 22, 2013)
I like how you followed your heart plus didn't take the "No's"
and get upset by buying a house on another continent.
(Alyson Widen 8:52pm July 22, 2013)
You are a brave soul. I have regrets for not buying on Sanibel Island 40 years ago when the prices were reasonable...now I pay for 2 weeks for what I could have bought a house there back in the way. Good luck!
(Susan Coster 11:01pm July 22, 2013)
Much as I now regret it---I left my school during my senior year of college just because my boyfriend called and asked.
That certainly changed my life.
(Sue Farrell 11:17pm July 22, 2013)
I would love to rent your home when and if I get a chance to go to Ireland. Liz, you can rent your home in Ireland for the time being until you decide to live there. I don't know if renting your home would be appealing to you. It's just an idea.
(Kai Wong 11:41pm July 22, 2013)
I'm so very excited for you to have a home away from home and family there as well in Ireland. I would love to be able to do the same thing myself. Sounds like you have a wonderful husband and may you both continue to have a blessed life together. Thank you for the chance to win, your book Kissing My Old Life Au Revoir and gift card, and I hope I do.
(Esther Somorai 11:53pm July 22, 2013)
What a great journey you have taken. Congrats on your house in Ireland.
And did you hear about the birth of Kate and William's baby? I lived in
Aberdeen, Scotland when i was 8 years old. I love everything about
Britain. I have never been to Ireland, but i would love to sometime.
(Sarah Bauman 11:57pm July 22, 2013)
wow a real inspiration! thanks
(Debbi Shaw 12:15pm July 23, 2013)
congrats and i hope everything go`s well for you
(Denise Smith 12:26pm July 23, 2013)
Wow! Thats so awesome! :)
(Sara Arcuri 1:31am July 23, 2013)
I have to congratulate you on taking a gutsy move, by purchasing the cottage!! Having your soulmate for support helps to make the decision so much easier!! You also had signs that this was the right move to make (no pun intended). I've also been told by close friends and a couple of relatives that I'm gutsy as well. About 6 years ago, my Husband lost his job, and we in turn lost our house of 13 years. We packed up what we could of our belongings in our pop-up camper and small pick-up truck, grabbed the dog, and headed for the nearest campground, which was to be our new home. We moved around like this for a while, until we were able to find a place that we were able to afford, since we got no support from immediate family. We are now in a very cute place out in the country, away from everyone, and we love it!! Things happen for a reason, and you go through life, learning to roll with the punches!! Congratulations again, and I can't wait to read your book!!
(Peggy Roberson 6:48am July 23, 2013)
At the ripe age of 42 I 'up sticks' in New Zealand & decided to see the other parts of the world. Eventually I walked down a street in England - it felt like home. I have been in England now for 20 years (with a wonderful husband). Sometimes you just have to take a chance and see where it leads you. Perhaps I'll see you in Ireland next - haven't been there yet although both my parents are from there.
(Irene Wright 7:58am July 23, 2013)
This books sounds like a wonderful story, what an adventure. Thanks for sharing!
(Stephanie Strausberger 8:25am July 23, 2013)
Thanks for all the well wishes on our new home in Ireland
everyone! I'm still a bit overwhelmed by it all, but I can't
imagine I'll have any regrets. There might be a memoir
coming out of the whole adventure.

Peggy--Sometimes we are forced into change and it turns out
being for the best. It sounds like you've found your perfect
spot. :-)

Irene--Wow, that was quit the move. And I know exactly what
you mean about encountering a place and thinking this is it.
This is where I belong.

Thanks so much for stopping by everyone!
(Eliza Watson 9:07am July 23, 2013)
Thanks for sharing your wonderful personal story - I am so impressed with you and your darling husband for GOING FOR IT! It takes great courage to make such a leap of faith - but I KNOW it's going to work out for you. I hope you DO write a memoir about it - or keep all of us up to date via a web page or something. Because I am totally hooked on your personal story now. And your book sounds fantastic, too. Thanks for the chance to win - and best of luck with EVERYTHING.
(Nancy Reynolds 9:25am July 23, 2013)
I live in Ireland so I'm delighted that another author has come to live here - we have many! If you spend most of your year here you can submit your books for assessment for cultural and artistic merit, and should they pass, you won't have to pay tax on your artistic earnings up to a good high threshold. Now you see why so many writers, musician and other artists make their homes here.
(Clare O'Beara 9:28am July 23, 2013)
What a wonderful and beautiful story that is like a
fairytale come true. You are fortunate and I wish you m any
years of happiness, great health and continued adventures.
We moved from Can. to the SW U.S. which was the best thing
ever. Sometimes life is meant to be explored and risks are
involved but they are important since you have one chance.
(Sharon Berger 9:34am July 23, 2013)
No crazy chances in my life....maybe someday! Congrats on your impulsive buy! :)
(Veronica Jarvis 9:42am July 23, 2013)
I think it is very brave to make that big of a life change. Congratulations.
(Pam Howell 10:27am July 23, 2013)
I'm so excited to hear you took a leap and bought the house in Ireland - brave, bold & a choice I doubt you'll regret. I totally believe in 'signs' of all kinds & I've learned life is way too short not to follow you heart. I can't wait to read this book, it's been on my TBR list.
(QuenKne M 11:00am July 23, 2013)
Eliza, I am so excited for you and your husband. To have a cottage in
Ireland. I have always wanted to visited Ireland, it sounds like such a
beautiful place to visit. How wonderful that you followed your heart :-D
(Jan Capstick 11:26am July 23, 2013)
What an exciting change! I have never been to Ireland but have always felt like it would be a place I would love to visit.
(Anna Speed 11:51am July 23, 2013)
Haven't ever read any of your books. Can't imagine why. Titles seem
snappy enough. Hope to try one soon.
(Kantu Malhotra 12:19pm July 23, 2013)
Wow! What a quick change. I'm glad you have relatives nearby to help look after your writer's retreat while you are not there. Were there any legal quirks that surprised you when you were purchasing this property?
(Laura Gullickson 12:55pm July 23, 2013)
Clara--I had heard that rumor about no taxes, so it's true.
Definitely an added incentive to make Ireland a full-time
residence. You never know, we may meet up one day. :-)

Laura--Purchasing the home was a very smooth process thanks
to my friends hooking me up with a solicitor right away. I
would say the most difficult and frustrating part was wiring
the money. We had to make 4 wire transfers and learned the
hard way that the banks don't give you the going exchange
rate, it's always higher, and we were never sure what it was
going through at in euros the times we transferred it in
dollars. Setting up electricity, home insurance, etc was a
total breeze. And there is little property tax compared to
the U.S. So it's the ideal location for a second home!
(Eliza Watson 1:11pm July 23, 2013)
Lucky you! My dream is to own a little cottage in Ireland. I've never been
there, but it is our ancestral home and I have been anxious to visit. Our next
big trip will be to Ireland and Scotland. Maybe I'll be lucky enough to find
such a place in our family's county.
I hope you and your husband get to go over soon to spend some time in the
cottage. I hope too you get a chance to spend some quality writing time there
with or without your husband. Away time can be good for both of you. Good
luck with the Irish Getaway and your writing. Bless your husband for being
such an understanding and supportive guy.
(Patricia Barraclough 4:06pm July 23, 2013)
How fun owning a house in another country! I'd love to travel to Europe. Especially Italy. Enjoy your new adventure!
(Sue Galuska 4:38pm July 23, 2013)
I love Paris and it sounds like an exciting book to read. Looking forward
to it.
(Judy van Ryn 6:43pm July 23, 2013)
You have the luck of the Irish with you. Happy writing in Ireland. :-)
(Deb Pelletier 7:21pm July 23, 2013)
A house in Ireland sounds wonderful. I hope you enjoy it even more than you feel like you will
(Gladys Paradowski 8:35pm July 23, 2013)
Wow, Congrats on your new book: KISSING MY OLD LIFE AU
REVOIR. Also, Congrats on buying a cute cottage in Ireland.
I am so happy for You because I was adopted as a child and
in 1994 my brother in Kansas looked me up in TX and I have
found out that I have Irish roots and relatives too. I Pray
that you will have a great life and writing career in
Ireland and Please post some cute pictures that we can see
too. Thank You very much. Cecilia CECE
(Cecilia Dunbar Hernandez 8:38pm July 23, 2013)
Enjoy your cottage!
(Cheryl McEwen 9:17pm July 23, 2013)
Congrats on buying your writer's cottage. I'd love to have a place like that in Ireland or Scotland.
(Janie McGaugh 10:32pm July 23, 2013)
I'd love to just be able to vacation in Ireland and Scotland,
my ancestral homelands, one day....buy buying a vacation
cottage?! Wow, that takes guts! Good for you!!
(Mollie Katie Gathro 10:50pm July 23, 2013)
One day I hope I might find your adventurous spirit and embrace it for myself. I have a difficult time with change. Travelling to a foreign land, finding new relatives and then moving there to fulfill a dream sounds amazing and terrifying. I definitely applaud your courage.
(Jamie Fortney 10:52pm July 23, 2013)
this sounds EXACTLY like something i would do!
(Sara Gathro 10:54pm July 23, 2013)
I think this is incredibly brave, giving up all our safety nets like that.
(Kathleen Conner 11:52pm July 23, 2013)
What an exciting thing to do. It has been many years since I have done something that I wasn't sure how everything would work out.
(Maureen Emmons 6:18am July 24, 2013)
You are so brave! I don't know if I would be able to do that, but admire people that can. Good luck and I hope to hear how often you visit and if you enjoy as much as I think you will.
(Susan King 9:09pm July 26, 2013)
Congratulations on your new house in Ireland! Moving to a new location is always so exciting. I have lived in different areas and find that each area has its own beauty.
(Bonnie H 10:13pm July 26, 2013)
Registered users may leave comments.
Log in or register now!