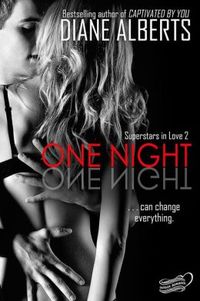 Purchase
...can change everything
Superstars in Love #2
Swoon Romance
July 2013
On Sale: June 25, 2013
ISBN: 0016596633
EAN: 2940016596631
Kindle: B00DK2WWEM
e-Book
Add to Wish List

Romance | Novella / Short Story
British theater star, Justin Holloway, is about to open in his first Broadway show. He should be stoked. But opening night jitters have gotten the best of him; and if one more person tells him to "break a leg," he just might break theirs instead.
When he pushes out of the theater and accidentally knocks a woman into the street, he does the first thing that comes to mind—pretends he isn't the show's lead and tries to charm her into drinks and dinner.
Alexis Verdon is not a fan of musicals. Who really goes around singing grocery lists to the store clerk? Too bad she's promised her bed-ridden sister she would not only attend the opening night of Broadway's latest jewel, but also get autographs from the entire cast.
As if that isn't bad enough, on the evening before her great sisterly sacrifice, Alexis is knocked flat on her butt by a handsome Brit who won't take "no" for an answer and insists on taking her out on of all days, Independence Day (hello, we wanted our independence from Great Britain for a reason)!
When their attraction leads to a steamy one night stand full of passion, lies and unspoken truths, will they find a way to turn one night into something more?
Superstars in Love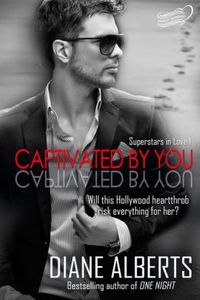 Captivated by You
#1.0
Kindle | BN.com | | |
Comments
42 comments posted.
Re: One Night

A friend asked me to double date with her and the guy she hoped would be her new boyfriend and his buddy. I was reluctant but owed her a favor. Six months later I was married to the buddy and ... well I guess I still owe her a bigger favor 38 years later.
(Annetta Sweetko 11:08am June 23, 2013)
I have a very special friend that I met through a networking site more than ten years ago. I expected that it would be a brief interlude and it grew into something so much more. Today he is my best friend and I am forever grateful that I took the leap.
Good luck and happy writing!
(Tracie Travis 11:52am June 23, 2013)
I went to a dance in high school and was asked to dance. Thirty three years later I am still dancing with the same guy.
(Shawn Andree 11:54am June 23, 2013)
Nope! Don't see it happening hahah but reading the other
comments, it seems to change many lives in an interesting way.
(Lazydrag0n Puff 12:20pm June 23, 2013)
i met my husband a very different way there wasnt a one
night that changed everything for me i sure it happenes just
not to me. i met mine through a newspaer ad it was a local
paper that ad for singles who were looking to find that
special someone i put my ad in and had the guys call this
number that the newspaper gave them to call i got to choose
who i wanted to go out with i could go out with as many as i
wanted it happened that my husband was the second caller i
listened to his voice and liked it so i called him back now
we have 2 girls and been married this oct for 15 years
(Denise Smith 1:29pm June 23, 2013)
I can't honestly think of one night that's changed my life. I'm seriously thinking I need to get out and live some more. On the other hand, staying in with a good book is too much fun. I liked the first book a lot and I'm really excited about this one.
(Jamie Fortney 1:33pm June 23, 2013)
No I did not have a night that changed my life, yet...
(Colleen Conklin 1:38pm June 23, 2013)
Never had just one night that changed my life - but our book sounds great.
Thanks for a chance to win. Best of luck with it.
(Nancy Reynolds 1:48pm June 23, 2013)
Never had a one night stand so can't really judge. HA but would love to read this book
(Bonnie Capuano 4:20pm June 23, 2013)
Yes, I have had some one night fun times in my past a long
time ago but have been married to my fantastic husband for
25 years now. Yahoo!!! Times flies when You are having
Fun!!! Hee Hee... Congrats on your book: ONE NIGHT and it
sounds like a very Hot Romance book that I would love to win
and read too. Thank You. Cecilia CECE
(Cecilia Dunbar Hernandez 4:24pm June 23, 2013)
Interesting how one moment can even change your life, meeting someone who introduces you to your future mate, etc.
(Darci Paice 5:19pm June 23, 2013)
No I haven't had one night that changed my life. Thanks for a chance to win.
(Amy Milne 5:23pm June 23, 2013)
My sibs and I attended a graduation party in 1959 where
I invited a tall slim Texan to share my chair during an
intermission. We mixed and mingled through the last half
of the evening. On the way home, he told his friend that
he was going to marry me! We were married 2 years later.
We celebrated our 52nd anniversary this past April!
(Patricia Cochran 6:06pm June 23, 2013)
No I do not think I ever had a one night stand that lead to more, of couse I have been married over 40 years so maybe I don't remember back that far
(Shirley Younger 7:06pm June 23, 2013)
I asked a guy I liked to a sorority dance with me, and we're still married 25
years later!
(Debbie Burdeen 7:33pm June 23, 2013)
No good one night stands for me---but I could still wish for one.
(Sue Farrell 7:35pm June 23, 2013)
Can't say that I did, unfortunately.
(Margay Roberge 7:41pm June 23, 2013)
Yes, it was the start of a wonderful relationship!
(Susan Mahaffey 7:51pm June 23, 2013)
I've never had a one night stand - at all.
(Mary Preston 7:58pm June 23, 2013)
No, I never had one night that changed my life. Congrats on the new release! It sounds like an interesting book.
(Bonnie H 8:01pm June 23, 2013)
I've never had a night that changed my life.
(Wilma Frana 8:21pm June 23, 2013)
Can't say I have ever had one....
(Donna Montville 8:45pm June 23, 2013)
After my divorce I ran into an old high school friend, and what was supposed to be one night ended up being 5 years and a GREAT friendship that I treasure.
(Sandie White 9:04pm June 23, 2013)
What can happen in one night? I went out with friends had several
drinks & woke up the next morning with my hair dyed green & I also had
belly ring. :-) Fun times.
I can't wait to read ur new book!!
(Shauna Rivera 10:02pm June 23, 2013)
Being with my Husband for one night many years ago, made a lasting impression on me. We went our separate ways, and were reunited years later. All the years that we were apart, I held a torch for him, but he didn't know it. Once we got back together, it was as if no time had passed, and when he asked me to marry him, I was on cloud nine!! We have now been married for 30 years, and it seems like yesterday. So much can happen in just one night, even though it didn't take place as you might be thinking.
(Peggy Roberson 10:27pm June 23, 2013)
I've never had a one night stand or a night that changed my life.
(Kai Wong 11:58pm June 23, 2013)
No, I haven't had a night that changed my life... in my nearly 60 years. Or if there was one, I can't think of when.
(A.I. Lehl 11:58pm June 23, 2013)
It never happened to me, but I'm still waiting for that night.
(Roxana Perez 9:43am June 24, 2013)
no... don't believe in one night stands....
(May Pau 10:31am June 24, 2013)
I think I would have been over the moon for a one night to happen w a
hot type a Mr personality that ended w a HEA. But I married a wonderful
man who tries really hard to make all dreams come true. Book sound like
a great poolside read.
(Jess Nekoranec 12:20pm June 24, 2013)
can this really happen?
(Mal Kaplan 12:45pm June 24, 2013)
My hubby and I met at a party in college. One of my co-workers invited me, and although tired, I went and had a good time. We met, had a first date a week later, and married a few years later. One night led to a wonderful life!
(Julie Touchstone 1:23pm June 24, 2013)
No I have not had a night that has changed my life,
but I haven't lost hope.
(Juana Esparza 1:49pm June 24, 2013)
No, I haven't had a night that changed my life. One Night sounds like a good read. I would love to win it!
(Cheryl Lynne 1:54pm June 24, 2013)
I have never had a one night stand. I met my hubby at 17 and never looked back.
(Sue Galuska 1:59pm June 24, 2013)
No, I never had one night that changed my life.
(Cheryl McEwen 3:12pm June 24, 2013)
Yes, I had one special night that did change my life for the better. I would not go
back and change anything about that night. I was lucky.
(Jackie Wisherd 4:56pm June 24, 2013)
Hello there, I would be oh so pleased to win your book and
enjoy a new read!
(Michael McClendon 4:58pm June 24, 2013)
all it takes is one special person to change it all...love to win
(Kimberly Hoefs 11:50pm June 24, 2013)
I met the man that became my husband through mutual friends. We kept
wanting to meet up - kept wanting to get together, but ..... For whatever
reason, we kept missing each other at various get togethers. One night, a
good friend and I were out dancing. I thought about how much I hoped I
would run into this man I was so attracted to. I walked up the steps from the
sunken dance floor (thinking about him), and when I got to the top of the
stairs, he was waiting for me. He told me that he had been looking for me.
We danced our first dance that night. After he took a friend home, he came
back to the club for my friend and me, took my friend home, and we went to
breakfast. We never left our meetings to chance after that. We have been
together ever since. That was 23 years ago. We have been married for 19
years, and have two teenagers who are blessings to us.
(Linda Brennan 1:01am June 25, 2013)
I don't do one night stands - didn't, as I'm married now. But deciding that this was the right man for me led, of course, to a first night, and we've never looked back, so that changed my life.
(Clare O'Beara 6:01am June 25, 2013)
Not in one night. I'm sure it does happen, just not to me.
(Penny Mettert 6:56pm June 26, 2013)
Registered users may leave comments.
Log in or register now!