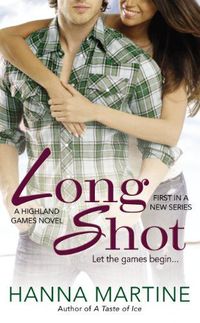 Purchase
Let the games begin
A Highland Games Novel
Berkley Sensation
October 2013
On Sale: October 1, 2013
Featuring: Jen Haverhurst; Leith MacDougall
304 pages
ISBN: 0425267512
EAN: 9780425267516
Kindle: B00BF08B96
Paperback / e-Book
Add to Wish List

Jen Haverhurst is on the verge of becoming a partner in New York City's top event-planning company when her sister calls begging for help. The New Hampshire town of Gleann—where they spent many happy childhood summers—is in danger of losing its main attraction, the Highland Games. Jen reluctantly agrees to take over running the Games, as well as helping with their aunt's failing B&B. But she didn't count on Leith MacDougall.
Before Jen left town ten years ago, Leith was a summer friend who grew into something much more. Since then, he's become a legend of the Highland Games, winning three years in a row. Now retired, he's just about ready to skip town to chase his own dreams of success.
But when Jen tries to convince Leith to stick around and help revive the Games, their youthful romance is revived into a very grown-up Highland affair...
Author Note
Dear Reader,
In my author bio I mention the fact that I got married in a haunted Scottish castle. On our two-week honeymoon we drove all over the Scottish countryside, spending one day attending the local Highland Games in Dufftown. I fell completely in love with the community atmosphere of the games, the overall joy, and the history surrounding the dance and athletic events.
Years later I found out that there's an annual Highland Games near Chicago (where I live). Upon attending, I was thrilled to learn that while the location isn't nestled amongst centuries-old castles and shepherds using border collies to drive their sheep around crumbling stone walls, the Chicago games themselves were authentic, the music divine, and the party super fun.
Two summers ago I spread out my picnic blanket under the sun, beer in hand, to watch the heavy athletic events. As I cheered on the incredibly strong athletes as they threw the caber and the hammer, tossed the sheaf, and heaved the weights for height and distance, I immediately thought: This would be the perfect setting for a romance novel. And what better romance hero is there than a modern man in a kilt?
At the time, I had just published the first book in my paranormal romance series, but the idea for a set of contemporary romances centered around the Scottish Highland Games was so strong I just couldn't ignore it. I sold the books to Berkley Sensation/Penguin shortly thereafter.
I am thrilled to present to you the opening book in my new Highland Games series, LONG SHOT. I hope you find Leith MacDougall and Jen Haverhurst as fun and sexy as I do.
All my best,
Hanna Martine
Comments
44 comments posted.
Re: Long Shot

sounds like a good book cant wait to read
(Denise Smith 12:23pm October 1, 2013)
Sounds like a wonderful book! Congratulations and thanks for the chance
to win!!!
(Linda Brennan 1:06am October 1, 2013)
Men in kilts are proud of their Heritage, and aren't embarassed to show it. They're also comfortable in their own skin - a special type of man - gutsy. I'm looking forward to reading your book. It sounds like a good story line, and one that will keep you turning the pages!! Cute cover, too!! Congratulations!!
(Peggy Roberson 8:59am October 1, 2013)
Definitely adding this to my TBR list!
(Emily McGee 10:00am October 1, 2013)
Long Shot is very special. best wishes and much happiness.
(Sharon Berger 10:18am October 1, 2013)
Love kilts. Looking forward to the book.
(Pam Howell 10:22am October 1, 2013)
You had me at Scotland! Can't wait to read it!
(Maria Proctor 10:32am October 1, 2013)
Sounds like a really good book, and I have always wanted to know more about the kilt and the man who wears it. Thank you
(C Culp 10:41am October 1, 2013)
Ooh....I think men in kilts and in my mind thinks Gerard Butler and Liam Neeson. Ahhhh! ;)
(Sue Galuska 10:43am October 1, 2013)
Nothing like a man in kilts!! HA Would love to read this book!!!!
(Bonnie Capuano 11:49am October 1, 2013)
Love your books and am sure to like Long Shot.
(Maria Pucko 12:53pm October 1, 2013)
I've wondered the answer to that very question myself! What do they wear?
(Vennie Martinisi 1:19pm October 1, 2013)
Love men in kilts, look forward to reading this book.
(Jean Patton 1:36pm October 1, 2013)
Sounds like a fun read. Love the idea of a story with kilt
wearing men in a contemporary setting.
(G. Bisbjerg 1:58pm October 1, 2013)
A man who is comfortable with who he is will be attractive in a kilt or anything else.
(Nancy Krueger 4:01pm October 1, 2013)
Happy Release Day! Gotta love a man in a kilt! ;)
(Colleen Conklin 4:55pm October 1, 2013)
I have no idea! Will your book tell us? *GRIN*
(Chelsea Brooks 6:25pm October 1, 2013)
I love anything set in a small town and especially New England!
(Susan Coster 6:26pm October 1, 2013)
I'm not sure what is traditionally worn beneath the kilt (hopefully underwear...maybe shorts)! I saw somewhere that the kilt was used by the Scottish men, when removed, pitched as a tent to have shelter, when walking miles and miles through the countryside. Apparently, it has quite a bit of fabric wrapped around and around. This book sounds like a cute romance story. I'd love to read it!
(Linda Luinstra 6:58pm October 1, 2013)
I love a man in a kilt and I think it definitely shows a confident man. Of course
for those confident men, the kilt is worn with nothing underneath. :D
(Barbara Elness 7:01pm October 1, 2013)
I find it funny that I'm commenting on kilts today. Just last week one of my co-workers was saying how her high school senior wants a kilt to take his senior pictures in. He is learning to play the bagpipe and wants an "authentic" picture. I'd say what they wear under their kilts depends on what the weather is like outside.
(Laura Gullickson 7:14pm October 1, 2013)
Kilt, Scotland, I'm sold right there! Can't wait to get this
book!
(Sandie White 7:15pm October 1, 2013)
Oh, I do love a man in a kilt!!
(Betty Hamilton 7:52pm October 1, 2013)
sounds like a great book to read --- especially with the cold winter nights approaching
(Timothy Younger 8:03pm October 1, 2013)
Mmmm, mmmm, mmmm! There's just something about a man in a kilt. When in college, I once dated a Scotsman. LOVED the look. Of course I ended up with a Ukrainian, but there is something romantic about the Scots.
(Marcia Berbeza 8:14pm October 1, 2013)
this is a fabulous idea to have Highland Games in a romance
book - all those burly competitors!
(Diane Sallans 8:21pm October 1, 2013)
Book sounds good ,love the cover.
(Raeline Peterson 9:41pm October 1, 2013)
love a kilt and always the stories are super great. this books sounds like it is making my tbr list
(Barbara Studer 10:58pm October 1, 2013)
Wow, Congrats on your new book: LONG SHOT. I am not sure
what men wear under a Kilt but would hope some kind of
decent underwear. Your book sounds like a fantastic read and
I would love to win and read it this Fall. Thank You very
much. Cecilia CECE
(Cecilia Dunbar Hernandez 11:05pm October 1, 2013)
Can't wait to read it!
(Jennifer Richardson 11:09pm October 1, 2013)
An old flame that left and made her mark in the world returns home. Leith is trying to make his mark in the world but ends up staying for the love of his life. That' is so cool.
(Kai Wong 11:38pm October 1, 2013)
Can't wait to read this one. Thank you for the opportunity to be a winner.
(Melanie Backus 11:53pm October 1, 2013)
I would love to win and review
(Jane Squires 4:03am October 2, 2013)
Oh my, men in kilts are always a winner in my book!
(Cate Sparks 9:14am October 2, 2013)
Congrats!

Yes... there's something about a man in kilt!
(May Pau 9:24am October 2, 2013)
A man in a kilt is even more perfect if he's playing the bagpipes. Gotta read your book.
(Sue Farrell 10:26am October 2, 2013)
Skilt and mens...still looks strange 4 me :D
(Rina Darmayanti 1:35pm October 2, 2013)
This book really grabbed my interest! I've got it on my TBR list.
(Debbie Burdeen 1:56pm October 2, 2013)
Your book sounds interesting. I love men in kilts.
(Carol Woodruff 4:30pm October 2, 2013)
I've been looking forward to this books release for 6 momths -
it's finally here!

It's also the brogue ;-) Makes my toes curl...
(Lenna Hendershott 6:48pm October 2, 2013)
Love a man in a kilt. Traditionally, I believe, he would just
be roaming free beneath his kilt.
(Mary Preston 11:19pm October 2, 2013)
My husband is Scottish but I couldn't possibly comment on his kilt....
(Clare O'Beara 9:01am October 3, 2013)
Your books never disappoint! Can't wait to read it! Just downloaded it.
(Vanessa M. Knight 12:16pm October 3, 2013)
Kilts are intriguing form the pin that holds it together and
the plaids of the clan. I went to a multi-cultural meeting
where it was all explained including the "purse" and the
bagpipes.
(Alyson Widen 5:34pm October 31, 2013)
Registered users may leave comments.
Log in or register now!