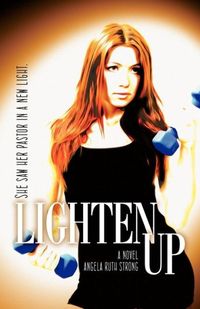 Purchase
She saw her pastor in a new light
Body and Soul #!
Endurance Press
November 2012
On Sale: November 4, 2012
Featuring: Bethany Light
332 pages
ISBN: 0985674644
EAN: 9780985674649
Kindle: B00A1WG8IA
Paperback / e-Book
Add to Wish List

Bethany Light is the daughter of a minister who can't forgive her father for running off with the church secretary. She goes to her own pastor for counsel, never expecting to fall in love with him. To make matters worse, she's personal training his fiancé in preparation for the big day and somehow ends up in their wedding.
Refusing to make the same mistake her dad made, Bethany tries to focus on fixing her family rather than face her own issues. How could a household that used to have it all together have fallen so far from grace? And how can she keep from following in her father's footsteps when it feels so right?
Comments
35 comments posted.
Re: Lighten Up

We tell white lies to protect others but sometimes maybe we don't have the right to do that. We also tend to not tell our friends things that will hurt them even if we are aware of them.
(Darci Paice 2:13am May 27, 2013)
I don't think temptations are exclusive to those who don't
practice religion - I think religious people actually face
more temptations because they're constantly reminded of what
they shouldn't have or do.
(Margay Roberge 7:18am May 27, 2013)
I've read inspirational fiction which was in a historical pioneer setting, and modern western settings; and one where a single mother was supported and treated as having made a mistake but worth helping to lead a fine life and raise a fine girl.
So many things can go wrong in anyone's life and they are not all our fault. Nobody is ever going to be perfect, and maybe trying to appear perfect is one of the things we do that's wrong.
(Clare O'Beara 7:22am May 27, 2013)
I believed that once you got married, you were swept off into a "fairyland," so to speak, and everything was wonderful - no worries, and no hitches. You had children, and they turned out to be beautiful, warm, and polite, and became productive members of society. The world was your oyster, and when you awoke every day, it was a new day of discovery and laughter. Little did I know, since my Mother didn't clue me in on anything, the type of interference that I would have from my ex's family, which held me back from a loving relationship. I also didn't know that the Doctor would tell me not to have children, due to my health problems. There was an extra blow, since I love kids!! My life wasn't all rainbows, but had its' share of storm clouds, and I felt smart enough to get out before the downpour. I think that your book would do me some good to read. Perhaps I might find myself in one of your chapters, or else someone else I can relate to. I enjoy reading about the Amish, but this seems to be an amusing twist, and who would know better about the topic but you?? Congratulations on having the guts to write about it!!
(Peggy Roberson 8:44am May 27, 2013)
You know, thanks. I'm a Christian pastor who was raised and
live in liberal Protestantism, and I worry about how often
more conservative Protestantisms seem to be about excluding
things and people, rather than embracing people and
creation. Your approach sounds like something that's much-
needed. I'm with Peggy Roberson: I think that living with
other human beings is hard.
(Mary Ann Dimand 10:00am May 27, 2013)
The real things...well life, death and day to day challenges.
(Bonnie Capuano 10:31am May 27, 2013)
Real things are a family and a job.
(Wilma Frana 11:22am May 27, 2013)
real things are important, such as health and integrity.
Facing life each day is a struggle for many and we have to be
strong to withstand the onslaught. I was diagnosed with breast
cancer last year and had to overcome that obstacle. Life is
not easy but can be enjoyable and it depends upon our outlook.
(Sharon Berger 11:26am May 27, 2013)
From brith to death we a faced with life challenges and temptations.
(Sheila True 2:00pm May 27, 2013)
Real things in life family, friends and health.
(Aimee Robison 6:22pm May 27, 2013)
The real things are the day-to-day things of life.
(Jackie Robertson 6:38pm May 27, 2013)
real things to me are life daily what it brings to you and what you make of it.
(Lisa Fitzgibbons 7:48pm May 27, 2013)
I have lived through a bunch of stuff in my 50 plus years of
Life and I have seen and done and experienced many good and
bad trials and tribulations too. Through the good and bad,
happy and sad, I have learned to put GOD FIRST and that
helps to make the challenges in life easier for sure. I used
to think I lived in the Twilight Zone and never a dull
moment for sure. I am glad that GOD is with me always and
therefore no one can hurt me with GOD around. Thanks for the
great contest and book. I would love to read it and win it
too! Another thing that would help if people would just be
honest all the time and live by the 10 commandments and stop
playing all the mind games. Thanks, Cecilia CECE
(Cecilia Dunbar Hernandez 10:12pm May 27, 2013)
The real things include everything that we have to deal with daily. Family, work, friends, joys and hardships. Throughout my life there have been many times that I have thought that it couldn't be "real" but it sure was. We deal with it and keep moving through life without losing the progress we've made.
Good luck and happy writing!
(Tracie Travis 1:32am May 28, 2013)
Everyday life is filled to the brim with unimaginable "real things" - so varied and crazy that I could never dare to try and list them. Your book sounds great - and thank you for the chance to win a copy. Best of luck with it.
(Nancy Reynolds 10:26am May 28, 2013)
trust god go to him when you are feeling weak or need
uplifting. everyday life is filled with all kinds of things
happiness grief depression ext. it is how we deal with them.
i have a severe autistic daughter non verbal very
aggressive, i try to think about the good things that
happens and not dread on the bad things. the book looks good
love to read it
(Denise Smith 11:24am May 28, 2013)
Our eyes stray and our minds wander to whatever the
presented temptation might be...a man, easy money, etc.

It's refreshing to see Christian fiction that takes on the
struggles we face every day and admits to imperfection
within the church.
(Deidre Durance 12:11pm May 28, 2013)
I was taught to hate the sin but love the sinner. Doing this is not easy but I like to think that I am working on it. Thanks for your book.
(Kathleen Yohanna 1:40pm May 28, 2013)
read the bible and you'll find that the world was never without trials and tribulations.. We all face struggles and hardship.
(Cate Sparks 1:43pm May 28, 2013)
OMG! This sounds amazing!! Yes, I am guilty of looking at my pastor a certain way (even with DH next to me in the pew), have I had a bit of alcohol in me at the Italian Church Dinner, oh, yes, that was me... let's not forget the three hours to shower, do hair, make up and get dressed to go to church.
I think it is too true the fight for perfection, not just in our eyes but in others. The real things are in the quiet moment of reflection, the moment your loved ones hold you when sickness or fear creeps in, the kindness in a stranger.. these are real and much more valuable than perfection.
Thank you for a chance to win!!
(Carla Carlson 3:57pm May 28, 2013)
There is always a problem somewhere in this world and also in our lives.
(Bonnie Capuano 5:02pm May 28, 2013)
This sounds like a great book I love books that make me
laugh.

We are no where near perfect and crazy things happen all the
time so I tell my kids whenever something doesn't go quite
as planned that we are on an adventure..It has taught them
patience and how to laugh at ourselves.
(Josie Hink 5:18pm May 28, 2013)
Love all the perspective you girls are posting. Sometimes life just gets a little too real. It always helps me to find something to laugh at. Hope Bethany's story brings you much to giggle and think about.
(Angela Strong 5:25pm May 28, 2013)
People do not think clearly, act on impulse when they're infatuated with something new, then have their regrets later when things don't work out as they imagined they would. That how people learn from their mistakes, because temptation is always out there, especially when you find yourself most vulnerable because of something wrong in your life. It's best to avoid and work on a resolution for improvement for yourself first and with your current partner.
(Linda Luinstra 5:38pm May 28, 2013)
the real thinks in life is be good to others and treasure your
love ones. Great book giveaway too.
(Dayle Butler 6:29pm May 28, 2013)
The book sounds great. Would love to read it. Thank you.
(Cynthia Blain 11:29pm May 28, 2013)
Real things to me are the choices people make and how we as
Christians deal with our families and churches... What's
important :) but not perfect or judged on earth. Thanks.
(Dianne McVetty 11:40pm May 28, 2013)
I went on rides at a festival, and even coaxed my Dad to go
on one with me. I played on a baseball team when I was in
my 20's, all for the good of the company I worked for. Our
team did quite well, too!! I got my first trophy!! I
married someone who owned a motorcycle, and we would take
leisurely rides - sometimes to freak out my Parents!! Your
books sound like a real hoot, and I'm going to have to look
them up!! I could use a little cheering up about now, and
your books will be just the ticket!! Thank you for your
great posting today, and for bringing your books to my
attention!!
(Peggy Roberson 8:06am April 25, 2014)
What a lovely post today which was just what I needed to
brighten my day. An atypical romance character is the brainy
character whose personality is fascinating and warm.
(Sharon Berger 10:35am April 25, 2014)
i love books that is unexpected love someone that society
doesnt look at as beautiful like the book from kimberly
truesdale the wrong woman i love story like that
(Denise Smith 11:26am April 25, 2014)
I coached my 3 daughter's softball teams. I had 22 teams over the years. It was mostly the dad's coaching, not the mom's but I didn't care. It was always funny how the male coaches would treat me. They assumed I didn't have a clue!
(Sue Galuska 12:04pm April 25, 2014)
I love seeing a variety of characters and personalities come to life in stories... to see them go on a journey to find a HEA, especially the atypical characters. Thanks for sharing... it was wonderful to learn about you and your books!
(Colleen Conklin 1:45pm April 25, 2014)
When I got my first car, my father preached to me to never give rides to friends anywhere. I went against his wishes and carted many friends around everywhere, including to jobs out-of-town. This ended up coming back to bite me in the behind when I was forced off the road by a semi truck rounding a sharp curve and into my lane head-on. I was forced off the road and went off the shoulder down an embankment. This caused one passenger a head injury laceration, and my car frame to be all bent which totalled my car. None of the girls paid me that night toward gas which they owed me for the week, upon getting their paychecks. The girl with the injury sued my insurance almost 7 yrs. later (which was the allowable time frame many years ago) and received a lot of money for a small scar covered by her hair. So, I should have listened to my father, as he was right as to why I shouldn't drive friends around when I'm a teenager.
(Linda Luinstra 5:18pm April 25, 2014)
Favorite atypical romance character - virginal male, especially in Regencies.
(Michelle Fidler 5:19pm April 25, 2014)
I wish I could say I broke the rules but I was always so good and never did.
(Denise Austin 8:33pm April 25, 2014)
Registered users may leave comments.
Log in or register now!