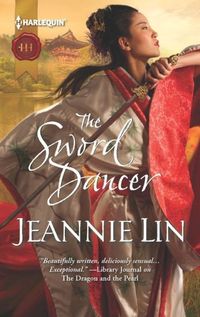 Purchase
Rebels And Lovers #1
Harlequin Historical Romance
June 2013
On Sale: May 21, 2013
Featuring: Li Feng; Han
288 pages
ISBN: 0373297424
EAN: 9780373297429
Kindle: B00BAT1M1Q
Paperback / e-Book
Add to Wish List

The thief who stole his heart
Sword dancer Li Feng is used to living life on the edge of the law—a woman alone in the dangerous world of the Tang Dynasty has only her whirlwind reflexes to trust. She will discover the truth about her past, even if that means outwitting the most feared thief-catcher of them all.…
Relentless, handsome and determined, Han sees life—and love—as black and white. Until he finally captures the spirited, courageous Li Feng, who makes him question everything he thought he knew about right and wrong. Soon he's faced with an impossible choice: betray the elusive sword dancer he is learning to love, or trust his long-disregarded heart and follow her to dangerous, tempting rebellion.…
Rebels And Lovers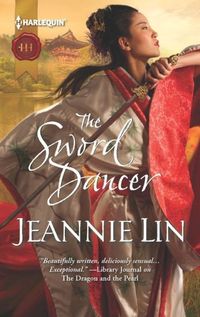 The Sword Dancer
#1.0
Amazon.com | BN.com | | |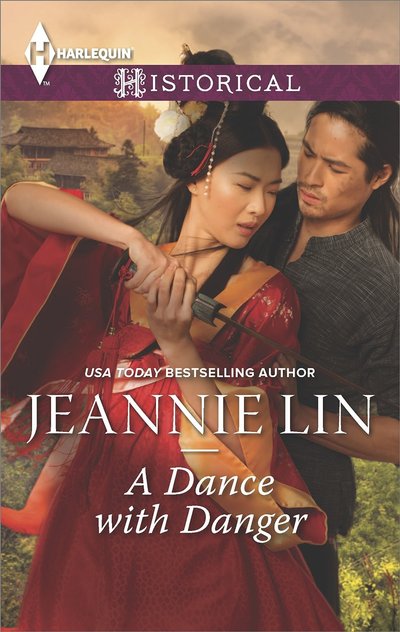 A Dance With Danger
#2.0
Amazon.com | BN.com | | |
Comments
32 comments posted.
Re: The Sword Dancer

I love the argument turned into lusty kissing scene. Thanks
(Carin Walker 10:07am May 22, 2013)
Your new novel sounds great!

I used to watch Batman when I was young too and enjoyed when Catwoman was on. However, Eartha Kitt was my favorite Catwoman.
(Lori Yost 10:25am May 22, 2013)
Of course, everyone loves Rhett and Scarlet, but there is one that I also am fond of that you might know. It's not from a book, but a movie. It's the Emperor and Empress from the Curse of the Golden Flower. I, too, enjoy watching movies such as Crouching Tiger, Hidden Dragon. The characters, as well as the special effects can't be beat!! I love reading love stories that are set in China, and am looking forward to reading your book very much. The scene that was in your posting took my breath away, and left me wanting more!! Congratulations on your book, and it's definately tops on my list of books to read in the coming months!! I definately have to get my hands on a copy!!
(Peggy Roberson 10:27am May 22, 2013)
I love those scenes you described especially Mr. and Mrs.
Smith. I also liked the movie The War of the Roses, although
they were suppose to be bitter enemies, I don't think you go
as far as they did without love enolved.
(Tawnya Bentley 10:28am May 22, 2013)
Sounds like a wonderful combination!
Blessings,
Marjorie
(Marjorie Carmony 10:28am May 22, 2013)
Dear Jeannie,
This looks like a book that's worthy of an
Annie Oakley award for making a bulls-eye shot.I'd love
to check it out,and thanks for the opportunity!
(John Dallal 10:30am May 22, 2013)
looks like a good read
(Patricia Wagner 11:02am May 22, 2013)
Oh... I DO love that enemies to lovers, Jeannie! And LOL!
Bathtub scenes, eh? (Love that kitty ;)) As for other tropes
I love, I do really love a good friends-to-lovers--maybe it's
that whole "wow, I see you in a completely new way" that makes
that fun to read :)
(Fedora Chen 11:08am May 22, 2013)
i love the slap kiss i love you romance books they are my
favorite
(Denise Smith 11:41am May 22, 2013)
I have just recently become somewhat of a romance reader and this book looks very interesting. Maybe I will win it and be converted to this genre.:)

Thank you.
(Cynthia Blain 11:56am May 22, 2013)
I quite enjoy a heated argument turned into love scene. Thanks
for the opportunity to win!
(Amanda Ray 12:22pm May 22, 2013)
Hmmm, enjoy friends to lovers, cinderella themed, and many many more... love to see the emotions come off the pages when the characters interact.
(Colleen Conklin 12:34pm May 22, 2013)
I love the martial art movies like Crouching Tiger, Hidden
Dragon and the book sounds just like my kind of story!
(Ilona Fenton 1:48pm May 22, 2013)
I also loved the Batman series. I love all types of reading and The Sword Dancer definitely sounds like a book I will enjoy reading
(Shirley Younger 1:49pm May 22, 2013)
Never underestimate the swordsmanship in fighting for love, honor, dignity, destiny, and for oneself. I love your books thanks for the contest. Always fight for what you believe in. Keep on writing.
(Anthonia Sharp 1:51pm May 22, 2013)
I have been seeing reviews for this book and I would love to read it!
(Callie Stuck 2:21pm May 22, 2013)
I'm a fan of Star Wars. Leia might be the one being rescued but the guys need a bit of direction from her to get their act together. It's great that your historical isn't a typical setting. I need something different to read. Thanks.
(Laura Gullickson 2:47pm May 22, 2013)
sounds exciting reading,thanks
(Debbi Shaw 4:18pm May 22, 2013)
This sounds fascinating. I love historical fiction and am glad to see something other than European history. The Tang dynasty sounds very interesting.
(Irene Menge 4:47pm May 22, 2013)
I like Beauty and the Beast and friends to lovers.
(Marcy Shuler 4:47pm May 22, 2013)
yeah I love the strong heroine and the strong hero .. but also
the guy realising that she is something he cant live without
...... :D like awww
(Rachael Kennedy 6:09pm May 22, 2013)
I love historical books. This looks like a really good story.
(Aimee Robison 6:27pm May 22, 2013)
bat women was great person when they had her in the show and then the orginal one was great i love the book the author is new so i like to see her work and read and blog it
(Desiree Reilly 9:16pm May 22, 2013)
I love Historical Romances.
(Tiffany Gronn 10:00pm May 22, 2013)
Wow, Congrats on your new book: THE SWORD DANCER. Yes, I
loved the Catwoman and Batman shows and Crouching Tiger and
Hidden Dragon were so fantastic too. I also loved all the
Bruce Lee movies and James Bond 007 movies because James was
always on a dangerous quest but in the end he got with the
beautiful sexy woman. It would truly be an honor to win and
read your new book. Thanks, Cecilia CECE
(Cecilia Dunbar Hernandez 10:47pm May 22, 2013)
i would love to read any of these books...sounds great
(Kimberly Hoefs 11:21pm May 22, 2013)
I always love marriage of convenience stories.

Julie Newmar was an excellent Catwoman.
(Mary Preston 7:25am May 23, 2013)
I love fighting turning into kisses too!
(May Pau 9:49am May 23, 2013)
Reading about China is interesting, so I would love to read your book!
(Gladys Paradowski 10:52pm May 23, 2013)
I have always love Julie Newmar as Catwoman. I am just amaze how your books teach readers like me about China. China is deeply rich in history and there is so much history to absorb. Thanks for writing all the wonderful stories of China.
(Kai Wong 11:09pm May 23, 2013)
I WOULD LIKE TO READ ANY OF THOSE BOOKS.
(Shelley Summers 5:13pm May 24, 2013)
One I like is the good girl and the slightly bad boy, or boy from the wrong side of the tracks. Somehow we never get it the opposite way around.
(Clare O'Beara 7:38am May 25, 2013)
Registered users may leave comments.
Log in or register now!