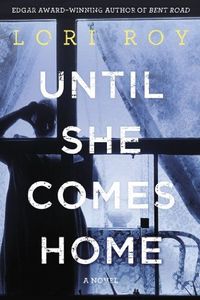 Purchase
Until She Comes Home
Lori Roy
Dutton
June 2013
On Sale: June 13, 2013
352 pages
ISBN: 0525953965
EAN: 9780525953968
Kindle: B009VMC0FG
Hardcover / e-Book
Add to Wish List


In 1958 Detroit, on Alder Avenue, neighbors struggle to care for neighbors amid a city ripe with conflicts that threaten their peaceful street.

Grace, Alder's only expectant mother, eagerly awaits her first born. Best friend Julia prepares to welcome twin nieces. And Malina sets the tone with her stylish dresses, tasteful home, and ironfisted stewardship of St. Alban's bake sale.

Life erupts when childlike Elizabeth disappears while in the care of Grace and Julia. All the ladies fear the recent murder of a black woman at the factory on Willingham Avenue where their husbands work may warn of what has become of Elizabeth, and they worry what is yet to become of Julia—the last to see Elizabeth alive.

The men mount an around–the–clock search, leaving their families vulnerable to sinister elements hidden in plain sight. Only Grace knows what happened, but her mother warns her not to tell. "No man wants to know this about his wife." Ashamed that her silence puts loved ones in harm's way, Grace gravitates toward the women of Willingham Avenue, who recognize her suffering as their own. Through their acceptance, Grace conquers her fear and dares to act.

On Alder Avenue, vicious secrets bind friends, neighbors, and spouses. For the wicked among them, the walk home will be long.
Comments
6 comments posted.
Looks like a good book!!!!
(Vicki Hancock 1:32pm May 28, 2013)
An interesting time and place you decided to set this book.
And Ben, well, he sounds like my son when I brought a little sister home.
(Carla Carlson 3:50pm May 28, 2013)
I grew up in Detroit, so I'm very anxious to read your book!! You couldn't have picked a better area, or in this case, topic to write about, because there is always something going on there!! As for the puppy, after a few days, the two of them are going to be inseparable!! My dog of 12 years passed away almost 3 years ago, and I miss her terribly!! I now have 2 kittens to take her place, and they came from the same litter - in fact, I held one of them in my hand, moments after it was born!! They bring a lot of life to our household, and I don't know what I'd do without them, even though they can be a handful at times!! I would have loved to have gotten another dog, but they're too expensive to keep nowadays. Perhaps sometime in the future, I'll be able to get another one, but for now, these kittens are just the ticket for me!! Congratulations on your book!! I'm sure it will do just fine. A lot of people are interested in books on Detroit!!
(Peggy Roberson 7:03pm May 28, 2013)
I love dogs but have cats at present and they have their own territories and relationships too!
(Clare O'Beara 8:59am May 30, 2013)
Loved the Ben story!!!
(Penny Mettert 11:27am May 30, 2013)
This sounds great. Goes on my must read list.
(Yvonne Butler 3:08pm June 2, 2013)
Registered users may leave comments.
Log in or register now!