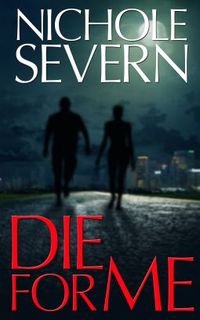 Purchase
Beyond the Page
April 2013
On Sale: April 16, 2013
124 pages
ISBN: 1937349640
EAN: 9781937349646
Kindle: B00CIYHFJU
e-Book
Add to Wish List

Former hit man Taigen Banvard is desperately tracking the most dangerous prey he's ever faced: his sister. Fighting demons from his past and lethal threats at every step, he follows the trail to Torrhent Lynd, an escaped convict and the stepdaughter of the man set on using his sister as a personal assassin. With time running out and his sister's body count rising, can Taigen trust Torrhent long enough to put an end to his nightmares?
Framed and convicted for a murder she didn't commit, Torrhent Lynd has broken out of prison and is dead–set on getting revenge on her stepfather, the man who set her up. Running from the law and driven to mete out justice of her own, she can't afford to trust anyone, including Taigen, the fierce and attractive man who might be the only chance she has to get out of this alive.
With the FBI on their trail, a serial killer on the loose, and hired guns looking to silence them both, the two are forced into an uneasy alliance. As they race to settle their scores and fight to stay alive, each drop of blood they shed brings them closer to their targets, and dangerously closer to each other.
Comments
14 comments posted.
Re: Die for Me

Your thought process about serial killers is interesting. They certainly make excellent subjects for books. Wish they were only fiction.
Blessings,
Marjorie
(Marjorie Carmony 3:52pm May 12, 2013)
I have never given much thought to serial killers but now I realize that it is definitely something to give thought to. And yes, we have to killer's family and how they must feel. I think often they are forgotten Looking forward to reading Die For Me
(Dwight Younger 4:01pm May 12, 2013)
After reading the slant that you put on on this book, along with the accolades you got as a writer, I can't wait to read your book!! I'm also going to have to look up your other books, and see what I've been missing!! The good thing about your books is that when I've gotten done reading them, I can pass them along to my Husband as well, and know that he'll enjoy reading them!! Congratulations on your latest book!! I'm sure that it'll do well, and you'll have an even larger following after this one!!
(Peggy Roberson 4:06pm May 12, 2013)
i thought great book cover
(Kent Cook 4:10pm May 12, 2013)
Your book sounds like one I would enjoy reading and commenting on at my Book
Club. A new author for me to read.
(Jackie Wisherd 4:24pm May 12, 2013)
You bring up a very good point of can one be good and the
other bad.
(Theresa Norris 4:59pm May 12, 2013)
Your book sounds very interesting. Thanks for a chance to win.
(Linda Hall 7:58pm May 12, 2013)
Serial killers are scary. They make for great reading though.
(Mary Preston 9:45pm May 12, 2013)
Really enjoyed your serial killer blog, brought out things I haven't considered.
(Sheila True 10:22pm May 12, 2013)
When a serial killer is family, it is hard to choose: justice or family. This would be so interesting to read.
(Kai Wong 12:41pm May 13, 2013)
A fascinating post and great book.
(Sharon Berger 10:31am May 13, 2013)
Sounds interesting because I've always wondered what turns
someone into a serial killer.
(Lazydrag0n Puff 11:56am May 13, 2013)
Wow... liking what I have seen so far... very interesting book... thanks for sharing.
(Colleen Conklin 12:45pm May 13, 2013)
sounds like an interesting book.
(Sandy Giden 1:54pm May 13, 2013)
Registered users may leave comments.
Log in or register now!