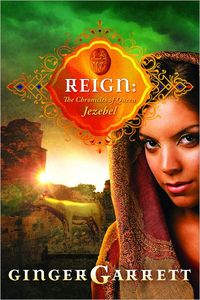 Purchase
Chronicles of Queen Jezebel
Lost Loves Of The Bible #3
David C. Cook
May 2013
On Sale: May 1, 2013
Featuring: Jezebel; Ahab; Obadiah
304 pages
ISBN: 1434765962
EAN: 9781434765963
Kindle: B00C62S4VM
Paperback / e-Book
Add to Wish List

Historical | Inspirational Historical
Beyond the Drama, Her Heart Was Real
From the moment her marriage to prince Ahab thrusts her into the intrigues of palace life, Jezebel's exotic beauty opens doors and her will breaks down walls. Torn from her homeland and wed to power in a strange country, Jezebel vows to create a legacy and power all her own. Some might call her a manipulative schemer, bent on having her way. But they don't know the whole story, and she was much, much worse.
As she moves through the halls of power, her heart struggles between devotion to the gods she worships, the prince who loves her, and her thirst for revenge. She sparks a battle between her strangely powerless gods and the God of palace administrator Obadiah—a God who confronts her with surprising might. She will fight, though victory may cost her everything.
Lost Loves of the Bible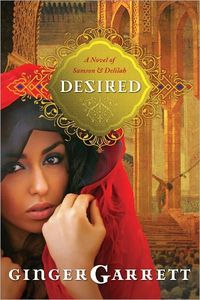 Desired
#2.0
Amazon.com | BN.com | | |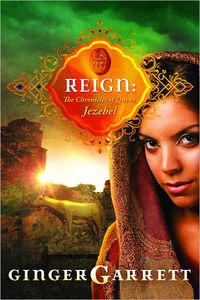 Reign
#3.0
Amazon.com | BN.com | | |
Comments
55 comments posted.
Re: Reign

It depends on the challenge sometimes it is a slow climb with a loved one, other times it is an adventure for the girls to take on as a journey.
(Darci Paice 2:16am May 27, 2013)
When challenged I tend to plow ahead. I'm stubborn & like to
see things through to the end.
(Mary Preston 4:58am May 27, 2013)
I'm dying to know: what turned out to be your blind spot? I always thought Jezebel got a bad press. She wouldn't get a second glance in a modern city. The times were very strict and she stood out.
Challenges? Think for a couple of days how best to approach them, consult my husband for advice, research if needed. Then go for it.
(Clare O'Beara 7:27am May 27, 2013)
When I have a challenge ahead of me, first I take a look at what it is that I have to do in its' entirety. Next I proceed slowly, and pick up the pace, if things are going well. If I hit any snags, especially if they throw me for a loop, I'll walk away for a bit, then come back to it. That way I don't get aggravated about the problem, and I'm usually better at solving whatever it is that's bothering me. It's better than plowing through the problem, not doing your best, or being aggravated because you're stuck and just spinning your wheels. I feel for you with what you went through writing your book!! The cover is a knockout, and I'm sure the story is going to be just as good!! I can't wait to read it!!
(Peggy Roberson 9:08am May 27, 2013)
I usually dig in and face challenges head on.
(Sue Farrell 10:03am May 27, 2013)
Strong will power, I guess... in most cases it works!
(May Pau 10:07am May 27, 2013)
I've learned I'm a strong woman and face all challenges head on. No putting it off!
(Bonnie Capuano 10:29am May 27, 2013)
Challenges make me stronger. I deal with them and triumph.
Last year I was diagnosed with breast cancer and dealt with it
and succeeded in overcoming this dreaded disease.
(Sharon Berger 11:22am May 27, 2013)
If there is much challenge I usually don't do it. Enjoyed your blog.
(Sheila True 1:49pm May 27, 2013)
I try to deal with each challenge as they come; of course sometimes I'm successful and sometimes I am not.
(Dwight Younger 3:44pm May 27, 2013)
I face them head on. No matter what the outcome is, I won't regret it
because I know I did my best.
(Lazydrag0n Puff 5:48pm May 27, 2013)
I try to deal with a challenge as it happens. Try not to get too overwhelmed and take it one step at a time.
(Aimee Robison 6:19pm May 27, 2013)
Face them, sometimes with the help of a friend.
(Jackie Robertson 6:33pm May 27, 2013)
It depends on the challenge. I also have to access if the challenge involve with my phobias. I do have a few phobias which involved height, close spaces, and spiders. If the challenge doesn't involve my phobias, I will be my best in completing the task at hand.
(Kai Wong 7:26pm May 27, 2013)
Each challenge I take on and get it dome with. Succeed or fail I have tried.
(Lisa Fitzgibbons 7:50pm May 27, 2013)
Yes, I love a good challenge and I truly agree that we need
others input and help when we can get it to make it through
our lives and be a success. Thank You for the fascinating
book and contest and I would love to read it and win it too!
Thanks, Cecilia CECE
(Cecilia Dunbar Hernandez 9:30pm May 27, 2013)
I love a good challenge, I thrive on having something to strive for. I am so easily bored that I need to regularly shake things up with something new to achieve.
Good luck and happy writing!
(Tracie Travis 1:42am May 28, 2013)
I like your thoughts on the matter - and I love the quote about if you could do it on your own, you already would have done it. I am definitely going to take all you said to heart. And your book sounds totally intriguing - thanks for the chance to win a copy. Best of luck with it.
(Nancy Reynolds 9:57am May 28, 2013)
it all depends on the challenge if it is a important one i go
and strive my best to do it i always try to strive for things
even with challenges no matter how hard or easy itis
(Denise Smith 11:29am May 28, 2013)
I try to attack challenges head-on. I take them one day at a
time and sometimes minute to minute until my task is complete.
(Deidre Durance 12:23pm May 28, 2013)
Challenges make life interesting. When one doesn't come along, I create one. I don't always meet the challenge but I enjoy trying. (most of the time)
(Kathleen Yohanna 2:15pm May 28, 2013)
I love different takes on women of the bible, beautiful cover!
(Marcelle Cole 4:00pm May 28, 2013)
I face my challenges head on...It's what makes me stronger.
(Bonnie Capuano 5:03pm May 28, 2013)
I try to face my challenges head on and do the best I can.
(Bonnie H 11:01am May 29, 2013)
thanks for the giveaway!
(Victoria Whitaker 7:07am May 30, 2013)
this sounds really good thanks for the giveaway
(Denise Smith 12:08pm November 24, 2013)
Personally, the squid gets its own holiday-Christmas Eve. I'd love to win this book-especially because it's like nothing I have read in recent memory. Thank you.
(Lynne Mauro 1:03am November 24, 2013)
I am not sure the squid said anything to the turkey but I
wonder if he inked his last words.
(Felicia Lockamy 2:29am November 24, 2013)
All I did was Google "squid", and the next thing I knew I was checking out "calamari". I had no idea that calamari is fried squid! Learn something new every day. Speaking of which, I read that the arms, tentacles and ink are edible, so you must be including all those in the soup. EEK! I can't imagine looking at the tentacles or having them in my teeth, so I'm hoping they are really chopped up. Good luck with that!!!
(Elaine Seymour 7:55am November 24, 2013)
Looks like a great book to read. Looking forward to it.
(Robyn Roberts 8:28am November 24, 2013)
The squid said "you go first"...turkey for Thanksgiving and fish for Christmas Eve...love the cover by the way and can't wait to read this book!!!
(Bonnie Capuano 8:51am November 24, 2013)
The squid said come over her turkey and give me a hug...Turkey: you are so cute squid I could just gobble you up. Look forward to reading this book.
(Patricia Bishop 10:19am November 24, 2013)
I have to say that your posting today had to be one of the most beautiful writings I have read in quite a while!! It really touched me deeply, and I Thank You for that. It was quite moving. I unfortunately, won't be with my family, since my Mother has passed away, my Father is in a nursing home, and the rest of my family is scattered quite a few miles away from me. I haven't seen them in years, and it breaks my heart this time of year. I tried to get them together as a unit, but to no avail. Anyway, I've started a new life with my Husband in a new area, with new Family, and it's calming out in the country. After all I've been through (long story), even if we have hot dogs, it's going to be a Thanksgiving that I'll be thankful for. I have a roof over my head, and I'll be with people I care about deeply. Have a wonderful Thanksgiving, and I'll be thinking about you as well, as you sit down to your soup and Turkey!! I only wish that I had your book next to me to start on for dessert!!
(Peggy Roberson 12:07pm November 24, 2013)
The squid said eat more turkey!
(Pam Howell 12:15pm November 24, 2013)
This book sounds very different from most I've read in many years! I will have to read it for sure. Thanks for the chance to win a copy.
(Vennie Martinisi 12:25pm November 24, 2013)
I love to read different genres of books, I find myself most into mysteries though. Totally agree with what you say, we all have one thing in common.
(Courtney Haas 1:57pm November 24, 2013)
Looks like a great book. Thanks for the giveaway
(Janice Reyes 2:34pm November 24, 2013)
Have you ever had squid ink soup?
(Mary C 3:05pm November 24, 2013)
Wonderful post and book. So unique and intriguing.
(Sharon Berger 3:05pm November 24, 2013)
Just turkey for me please. I don't want to take some of that delicious soup
from someone who really loves it. I'm thankful for my selflessness!!
(Susan Falkler 3:11pm November 24, 2013)
I like to explore other worlds through my reading---truly escape from my world while doing it.
(Sue Farrell 3:54pm November 24, 2013)
Thanks for the giveaway. Hope you have a lovely holiday.
(Leslie Davis 4:13pm November 24, 2013)
thanksgiving turkey
(Debbi Shaw 4:31pm November 24, 2013)
Thanks for the giveaway!
(Tami Amiott 4:37pm November 24, 2013)
I have wanted to try a Basque meal for thirty years-- but I'd
need to kind of train for the massiveness of it all!

Your novel sounds sumptuous, and a real feast for Bible fans--
I'm one. No training required. I've got to get it.
(Mary Ann Dimand 5:12pm November 24, 2013)
sounds like a great read. cant wait
(Jennifer Beck 6:42pm November 24, 2013)
I'll pass on the calamari!
(Susan Coster 6:43pm November 24, 2013)
Think I will pass on the squid Ink Soup. I'll stick to my favorite turkey and dressing.
(Barbara Wells 7:16pm November 24, 2013)
I've had squid ink pasta, but never soup. I'd have to try a bit of it. I like trying unusual cuisines. We're having Turducken for Thanksgiving. ;)
(Marcy Shuler 7:45pm November 24, 2013)
We all have different tastes but we all love good books.
(Melanie Backus 9:02pm November 24, 2013)
I've eaten calamari -- including the tentacles but not ever
tried the ink anything. I'm wondering if you have to cook
everything for everyone.... that's a ton of work especially
if you add in the exotic (for us anyway) dishes.

Happy Thanksgiving!!
(Glenda Martillotti 9:23pm November 24, 2013)
Squid's Ink Soup? God bless you!! I usually make my turkey and stuffing because I'm allergic to onions, garlic, peppers and peanuts. I create my own stuffing and frankly, I think it's pretty darn good since there is NEVER any left over! I married into a Ukrainian family and we've added pyrogi to our holidays. It was a good fit, although once again, I can't indulge. The holidays are for sharing, opening our doors and inviting one another in.
(Marcia Berbeza 10:19pm November 24, 2013)
Sorry about the skid ink soup but I love the Irish Blessing
Happy Thanksgiving to you and yours
(Candy H 10:53pm November 24, 2013)
Every year at work, the supervisors get together to cook the employees a Holiday dinner. We always have calamari for an appetizer before the main turkey lunch/dinner course. So for me, it's part of my work place's Holiday celebration with squid and turkey.
(Kai Wong 12:54pm November 25, 2013)
We plan on turkey, but that squid soup could find a place on
our table--seafood sounds delicious to me!
(Janet Martin 1:35pm November 25, 2013)
Registered users may leave comments.
Log in or register now!