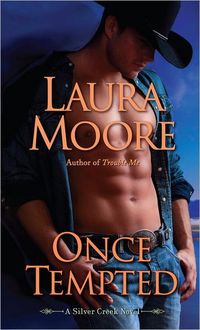 Purchase
Sweeping passions, family drama, and searing scandal play out at the magnificent Silver Creek Ranch as the heirs to a powerful dynasty seize their legacy of love.
Silver Creek #1
Ballantine
April 2013
On Sale: March 26, 2013
Featuring: Ward Knowles; Tess Casari
400 pages
ISBN: 0345536983
EAN: 9780345536983
Kindle: B009JU6UVU
Paperback / e-Book
Add to Wish List

Oldest son Ward Knowles feels the sprawling California ranch in his blood. And now that the family business has expanded to include a popular resort, he's working harder than ever. Silver Creek is his legacy and his life, which is fine for the ruggedly sexy ladies' man and committed bachelor. Love and trust don't come easily for Ward since he lost his heart to a gold digger—until he meets a shy, unpretentious beauty whose sweet grace is about to turn his jaded heart into a hungry one.
Tess Casari has found sanctuary at Silver Creek, working as an assistant to Ward's mother, Adele. Grateful for her busy new life running the ranch's spa and resort, Tess can escape the heartbreak, humiliation, and secret shame of her failed marriage. The last thing she needs is temptation— especially from a man who reminds her so much of the husband who shattered her faith in love. But passion and destiny are about to change the rules for two people who have stopped believing in the healing power of love.
Moore - Silver Creek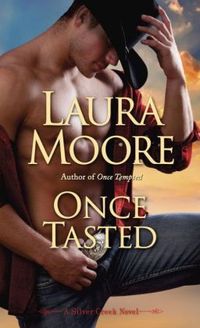 Once Tasted
#2.0
Amazon.com | BN.com | Apple Books | Kobo | Google Play
Comments
59 comments posted.
Re: Once Tempted

Laura, the only road trip I've really taken was from Buffalo
NY to Jersey. That was with my husband. I was 4 months
pregnant and it was awful! I was sooo uncomfortable. The
highlight was one pit stop we made off the highway, where
you could look over the hills and the sun was setting. It
was wonderful! I'll never forget it.
(Nicole Kuhn 1:16pm April 1, 2013)
Oh, that's a good response! Four months pregnant on a road trip! That sounds
like the beginning of a great story! I've driven around Buffalo, New York, on my
way north to Canada and then into Michigan. There's some beautiful country in
upstate NY.

Thanks for stopping by, Nicole. I really appreciate it!!
(Laura Moore 1:56pm April 1, 2013)
I'm a big fan of road trips, both in real life and in books! My family and I have
taken a few out west. I've always wanted to pull up stakes and see where the
road takes me, but it's not very likely, given that the kids might object if their
mother ditched them...the husband too (one hopes!). Good luck with the book,
Laura!
(Kristan Higgins 2:01pm April 1, 2013)
A road trip that was memorable - Vancouver through the Rockies
to Banff, and Edmonton. Scenic, special and wonderful. Many
years ago and always wanted to return.
(Sharon Berger 2:09pm April 1, 2013)
We love road trips. We have traveled to most of the National Parks in the Western U.S. The best road trip was making our way up to Grand Teton and Yellowstone, then north to Glacier N.P., and we have plans to see more in the next few years. And I love road trip books! I can't wait to read this one.
(Nikki Hilton 2:14pm April 1, 2013)
Haven't taken life changing road trip but have had many family road trips that are memorable!
(Kathleen Power 2:21pm April 1, 2013)
I decided for my 25th birthday that I wanted to go to the ocean. I live in a landlocked state, so the closest ocean front was NJ and that is where I went. I went by myself and did whatever I wanted, when I wanted. It was so freeing. I played the slots in Trump Towers, I bought Steven King's latest book at that time from one of the boardwalk stores and rented a chair on the beach so I could read it. I made it to page 3 before the sounds of the ocean put me to sleep. I woke an hour later and headed back to my hotel (with a hot tub in my room because that is what I wanted). I treated myself the way that I wanted to be treated for my birthday and enjoyed every minute. The hot tub was fantastic, I won money on the slots and went home with a sunburn. But dang that was fun!
(Kelly Ballenger 2:28pm April 1, 2013)
The field trip I remember the best was to New Mexico, it started out as a church trip for Fine Arts with about 60 people but when that was over my husband, daughter and myself stayed an extra week to see the area. It was wonderful.
(Pamela Hargraves 2:44pm April 1, 2013)
I'm on one big road trip these days, driving a long-haul truck
with my husband. I haven't had a GOOD life-changing event from
our road-tripping yet, but I sure like to read about them to
keep my mind off my troubles. Thanks for the diversion you
provide!
(Candy Lind 2:45pm April 1, 2013)
Congratz on the release of, "Once Tempted"! A trip that changed my life was my first trip
to Laos. I was raised in America and never had seen my country, because I was born in a
different country. (confusing? I know) So, my first visit there was literally life
changing. I had never thought about my extended family. I always thought we didn't have a
big family. Boy, was I wrong! I have so many, aunts, uncles, cousins and goodness the list
goes on! I learned out to plant rice, to find food in the woods, and to catch fish using a
"swing rod". Some sort of contraption. Life in Laos is so adventurous to someone like me,
who lived in the cities all my life. Everything was fascinating.
(Lazydrag0n Puff 3:02pm April 1, 2013)
Thanks for the chance to win. All trips change my life because I try to do new things.
(Sally Hannoush 3:03pm April 1, 2013)
My parents took us ono camping roadtrips every summer... after I got old enough to not be a pain in the car for a ride of more than 2 hours...
(Cate Sparks 3:14pm April 1, 2013)
I dont really are for road trips but did several - did Fla, Ga, Pa, RI, Mass, VT, MD, NJ, upstate NY and Canada a few times.
(Pat Lieberman 3:30pm April 1, 2013)
I think of road trips as the ones we took when our kids were
young. Now they are much easier with out any little ones
along but not near as exciting.
(Mary Hay 4:26pm April 1, 2013)
From the time I met my husband he used to say keep a bag packed and on Friday's after work the adventure would begin.
(Marian Lanouette 4:33pm April 1, 2013)
I love this book cover! Good luck with the book -- I'm sure
it will do well!
(Tammy Dodson 4:50pm April 1, 2013)
Sounds like a great read. Hands down it's the best cover I've
seen in a long time.
(Deb Diem 5:01pm April 1, 2013)
Our trip we took to Yosemite! It was amazing and beautiful
(Jolene Allcock 5:05pm April 1, 2013)
The road trip that sticks in my mind is when I was nearly 6 months pregnant with an almost 2 yr old going from Nebraska - Oklahoma - New Jersey. My husband got orders to go to England and we were driving a Corvair (remember those?) I was soooo tired, we tried to do it in one swoop from Okla - N.J. When we arrived in N.J. it was to early to check into a hotel so he went to the base (we were supposed to leave the next evening) to find out where and what time we needed to be there. Alas, we were leaving that very night (11:30 pm) so, no motel to sleep, we were busy trying to get everything ready to leave and get the car ready for shipment. Caught cat naps that night on the plane and then had a 7 hr drive the next day once we landed in England. A lot has blurred over time but I do remember the tiredness of getting to our destination. Whew!
(Joyce Keel 5:29pm April 1, 2013)
I love road trips! My favorite was driving by myself from Chicago to Charleston, SC to be at the birth of our first grandchild. I am amazed I didn't get a car load of speeding tickets along the way!
(Mary Ann Hislop 5:33pm April 1, 2013)
I hope to win to try out a book by Laura Moore. It sounds very good and I love to read :)
(Judy Sescil 5:38pm April 1, 2013)
Your first Silver Creek Novel, Once Tempted, sounds like a great story! Most of my road trips have been to go camping and hiking. It's always fun sitting around a campfire or bonfire in the evenings relaxing and having great conversations with family and friends.
(Rich Cook 5:41pm April 1, 2013)
My father was a teacher, so every summer he'd load up my mom, the tent and all five kids for a massive 'educational' road trip. Usually it included some conference for him to attend while we were left at the campground. HE got to go to Disneyland...none of us kids did. I also got the mumps during that California trip and had to be snuck into the rest stops on the way home. No fun for us at all.
(Marcy Shuler 5:47pm April 1, 2013)
I love cowboys, ranches, rodeos (and road trips) in the books I read. My favorite genre! I'd love to read this book. A road trip I'll never forget is the one we took out west through Black Hills, SD, the Grand Tetons, Yellowstone Nat'l. Park, Jackson Hole, WY. and traveling Needles Hwy. (a very narrow winding climb) to get to the lookout and Needles Rock formation. Loved it all!
(Linda Luinstra 6:01pm April 1, 2013)
This sounds like an incredible book. After thinking about trips I can't ever remember of one that had romance in it except one and that turned to horror. I went to California to work at a Wildlife Waystation which was a dream come true. I met several of the other workers and really connected with one of them named Harold. Needless to say after many conversations we started seeing each other, he had a problem with alcohol before we started seeing each other, but after we were together he didn't drink anymore, or so I thought. I worked with the Vet and he worked as maintenance. Things went well for awhile and then he showed his drinking to me and said it was because of everyone else, I came from a home with an alcoholic Father and figured if I just showed Harold I could love him enough that it would change, but it didn't. He was asked to leave the Waystation and I stupidly followed. We went to his parents home and I adored them, they were wonderful people and Harold raved on how much in love with me he was and that his life was going to get better because of me in it and the love that we shared. We then decided to come back to the state I lived in and lived with my parents for awhile and then moved into our own place. We had decided to get married. I was planning the wedding full force and he was busy drinking anytime that he could and starting arguements with me and I stupidly kept thinking well it will get better once we are married and he realizes just how much I love him. I started finding bottles around the house, he also was waiting until I fell asleep at night and would then walk to the bars. Then the fighting got worse and the beatings started. I left him a month before the wedding and he killed a man with a steak knife right after when we were supposed to get married. This was a somewhat happy story in the beginning, but turned awful in the end.
(Cheryl Krueger 6:26pm April 1, 2013)
My first trip with my husband was to Antigua & it was when
we had been dating for only 3 months. It was his idea, but I
think he was getting cold feet before we even went. The
plane ride was a little tense, but we took a nap when we got
there & it ended up being a very relaxing & romantic
vacation. That was 24 years ago & we've been married for 22!
(Sharlene Wegner 6:30pm April 1, 2013)
I've gone on a number of interesting trips, but unfortunately none that changed my life.
(Carol Woodruff 7:49pm April 1, 2013)
Mom, Dad & I went to Glacier National Park from western Nebraska when I was 12. I decided that's where I was going to honeymoon and 7 years later I did. My husband and I have continued to be avid road-trippers!
(Lisa Elwood 7:54pm April 1, 2013)
Our family drove from the Midwest to Colorado for my stepson's wedding in the mountains last April. Seeing the mountains fill up the entire horizon was an awesome sight!
(Renee Pajda 7:57pm April 1, 2013)
I have to say I hope I win!
Yes, after college, I traveled to Japan and eventually became
an ESL teacher and stayed for almost 3 years. Changed my life
dramatically.
(Diana Troldahl 8:01pm April 1, 2013)
Congrats on the release. I have taken a lot of road trips but none that have ever changed my life. Wish I could, lol.
(Vicki Hancock 8:08pm April 1, 2013)
Fun trips but no life changing ones.
(Susan Falkler 8:11pm April 1, 2013)
This sounds like such an exciting book. I have not 'yet' taken a trip that has changed my life but there is still time left to do so.
(Dwight Younger 8:13pm April 1, 2013)
A trip to Hong Kong - first time meeting my father's relatives.
(Mary C 8:14pm April 1, 2013)
The only trips I take is in the books I read would love to take a road trip one
day love to read thank you
(Ava Curtis 8:18pm April 1, 2013)
A memorable trip last year sadly not one of fun. This sounds like a great book thank you for the chance..
(Holly Vanderhule 8:20pm April 1, 2013)
Wow! Thank you all for the great comments. Your stories about road trips and
your impressions are so interesting--the stuff of a really good book! I hope that
if you get a chance you'll read Once Tempted and enjoy my heroine Tess's
journey.
Happy reading!
~Laura
(Laura Moore 8:23pm April 1, 2013)
My husband and I took a wonderful road trip along the Pacific Coast for our anniversary. The scenery was spectacular!
(Bonnie H 8:36pm April 1, 2013)
When my Husband and I lost our house 5 years ago, we packed up what we could in our pop-up camper and pick-up truck, grabbed our dog, and headed for the nearest campground, which was to be our new home. We did that for a while, until we landed over 200 miles away from friends and family. We fought tooth and nail to keep that house, since that was the only place I'd known for 13 years, but I am truly happy where I am now, although it was hard to leave certain friends behind. The road trip was interesting, as well as a challenge, but was worth it in the end. I can totally relate to your new book, and can't wait to read it!! Congratulations!!
(Peggy Roberson 8:59pm April 1, 2013)
Sounds like real fun read! I once took a trip to the Grand Tetons - that's
the trip that changed my life - puts everything in perspective. You are so
teeny compared to one of God's mountains. :)
(Kelli Jo Calvert 9:53pm April 1, 2013)
I dearly love to travel and always say that "G" stands for Gladys and "G" stands for G0. But the most memorial trip I took was a train trip from Texas to Banff Springs, Alberta, Canada. Viewing the deserts of New Mexico and Arizona, the vastness of the Pacific Ocean in California and the unbelievable beauty of the gardens in Canada from a picture window in the living room of the train's sleeping car
was an education in itself. Staying in the magnificent castle, the Banff Springs Hotel, with the kilt-clad employees and the bagpiper seemed like a trip to Scotland.
(Gladys Paradowski 10:04pm April 1, 2013)
We have taken many road trips over the years. My favorites are
from NY to Montreal. The scenery is quite pretty and you know
you're almost there when the thruway signs start having the
exits listed in English and French.
(Cindy Capers 10:08pm April 1, 2013)
My honeymoon was a trip around the world that I won in an essay contest, and our second stop was Beijing, China and it was the most amazing experience. Being there among the most ancient culture and monuments they have really made me get interested in history... for the first time in my life. Now I'm interested in ALL kinds of history and other countries. It turned on a switch somewhere in my mind that simply won't turn off.
(Donna Holmberg 11:01pm April 1, 2013)
my road trip was moving from pa to florida in one day 17
hours,
(Ann Unger 11:06pm April 1, 2013)
I haven't been on many trips, but I did finally get to go to
Lake Tahoe a few years ago. What an amazingly beautiful place
that is. I would love to retire there. The lake is the most
beautiful blue I have ever seen and the people were so
frendly!
(Sandie White 11:30pm April 1, 2013)
Once Tempted sounds great, heck I'd pick it up just for the
cover, can't wait to read it.
Almost all of our trips have had some interesting moments,
especially our camping trip two years ago that got cut short
do to a tornado. Thankfully no one was seriously injured,
just a lot of damage and loss of our stuff. Our family
became even closer after that trip.
(Lisa White 11:38pm April 1, 2013)
It was the trip I took with my Mom to Italy. We were at the crossroads of whether we were going to drift apart due to our different upbringing or whether we were going to compromise and be best friends. It was a trip to discover where we are at in our lives.
(Kai Wong 11:40pm April 1, 2013)
I haven't had any life changing trip. One event on a long road trip that did change is that my Father now pulls over when I say I'm going to throw up.
(Laura Gullickson 12:42pm April 2, 2013)
We took a road trip to California in 1969 and stayed. I always wondered what my life would be like if I stayed in Virginia. That trip really changed my life.
(Kathleen Yohanna 3:17am April 2, 2013)
My husband and I took a trip to Bryce Canyon and seeing that beautiful landscape just brought me almost to tears. The wonders of God is so overwhelming.
(Bonnie Capuano 8:51am April 2, 2013)
Your book sounds wonderful. I've been on some road trips when I was younger - but it is the plan of my husband and I to get an RV and travel the states once I'm able to retire (he's already ahead of me on the retirement, lucky dog). So road trips will definitely figure in our future. I love reading all the response to your question.
(Nancy Reynolds 10:38am April 2, 2013)
I went on a road trip from Pennsylvania to North Carolina with my family to see my sister who was stationed at Camp Lejeune.It took us about 10 hours to get there and all 7 of us were tired once we got there. That was and still is the longest road trip I have every taken. It really is something to see how structured military life can be. Before going there I had never seen a tobacco field and the trees in North Carolina are like shrubs compared to the trees in Pennsylvania.
(Deborah Dumm 12:02pm April 2, 2013)
Oh I love that cover! ;) Nothing comes to mind as a life changer...
(Colleen Conklin 3:57pm April 2, 2013)
I love to take road trips because you can experience a lot and see a lot. I love the cover.
(Cynthia St. Germain 4:11pm April 2, 2013)
whoa nice cover
(Debbi Shaw 4:43pm April 2, 2013)
Chicago to Detroit to Boston to Dublin. Took forever to get there, but worth it.
(Kathy Sullivan 5:08pm April 2, 2013)
Enjoyed reading your blog and book sounds like a great read. On the subject of road trips, I can't think of any worth remembering.
(Sheila True 7:27pm April 2, 2013)
A trip to Iraq in 2003 changed my life. It made me appreciate everything
we have here. I stayed in Baghdad for 3 weeks. Isaw how people live in
Iraq and Syria. Everyone should visit another country if they can afford
to.
(Teresa. Alsaraji 9:05pm April 2, 2013)
I'm going to enjoy reading all about Tess and her road trip &
what happens when she arrives.
(Mary Preston 6:23am April 3, 2013)
Registered users may leave comments.
Log in or register now!