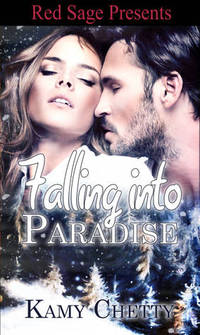 Purchase
Red Sage Publishing
January 2013
On Sale: December 31, 2012
Featuring: Damon; Sophie
ISBN: 0016138279
EAN: 2940016138275
Kindle: B00AVKFG62
e-Book
Add to Wish List

Romance Erotica Sensual | Romance Contemporary
A woman too afraid to commit. A man too hurt to love again. A passion that refuses to be denied.
Sophie Redmond knew betrayal, she knew mistrust. She knew everything that was wrong with the world, until Damon Watson charmed his way into her life.
The rules she used to shield her heart were broken one by one, as Damon showed her compassion and kindness.
When no one else believes in her, he shows her hope. But is hope ever enough?
Damon knew trouble when he saw it. He was the sheriff. He could spot it a mile away and Sophie was trouble with a capital T. What was it about this City Slicker doctor that made him want to forget everything but those whiskey brown eyes and that honey blonde hair spilled against his naked chest.
Can Damon put the past behind him and choose to love again?
Comments
35 comments posted.
No, I don't think that people really change. However our heroes are really nice guys that like to put up a "bad boy" image. Okay, they sometimes make mistakes or lose their tempers. But major changes, no.
(Kathleen Yohanna 3:07am March 18, 2013)
You can wish people change and actually do as they talk about but people don't evolve from a point of view very quickly if at all.
(Laura Gullickson 5:30am March 18, 2013)
Cowboys welcome here, but not handcuffs.
Blessings,
Marjorie
(Marjorie Carmony 6:08am March 18, 2013)
I think people can change if they want to, if they have inspiration and the drive to change, and I think it is 50/50 whether it sticks and that is the new improved.
There is something about a bad boy that brings the heart rushing, but the older I get the "older" bad boy looked more selfish, insecure, and "Peter Pan" -- I'll take them in books, but not in life
(Carla Carlson 8:45am March 18, 2013)
I, too, believe that people can change, with the right encouragement and mindset - I was also attracted to the Bad Boys back in the day - in some ways, I guess I still am, LOL, but I'll take them more in the books, too! :-)
(Felicia Ciaudelli 8:57am March 18, 2013)
I like to believe that people can change - but sometimes it's just not possible. You have to judge each situation. But Bad Boys make great reading.
(Nancy Reynolds 10:59am March 18, 2013)
People can change if they want to. I'd love to read this book.
(Wilma Frana 11:07am March 18, 2013)
People grow up, sometimes, and that changes them. What happens to cause this will vary from person to person, so maybe your character could have a life-changing event and realise he needs to sober up / settle down / stop gambling or whatever.
(Clare O'Beara 11:50am March 18, 2013)
Changes can happen... depends if they want them too.... love bad boys in fiction! ;)
(Colleen Conklin 12:43pm March 18, 2013)
I've met a few bad boys in my day and have found that beneath the bad boy is a very good man. They are the ones that will stop at nothing to protect those they love and they love deeply ... and are usually the biggest suckers for babies, puppies and kittens. So usually the true "bad" boy doesn't need to change they are good as they are!
(Annetta Sweetko 4:53pm March 18, 2013)
I like good boys better than bad ones but I do think bad boys can change and be good at least some of them can. I can't wait to read the book to see how big Paradise Island is that Damon has dated every girl!
(Shirley Younger 5:49pm March 18, 2013)
A reformed bad boy is very seductive. You can't make a bad boy change, they have to want to themself!
(Monica Vargo 6:19pm March 18, 2013)
bad boys appealed when i was younger, not now.lol thanks sounds good book,
(Debbi Shaw 6:31pm March 18, 2013)
I love bad boys in the books I read. Also they usally turn out to be the good guy. Thanks for a chance to win.
(Linda Hall 7:27pm March 18, 2013)
I love bad boys in books and real life! lol
(Joanne Bozik 7:47pm March 18, 2013)
A bad has t want to change to really change in order to successfully do so.
(Carol Woodruff 7:58pm March 18, 2013)
i like bad girls. girls who are sassy!!!!
(Lisa Fitzgibbons 8:12pm March 18, 2013)
I THINK YOU CAN CHANGE IF YOU WANT TO.I DID..
(Jennifer Beck 8:26pm March 18, 2013)
Don't we all love bad boys! And no they never change which is why they never make good husbands. I keep trying to get my sister to give up her bad boy ways but she is sure she'll be able to change the next one.
(Janis Milford 8:32pm March 18, 2013)
Yes, we all love bad boys & bad girls. But, can we ever change them? You can try, but; bad habits always die hard.
(Lois Imel 9:31pm March 18, 2013)
Yes, I have faith that we all can change and live a better
life once we repent and recommit our lives to God and are
honest with ourselves and with others too. Honesty and
putting God First in your life is the key to changing and
getting your life better. Thanks for the great contest.
Thanks, Cecilia CECE
(Cecilia Dunbar Hernandez 9:40pm March 18, 2013)
Bad boys might cause havoc in real life, but they make mighty interesting subjects in books.
(Gladys Paradowski 9:44pm March 18, 2013)
Books sounds great. Love those bad boys. Would love to win.
(Amy Milne 9:56pm March 18, 2013)
Hi Kamy
You are a new author to me, so I've not read your book(s). So, I think
Damon should truly see what matters to Sophie, what she holds dear and
ensure those things continue to be so. If Damon is sincere in these efforts,
then Sophie will see that.
(Ginger Robertson 10:03pm March 18, 2013)
Ps, lovely name, Kamy.
(Ginger Robertson 10:05pm March 18, 2013)
I definitely love bad boys. I'm attracted to the dangers and challenges that they bring with them. They are a challenge because we want to reform them. It takes a special woman to love them for who they are.
(Kai Wong 11:05pm March 18, 2013)
book sounds like a good read..love the cover..love to win
(Kimberly Hoefs 11:43pm March 18, 2013)
Wow- Thanks for the fabulous response to this question. I think it's clear that some of us believe bad boys can change and some of us don't. I always like bad boys in movies and books- there is something about dark and broody that gets me hooked. You say Stefan, I say Damon, you say team Edward, I say team Jacob. So I like dark and sexy. I like to believe bad boys are that way because they've been hurt. Damon in my book is not selfish and full of himself, he is just a man who has had his hard broken, so he refuses to give it to anyone else. Until he meets Sophie, who has her heart wrapped in a rule book:-) But at the end of the day, it's the journey we go on with our bad boy and can we fall in love with him and will it work out. So good luck to those entering the contest and thank you so much for stopping by. I will be hanging around and it is so good to meet you all:-)
(Kamy Chetty 1:12am March 19, 2013)
I like bad boys in my books, which is where I think they
belong.
(Mary Preston 6:20am March 19, 2013)
Bad boys are so much fun to read about---I don't think I'd want one for real, though.
(Sue Farrell 11:04am March 19, 2013)
I love bad boys. Love to write about them. Love to read about them. Do I think they can change? Only if they want to.
(Tamara Hunter 11:07am March 19, 2013)
I'm Team Ranger. I love bad boys.
(Kathy Sullivan 11:42am March 19, 2013)
I love bad boys! But they are suck heartbreakers! Tell Damon he has to do all that he can
to win over Sophie. Little by little I think she would give him a chance. All he needs is
that one chance. And he better not mess it up! - I like the cover btw. :)
(Lazydrag0n Puff 3:56pm March 19, 2013)
I love Bad Boys...they are sooooo hot!
(Andie Wardlow 2:49am March 20, 2013)
Okay so we are all team bad;-) that is way cool.
(Kamy Chetty 3:47am March 20, 2013)
Registered users may leave comments.
Log in or register now!