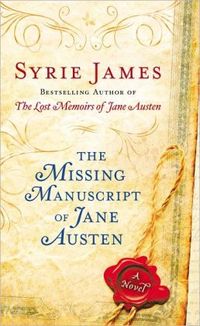 Purchase
The Missing Manuscript Of Jane Austen
Syrie James
Berkley
January 2013
On Sale: December 31, 2013
Featuring: Samantha McDonough; Anthony Whitaker
432 pages
ISBN: 0425253368
EAN: 9780425253366
Kindle: B0095ZP45W
Paperback / e-Book
Add to Wish List

The minute I saw the letter, I knew it was hers. There was no mistaking it: the salutation, the tiny, precise handwriting, the date, the content itself, all confirmed its ancient status and authorship…
Samantha McDonough cannot believe her eyes--or her luck. Tucked in an uncut page of a two-hundred-year old poetry book is a letter she believes was written by Jane Austen, mentioning with regret a manuscript that "went missing at Greenbriar in Devonshire." Could there really be an undiscovered Jane Austen novel waiting to be found? Could anyone resist the temptation to go looking for it?
Making her way to the beautiful, centuries-old Greenbriar estate, Samantha finds it no easy task to sell its owner, the handsome yet uncompromising Anthony Whitaker, on her wild idea of searching for a lost Austen work--until she mentions its possible million dollar value.
After discovering the unattributed manuscript, Samantha and Anthony are immediately absorbed in the story of Rebecca Stanhope, daughter of a small town rector, who is about to encounter some bittersweet truths about life and love. As they continue to read the newly discovered tale from the past, a new one unfolds in the present--a story that just might change both of their lives forever.
Comments
42 comments posted.
Re: The Missing Manuscript Of Jane Austen

Enjoyed your thought process in writing. Congratulations on talking about the importance of research.
Blessings,
Marjorie
(Marjorie Carmony 6:12am January 6, 2013)
Wow, you have a different process to mine! I would worry that if the layout was so regimented there would not be a chance for plot and characters to evolve naturally - because they do don't they. The research usually suggests connections and is very helpful for any type of background.
(Clare O'Beara 8:33am January 6, 2013)
I also love a challenge, it makes life much more interesting. Really enjoyed reading about the challenges of the writing process
(Shirley Younger 10:40am January 6, 2013)
That moment of inspiration is key, but it is the hard work and revision that
molds your work into something beautiful.
(unSeen Fiction 10:51am January 6, 2013)
It was nice hearing about your writing process. I cant wait to read this book it sounds great.
(Emily Bowes 11:08am January 6, 2013)
I like that aspect of revising,too! Just to relive what you
wrote before - sometimes, it's just magical.
(Margay Roberge 11:09am January 6, 2013)
I'm glad hear that writers struggle with parts of their job just like I struggle with parts of mine.
(Sue Farrell 11:14am January 6, 2013)
Interesting blog.
(Wilma Frana 11:40am January 6, 2013)
I didn't realize how many times you had to revise your work. This makes me appreciate your books even more.
(Anna Speed 12:32pm January 6, 2013)
love these historical pieces
(Debbi Shaw 12:42pm January 6, 2013)
A fascinating post which I enjoyed greatly. This interesting
historical would be captivating and wonderful. Best wishes for
2013. Your talent is special.
(Sharon Berger 1:02pm January 6, 2013)
Wouldn't be exciting if this were true!
(Diane Sallans 1:19pm January 6, 2013)
Congrats! :) I never knew it takes so much work for one book! Appreciated your work!
(May Pau 1:39pm January 6, 2013)
I'm glad there are diligent artists who go through all of the sweat and tears to provide us book lovers with prime books to read. Thank you!
(Tracie Travis 2:10pm January 6, 2013)
Writing is a lot of work. I wonder where you come up with new ideas that haven't been written about before.
(Kathleen Yohanna 2:15pm January 6, 2013)
Well, no wonder Syrie's book is so good. With all the time and research she pours into her work, a great read will emerge. I will take a deeper look at the characters and the story within a story, as I read. Thank you for your appreciation of a word well written.
(Rosemary Simm 2:53pm January 6, 2013)
I find that if I write down too specific of an outline, or
even tell anyone about my ideas..I'm done. It's like the
story has already been told, and I don't have the motivation
to expand on it. I've never been good with descriptive
outlines,even for essays - they end up being completely
different when I start writing and my mind takes me away. I
appreciate your description of your process, it's so great
to hear how differently everyone works.
(Celina K 2:56pm January 6, 2013)
You certainly have my respect - your writing process is very involved. It's much more work and not nearly as glamorous as I like to imagine :)
(LaRonda Atchison 2:58pm January 6, 2013)
Love reading about your writing process.
(Mary C 3:11pm January 6, 2013)
I also like challenges, canot wait to read your book.
(Pamela Fox 3:30pm January 6, 2013)
Writing sounds like it's so challenging and so much work. I love writing but after reading how complex and involved it is, my hat is off to authors that make it appear easy to us (the readers). I'm looking forward to reading your books.
(Linda Luinstra 3:39pm January 6, 2013)
It's interesting to hear of different authors style of
developing a book. I just love the finished products. Thanks
for the insight.
(Mary Hay 3:48pm January 6, 2013)
You've definitely got a winning routine down for writing a
book.
(Deidre Durance 4:17pm January 6, 2013)
I love reading so interesting to see the other side. I can
not even imagine trying to write a novel. I have so much
respect for writers!
(Vicki Hancock 5:15pm January 6, 2013)
Thanks for sharing this and the chance to win your new book. I look forward to reading it.
(Chelsea Knestrick 5:15pm January 6, 2013)
Book sounds very interesting. Lots of work on it. Thanks for giving me a chance to win.
(Linda Hall 5:19pm January 6, 2013)
Enjoyed this. I thought about writing but decided to just review and help out authors that way.
(Jane Squires 5:44pm January 6, 2013)
I can't wait to read "The Missing Manuscript of Jane Austen". I admite you for all of the work you put into a book.
(Robin McKay 6:08pm January 6, 2013)
Due to the fact that you go over your manuscript so many times before you submit it, would lead me to believe that you would lean towards being a perfectionist. If I were ever to write the book that is in my head, I know that I would go over it again to make sure that my facts were down and that my English was perfect, along with proper punctuation, etc., but I don't know if I would be up to the task of writing endless drafts of the same book!! I don't know how you wouldn't find it to be a bit tedious and a bit of overkill!! I'm not knocking your books in any way, nor your methods, for you have many awards under your belt to prove your worth, but after about the 3rd time of editing your manuscript, don't you feel that it's about where it should be without having to go through the process again?? For someone who is considering going into this field, it is very disheartening to read about the process you use. For the record, I am a perfectionist myself, and have always loved the English language. I love your choice of subject for your books, and would love to read your latest book, as well as the others. Have a Happy and Healthy New Year!!
(Peggy Roberson 6:27pm January 6, 2013)
Syrie! I am so super excited to read The Missing Manuscript of Jane Austen-- just the title gives me shivers! :-)
Three rounds of revisions sounds super intimidating-- but I imagine when it's all done, and you're happy, and holding the finished copy in your hands with it's shiny new cover, that it's the greatest feeling in the world :-)
Wishing you nothing but the best!
Chelsea.
(Chelsea Brooks 6:54pm January 6, 2013)
That kind of overlapping process sound like one that would be efficient for me, so thanks! And the premise of this sounds delectable. :)
(Mary Ann Dimand 7:07pm January 6, 2013)
Thanks for sharing your writing process. Anything Jane Austen, I will read.
(Kai Wong 7:40pm January 6, 2013)
This was fascinating thank you. A great deal of thought is
obviously put into your writing.
(Mary Preston 8:26pm January 6, 2013)
I love Jane Austen and I have always enjoyed your books. Thank you for
sharing your writing process.
(Ann Sheiring 8:39pm January 6, 2013)
Thanks for the insight. Your book sounds really good!
(Sharlene Wegner 8:51pm January 6, 2013)
This book sounds so good! I have a few of your books and really enjoy them. Can't wait to read it!
(MaryAnne Banks 9:07pm January 6, 2013)
Thanks for sharing your process - I look forward to reading your books.
(Kathy Martocci 10:52pm January 6, 2013)
I couldn't never write the way you do. FOr me it is basically just sitting down with the idea and then going for it. Yes, I know, your published, I'm not, and that could be why, but I still could never do what you do. I have to just have the blank paper/screen in front of me and let my fingers take me where they will.
(Amy Conley 10:53pm January 6, 2013)
Thank you so much for sharing your process with us - wow!
(Felicia Ciaudelli 7:28am January 7, 2013)
I remember in school I had a little notebook that I wrote ideas, scribbled all about - the scene, characters- I love your process and know editing is the insanity.
(Carla Carlson 8:03am January 7, 2013)
I find your writing process so intriguing! It amazes me some how a single
idea becomes a complete novel. Thank you for sharing your process. I
can't wait to read this book! Many blessings!
(Lisa Glidewell 11:52am January 8, 2013)
This book sounds really intriguing. Putting it on my list!! :)
(Penny Mettert 4:20am January 31, 2013)
Registered users may leave comments.
Log in or register now!