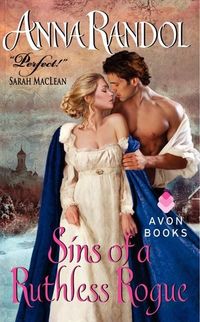 Purchase
Sins of a Ruthless Rogue
Anna Randol
Avon
April 2013
On Sale: March 26, 2013
Featuring: Clayton Campbell; Olivia Swift
384 pages
ISBN: 0062231359
EAN: 9780062231352
Kindle: B0089LOLRU
Paperback / e-Book
Add to Wish List

Revenge never tasted so sweet…
When Clayton Campbell shows up on her doorstep, Olivia Swift is stunned. For long ago, Clayton was the boy who stole her heart. He's also the man her betrayal had sent to the gallows. A man she believed dead, now standing before her, looking leaner, harder, more powerful than ever, his haunted eyes filled with a lust she had never seen—for vengeance….
Or burned so hot…
He's a Crown spy who once faced death and escaped unscathed. Yet Clayton Campbell cannot deny that the sight of Olivia rouses in him something more than a thirst for revenge. Or that the bold beauty would lure him once more into a dangerous game. Only this time, Clayton plans to be the victor—with the tempting Olivia in his bed as his prize. But once passion ignites between them, the hard-hearted agent will face his greatest battle yet—for his heart…
Comments
41 comments posted.
Rogues are always intriguing.
(Gladys Paradowski 12:06pm March 26, 2013)
Both books sound fantastic!! Nothing better than romance and intrigue!
(Sandie White 4:14am March 26, 2013)
That's an adventure to write home about. I love it.
(Mary Preston 4:17am March 26, 2013)
putting it on to read soon list. interesting tale of romance and adventure.
(Lisa Fitzgibbons 5:21am March 26, 2013)
I have St Petersburg on my bucket lists of places I must see. It sounds like you don't just write adventure, but live them.
(Carla Carlson 6:32am March 26, 2013)
What an interesting life you lead, and write about.
Blessings,
Marjorie
(Marjorie Carmony 6:59am March 26, 2013)
Rogues are always very interesting to be introduced to and
Clayton Cambell Sounds Very Interesting
(Barbara Swavely 8:13am March 26, 2013)
Rogues are always interesting and Clayton Cambell sounds
very interesting. I don't believe Ihave ever read a book
with interests dealing with Russia. Tantalizing though.
(Barbara Swavely 8:15am March 26, 2013)
Oh to be young again --- what a wonderful experience you had---but as we get older we just get more cautious and don't try those things.
(Sue Farrell 9:20am March 26, 2013)
I've had those kinds of travel days! Mine usually involve
passports and barely missing flights, but about the same kind
of intensity. :-D
(Karin Anderson 9:46am March 26, 2013)
Loved your personal story - and it sounds like the story in your book is going to be great. Thanks for the chance to win - and best of luck with the book.
(Nancy Reynolds 10:02am March 26, 2013)
Sounds like another great book
(Julie Parrish 10:28am March 26, 2013)
This sounds like a book that I would really enjoy reading!
(Jean Benedict 11:20am March 26, 2013)
What an exciting experience you had getting out of Russia!
(Anna Speed 11:26am March 26, 2013)
Congratulations on the publication of Sins of a Ruthless Rogue! The Russian setting is intriguing. I love historical romance and would love to win a copy of your book.
(Bonnie H 11:48am March 26, 2013)
This sounds almost as interesting as your real life. I'd love
to read it.
(Mary Hay 11:50am March 26, 2013)
I really enjoyed reading your post today!! You wrote it with such passion, too!! I have no idea how many years ago your experience was, but I think that if you had to do it all over again, you would do it in a heartbeat!! The cover of your book is stunning!! The woman is beautiful, and I'm sure that I am going to thoroughly enjoy it!! I can't wait to flip the cover, and see what awaits me!! Congratulations!!
(Peggy Roberson 12:09pm March 26, 2013)
Congrats on your new book! Thanks for sharing your post with us... wow, some trip.
(Colleen Conklin 12:28pm March 26, 2013)
Oh the joys of long-distance travel!
A friend who visited Russia some years ago said there were no basin plugs as people stole them, the sugar cubes didn't melt in tea and the chocolates fell apart. Maybe it's better now....
(Clare O'Beara 12:56pm March 26, 2013)
Sounds fantastic!
(Norma Wills 1:57pm March 26, 2013)
Sounds like a great book to read. Thanks for a chance to win.
(Linda Hall 3:15pm March 26, 2013)
Looking forward to reading the book and reading about your heroine's experiences in Russia ---and yours
(Dwight Younger 3:40pm March 26, 2013)
sounds like a great book, thanks for this chance
(Debbi Shaw 3:56pm March 26, 2013)
I'm such a romantic at heart - I think many of us have a first love and wonder "what if we had a 2nd chance?". You've given your characters that 2nd chance to reconnect and find love - sigh
(Dana Wong 3:57pm March 26, 2013)
That was an exciting introduction to Russia, Anna. LOL The book sounds great.
(Marcy Shuler 3:58pm March 26, 2013)
That sounds like such an adventure. And a great inspiration for this book.
(Pam Howell 4:18pm March 26, 2013)
Sounds like a marvelous read! What a wonderful adventure in Russia. Sometimes the most unfortunate events give rise to the most exceptional inspiration.
(Irene Menge 4:35pm March 26, 2013)
I would love to read about a story that takes place in Russia! I don't have any books like this yet. &
ruthless rogues sounds like some delectably intriguing to read about.
(Lazydrag0n Puff 6:01pm March 26, 2013)
Boy, what an experience you had getting to Russia, but what memories you must have of the country and congratulations on using those experiences in your book.
(Gladys Paradowski 6:30pm March 26, 2013)
What a wonderful experience you had! I had my high school daughter be an
exchange student in Germany this past summer and she had a wonderful time.
Nothing like what you experienced, but fun nonetheless. Thanks for the post!
(MaryAnne Banks 7:50pm March 26, 2013)
I may have to print this out and tuck it in my mirror. I am one of those glass
half empty people and I need someone like you reminding me to just
lighten up and enjoy what life throws at me. Thank you. I needed that. :)
I don't want to deflect attention from how wonderful the book sounds... I
really like that too!
(Patti Paonessa 8:01pm March 26, 2013)
Chasing planes is always an adventure. The books sound great.
(Laura Gullickson 8:04pm March 26, 2013)
Whoah! What a time you must have had! :-)
(Chelsea Brooks 8:38pm March 26, 2013)
These books sounds interesting.
(Kathy Fowler 9:19pm March 26, 2013)
Sounds terrific! Will love to read it!
(May Pau 9:50pm March 26, 2013)
Sounds like a wild adventure. Not boring.
(Melissa Womble 9:52pm March 26, 2013)
Everyone love a bad boy. I will be reading Sins of the Ruthless Rogue. I would like to know more about these two characters in the book.
(Kai Wong 9:55pm March 26, 2013)
oooh Russia! Haven't read much set there.
Sounds like you had quite an interesting time of it there.
(Diane Sallans 10:26pm March 26, 2013)
This book sounds really interesting and would really love to read it
(Kimberly Hoefs 11:40pm March 26, 2013)
Wow, that was some adventure! The book looks great.
(Janie McGaugh 12:13pm March 27, 2013)
I am new to your books, and can hardly wait to read the first one.
(C Culp 2:50pm April 3, 2013)
Registered users may leave comments.
Log in or register now!