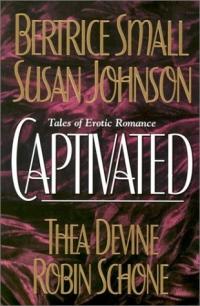 Purchase
Let four masters of historical romance take you to a world where all of your fantasies can come true and passion is bound only by the limits of your imagination?a world that will arouse your senses and hold you completely...
Kensington
September 2001
384 pages
ISBN: 0758202687
Trade Size (reprint)
Add to Wish List

ECSTASY by Bertrice Small
Dagon, Prince of Aramis, had been betrayed by his twin brother and sold into slavery. He vowed to escape his tortured life and seek revenge.until he was brought to Kava. Now Dagon is under the rapturous spell of the women who rule this kingdom and of its queen, the irresistible Kelida whose wickedly lascivious games leave him begging for more.
BOUND AND DETERMINED by Susan Johnson
The Princess Marko has kidnapped Hugh Dalsany, Marquis of Crewe. Now Hugh finds himself her prisoner, shackled to a bedpost. But it isn't long before he becomes a very willing captive, succumbing to her expert skills in seduction.
DARK DESIRES by Thea Devine
Drue Caledon despises her new husband Courtland Summerville, the man she was forced to marry, and vows to remain loyal to her true love, Gerard Lenoir. But Court intends to make Drue his in body and spirit by introducing her to the pleasures of the flesh—tantalizing her until she has no choice but to surrender to his every desire.
A LADY'S PLEASURE by Robin Schone
Seeking shelter from a storm, Colonel Robert Coally intrudes on Abigail Wynfred while she is reading a book that would surely raise more than one eyebrow in London society. When the lonely Abigail confides in him that she aches for the touch of a man, Robert takes her on a breathless journey filled with sensual surprises surpassing even the most scandalous of fictional exploits.
Comments
No comments posted.

Registered users may leave comments.
Log in or register now!