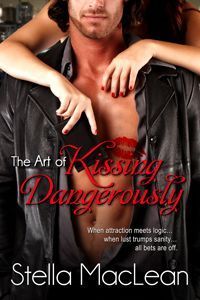 Purchase
The Art of Kissing Dangerously
Stella MacLean
Out of Print
Author Self-Published
December 2012
On Sale: December 18, 2012
274 pages
ISBN: 0044214014
EAN: 2940044214019
e-Book
Add to Wish List

The Mission is Money; the plan is to win a battle of wills. Rebel with a flaw, Maggie Kincade is out to cure her yen for bad boys in black by kicking Tom Rawlins out of her life. Maggie's financial woes are the result of her poor judgment when it comes to men.
Man with a past, Tom Rawlins is in town long enough to recover the money owed to him. The same money that Maggie believes is owed to her.
Despite their differences, they have one thing in common. They want Sean O'Toole to pay up, or give them a share of Harry's Place, the local bar/restaurant Sean owns. Trouble is, Sean and his money are nowhere to be found. Determined not to let the other gain the advantage, they each get a job at Harry's Place.
But all this close contact has left Tom in lust and Maggie in trouble. She cannot fall, yet again, for another man who will love her and leave her. Desperate to see Tom's butt planted on the seat of his Harley Hog Maggie devises a plan. The person making the least amount of tip money on Friday night will ride the mechanical bull. Maggie's sure that Tom in a cast will be less appealing to the local clientele of Harry's Place, not to mention less appealing to her. Maggie is losing the bet until one of the patrons tells Maggie about Tom's bad boy past. The discovery of Tom's secret gives Maggie a chance to offer a bit of friendly blackmail—he rides the bull in return for her not telling a soul his juicy secret.
Even though she's up against the man who has raised seduction to an art form, Maggie is certain she's won, that her heart is safe from the latest bad boy...until she realizes that Tom was more than a competitor for cash.
He could have been her friend, her confidant and her lover.
Sean's return gives Tom and Maggie one more chance to get their money back. Together in their need to get their money back, they discover that the shortest distance between lust and love may be only a heartbeat away.
Comments
No comments posted.

Registered users may leave comments.
Log in or register now!