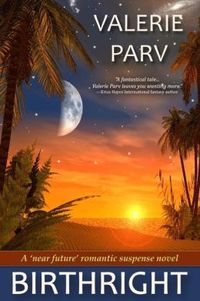 Purchase
Danger from the sky ...
Corvallis Press
November 2012
On Sale: October 30, 2012
Featuring: Adam Desai; Shana Akers
ISBN: 0015911748
EAN: 2940015911749
Kindle: B00A0C07BK
e-Book
Add to Wish List

Science Fiction Suspense/Thriller | Romance Suspense
Danger from the sky ...
Former police officer turned deputy governor, Shana Akers, is used to handling high–stakes situations. But after learning that a space shuttle mission about to be launched from her island home may have a shocking secret agenda, she must turn for answers to the man who has challenged her mind and emotions for years.
Scientific genius and space center director, Adam Desai, is a truly self–made man. Found adrift at sea as a baby, he knows nothing about his origins until two VIPs attending the launch force him to confront the truth about his past, changing everything Adam has ever believed about himself.
Faced with a danger that threatens the entire world, can Adam and Shana find the strength to trust not only each other, but the mysterious VIPs whose unusual abilities defy logical thinking? Especially when it becomes clear that they'll need all of their combined resources to reclaim humanity's...
Comments
23 comments posted.
Re: Birthright

this plot sounds thrilling. thanks for the chance to win this must read book!
(Debbi Shaw 9:31am January 12, 2013)
If you don't immediately give your protagonist a background, this means the character is free to develop and pieces of the background will emerge in the telling. So that is a very interesting device.
My mother researched our family tree and found out far more than I'll ever need to know.
If I could reinvent myself I'd be me, a little younger and richer, so I'd be better able to do the things I love doing now. I'd want to bring my husband along on the same basis though, or it wouldn't be fair!
(Clare O'Beara 10:41am January 12, 2013)
My husband and I researched my dad's family background the hard way (no Internet) and had it printed in book form to share with all relatives. Family stories, relatives, cemeteries, and the local courthouse provided a wealth of information. It was fun reconnecting or getting to know members of various branches of the family.
(Anna Speed 12:42pm January 12, 2013)
oohh, this sounds amazing! Can't wait to read it :)
(Jolene Allcock 12:46pm January 12, 2013)
My parents were immigrants and I didn't meet my only living
grandparent until I had graduated college. Money was tight
and none could be spared for travel. We were all of us so
busy trying to succeed where we were that I never really
noticed that I know little of my own background.
Nevertheless, I would not want to be anyone else.
(G. Bisbjerg 3:00pm January 12, 2013)
nice new yr. contest.
(Kent Cook 3:46pm January 12, 2013)
What an interesting story! I will definitely put it on my wish list. Thanks for the giveaway.
(Bonnie H 4:10pm January 12, 2013)
I have the usual collection of ancestors, English, Irish, Scottish, German and a Cherokee Great Great Grandmother. That combination has worked out pretty well for me. I am most grateful
Blessings,
Marjorie
(Marjorie Carmony 4:38pm January 12, 2013)
I just found out why my parents maintained part of the Buckeye Trail for 30 years, because it was part of the 165 acre farm my dad's family grew up on. There's also a road and a mill by the canal named after them. My mom's family used to be buggy-stripers so that's where her artistic ability comes from - she paints and writes articles for the newspaper. I would reinvent myself as a researcher for medicine to help more people.
(Alyson Widen 4:45pm January 12, 2013)
What interesting family histories you have Anna, Marjorie and Alyson. I'm not sure what a buggy-striper was - painting the sides of buggies, from your context - but it sounds fun. I admire your medical research choice too. Good idea about being reinvented younger, Clare. We take our own backgrounds as "normal" G.Bisbjerg until we get out into the world. I know I did. Welcome Debbi, Jolene & Kent, good to see you here.
(Valerie Parv 5:32pm January 12, 2013)
I grew up hearing stories about my grandmother's father
being one of the children who had gone west from New York on
what was known as the Orphan Train. Him and his brother
were adopted by neighboring farms in Iowa. Their parents
had died on one of the boats coming into Ellis Island and
they were too young to know their own heritage.

Additionally, my grandfather's grandfather was of a similar
situation coming into the country through New Orleans.
Apparently that was also a major entry point into the U.S.
for immigrants. I wish we hadn't lost a large part of our
heritage with these deaths, but it is very interesting
having ancestors be part of these pieces of American
History.
(Judith Cauthan 5:34pm January 12, 2013)
This sounds like a very unusual read.
(Theresa Hurley 5:37pm January 12, 2013)
Yes, I would really love to win Birthright because I was
Adopted as a baby and all my life did not know my real
family till 1994 when I found out that I have a brother in
Kansas that looked me up and came to meet me and my husband
living in Texas. I got to meet my Mom and Grandma and cousin
Lelia that lived till her 90's and now they have passed away
so I am still learning about my family history and trying to
put the puzzle pieces of my Life together. So, I think your
wonderful book Birthright could be a blessing. Thanks for
the great contest and God bless everyone too. Happy New Year
too. Thanks, Cecilia CECE
(Cecilia Dunbar Hernandez 5:38pm January 12, 2013)
This sounds like a must read book. Thanks for the chance to
win it, too.
(Mary Hay 6:00pm January 12, 2013)
Great plot and great winter read!
(Shirley Younger 6:04pm January 12, 2013)
Thanks Theresa, Mary and Shirley. I hope you enjoy my book. It's a big read covering a lot of ground, but was great fun to write. Judith, your family sounds fascinating. Have you or someone in your family written about your ancestors? Thanks Cecilia, I'm glad you eventually found your family. and got to meet youtr Mom and Grandma. Happy New Year to all, too.
(Valerie Parv 6:16pm January 12, 2013)
You had me at "sexy-as-sin genius". Sexy nerds rock!
(Maggie Nash 7:43pm January 12, 2013)
I got as far in my family history to my great grandparents. I do suspect that I have some Portagese, Spanish, or English ancestors in the family tree. The problem is I have no idea how to access records in the foreign countries.

If I could reinvent myself, I would love to live a little bit more dangerously instead of safe.
(Kai Wong 12:55pm January 13, 2013)
I do love to now about my family's past. Great post thank
you.
(Mary Preston 2:07am January 13, 2013)
Yay Maggie Nash, yes they do. Adam is my first sexy nerd. We haven't seen the last of him. Kai, welcome, you're so right about living more adventurously rather than safe. I should do the same, except for a certain inherent wussiness LOL Hi Mary, thanks for stopping by.
(Valerie Parv 8:15am January 13, 2013)
My aunt's father came to America to avoid an arranged marriage.
(Kathy Sullivan 12:46pm January 13, 2013)
Histories help us develop a sense of where we come from andhow we got to where we are at. I deal a lot with adopted children, and not knowing their past is a really stressful thing for most of them. It really makes me grateful for how much knowledge I have about my past.
(Donna Holmberg 7:46pm January 13, 2013)
Sounds like a fascinating book. I would reinvent myself as a younger not as
timid me. Oh and I'd go for the richer too. :) I also wouldn't let people talk
me out of writing so maybe I would have gotten farther faster than I have.
(Penny Mettert 3:13am January 14, 2013)
Registered users may leave comments.
Log in or register now!