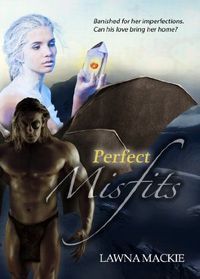 Purchase
Can gargoyles find true love?
Author Self-Published
November 2012
On Sale: November 6, 2012
Featuring: Ryder; Tempest
166 pages
ISBN: 148026234X
Kindle: B00A323JIA
e-Book
Add to Wish List

Ryder, commander of the Levarian legion of gargoyles, has a problem. He keeps dreaming on duty...and falling...neither of which gargoyles ever do. Every dream is of the same woman, and every time it brings on red–hot, searing pain in the crescent–shaped scar on his palm. Driven to find the woman and the reason for his bizarre dreams, he lets himself fall...
He lands in a place he never knew existed and face to face with the woman of his dreams.
Labeled a misfit, Tempest was snatched away as a child and imprisoned in the hidden realm of Misfit Mountain. Locked up by Fedor, the ruler of the kingdom who intends to take her as his bride, Tempest has no choice but to brave the dangerous snow and ice of the mountain to escape. Faced with the impossible choice of Fedor or death, love is the last thing on her mind until Ryder snatches her from the air and into a whole new realm of feeling.
Can Ryder find the key to freeing her and save them both?
Comments
34 comments posted.
Re: Perfect Misfits

The link is coming together in spite of it all and learning to love one another despite the differences that we have. To me it is all about family and the bonds that follow, some bonds are stronger than blood and they have made many people whole is so many ways.
(Anthonia Sharp 12:49pm December 22, 2012)
You are so right Anthonia!For me it's all about love. My stories have to have love and a happy ending or I just couldn't write them. Thanks for stopping by!
(Lawna Mackie 12:52pm December 22, 2012)
no problem, i believe that more than anything that it all about love and life. Perfect misfits looks to be a very intriguing book to read.
(Anthonia Sharp 12:54pm December 22, 2012)
Thank you for sharing with us today! Happy Holidays!
(Colleen Conklin 1:04pm December 22, 2012)
thanks for this chance to win a book that sounds so good
(Debbi Shaw 1:26pm December 22, 2012)
Of course I'm prejudice because I wrote PERFECT MISFITS, but if you like happy endings and a love story along with some dark fantasy, then this book will be a good fit for you.

Thanks for stopping by Colleen, Debbi and Anthonia!
(Lawna Mackie 2:36pm December 22, 2012)
Your books sound very good and I'm happy to find a new author today and read your books. Quinn's Christmas Wish really appeals to me. I'm looking forward to reading it! Have a very M E R R Y C H R I S T M A S !
(Linda Luinstra 3:45pm December 22, 2012)
These books sound great and I like dark fantasy/paranormal and happy endings!
(Rich Cook 4:15pm December 22, 2012)
I think you'll enjoy QUINN'S CHRISTMAS WISH Linda it's a nice short
read.

And Rich if you love Dark Fantasy then PERFECT MISFITS is great!

Thanks so much for stopping by!
(Lawna Mackie 4:25pm December 22, 2012)
Wishing for you and yours the Blessings of Christmas!
Marjorie
(Marjorie Carmony 5:15pm December 22, 2012)
Christmas is a special time of year for me, too---and Rudolph the Red Nosed Reindeer is a favorite memory of childhood--so I must read the Perfect Misfits.
(Sue Farrell 5:19pm December 22, 2012)
FANTASTIC BOOKS I CAN'T WAIT TO READ THEM. LOVE YOUR BOOKS
THEY ARE MARVELOUS.
(Shelly Caggiano 5:55pm December 22, 2012)
sounds like a great read!! Merry Christmas
(Jennifer Beck 6:10pm December 22, 2012)
Looking forward to reading your work. I love the holiday season and letting an author share their stories about them is wonderful.
Good luck and happy writing!
(Tracie Travis 6:40pm December 22, 2012)
I love everything about CHristmas!!
(Mary Preston 7:38pm December 22, 2012)
My goodness! All you wonderful people have totally made my day! I ABSOLUTELY LOVE hearing from everyone!

Sue and Marjorie, I hope you have you get a chance to watch Rudolph before Christmas...I've watched it three times already! (I know...I wasn't kidding. It is my favorite!)

Shelly, I'm so happy you love my books :-) makes me smile!

Tracie and Mary, in my books, there is nothing better than the holidays. I can always find something to smile about with the Christmas season! I feel grateful for every minute of every day.

I'm so humbled by everyone's comments :-)
(Lawna Mackie 7:57pm December 22, 2012)
I love the stories with the Christmas theme especially when the meaning of Christmas comes through the story.

Merry Christmas.
(Kai Wong 8:56pm December 22, 2012)
Really enjoyed reading your blog and reminding me to watch Rudolph again. Haven't sat down and watched it since my children were small.
(Sheila True 9:03pm December 22, 2012)
Hi! Your books sound great! Really look forward to enjoying them. Hope you and yours have a great Holiday!!
(Peggy Cole 9:14pm December 22, 2012)
I love December because it is my birthday month and also becasue of the Christmas season. People seem to be much more cheerful and smiling as we get closer to Christmas. Also would love to read your books
(Shirley Younger 10:20pm December 22, 2012)
I know I would enjoy Quinn's Christmas Wish and after I have read it know the perfect person to share it with.
(Mildred Mayo 10:24pm December 22, 2012)
I've just read a book set in twelfth-century Ireland, Warriors in Winter, where the people celebrated a mixture of Christmas and winter solstice. This was very good as it shows the origin of customs such as bringing green boughs indoors.
(Clare O'Beara 7:42am December 23, 2012)
Clare I've always wanted to go to Ireland! Someday I hope :-) what was the
book called?
I'm from Didsbury Alberta in Canada and it's certainly snowy here today! It's
also minus 23 degrees!!! Wowzers!
(Lawna Mackie 11:35am December 23, 2012)
I don't read too many like this anymore but you have capured my attention. I love to enter book contest, givesme a chance to read someone I haven't known of before. Your new book sounds like fun, different and best of all, romance & suspense. Love romantic suspense.
(Pat Moore 1:17pm December 23, 2012)
Christmas shows from my youth hold a special place in my heart. Rudolph is one of my favorites, but The Year Without A Santa Claus wins every time... come on, admit it, you know who the heat mizer is.. LOL
(Donna Holmberg 5:32pm December 23, 2012)
P.S. I found your connection and left you a comment on your website...
(Donna Holmberg 5:39pm December 23, 2012)
I do love Rudolph the Red-Nosed Reindeer, too, and it would not be Christmas without watching it especially with family and friends! You're a new author to me and your books sound wonderful...I'll go take a look! Thanks for sharing and safe and happy holidays!
(p c 7:53pm December 23, 2012)
Christmas is my favorite Holiday - not only because of the Religious meaning, but I get caught up in everything!! I love the Christmas Carols, the decorations, baking, cooking, and just about anything associated with it!! I feel that this is the time of year that brings you closer to friends as well as family, and people in general tend to be nicer. If only this goodwill could be bottled up and spread around the rest of the year, we would be further ahead!! I hope you have a wonderful Christmas, and a Healthy and Happy New Year!! I know by your blog today, you already have a leg up on it!!
(Peggy Roberson 9:58pm December 23, 2012)
Pat I'm so happy that I've caught your attention I really hope that if you do read one of my books you'll enjoy it.

Donna, I'm so glad you headed to my site and left your response with regards to my little quiz! I'm not sure if I've ever watched The Year Without Santa Claus...gotta find that!

P C - Yup, it's pretty hard not to like Rudolph :-) Thanks.

Peggy, everything you spoke of with regards to Christmas makes me happy too! I also really wish we could bottle up Christmas cheer to spread throughout the year!

Thanks everyone!
(Lawna Mackie 10:38pm December 23, 2012)
Enjoyed this. I love Christmas movies. Still love all those children ones I used to watch with my kids and now my grandchildren. Would love to read this.
jrs362 at hotmail dot com
(Jane Squires 6:50am December 24, 2012)
Sounds great! :)
(May Pau 8:29am December 24, 2012)
I don't know what it is about Christmas movies that just warms my heart, but they do!

Thanks Jane and May! Happy Christmas Eve everyone!
(Lawna Mackie 11:27am December 24, 2012)
Enjoy the holidays. Love the contest hope you will have more in the future.
(Anthonia Sharp 2:02pm December 26, 2012)
happy holidays ! have a great new year as well
(Danielle McDonald 10:06am December 27, 2012)
Registered users may leave comments.
Log in or register now!