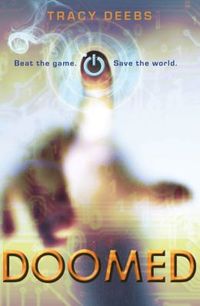 Purchase
Beat the game. Save the world
Walker Books for Young Readers
January 2013
On Sale: January 8, 2013
Featuring: Theo; Eli; Pandora
480 pages
ISBN: 080272373X
EAN: 9780802723734
Kindle: B009K4ZLV0
Hardcover / e-Book
Add to Wish List

Pandora's just your average teen-glued to her cell phone and laptop, surfing Facebook and e-mailing with her friends-until the day her long-lost father sends her a link to a mysterious site featuring twelve photos of her as a child.
Unable to contain her curiosity, Pandora enters the site, where she is prompted to play her favorite virtual-reality game, Zero Day. This unleashes a global computer virus that plunges the whole world into panic: suddenly, there is no Internet. No cell phones. No utilities, traffic lights, hospitals, law enforcement.
Pandora teams up with handsome stepbrothers Eli and Theo to enter the virtual world of Zero Day. Simultaneously, she continues to follow the photographs from her childhood in an attempt to beat the game and track down her father-her one key to saving the world as we know it.
Part The Matrix, part retelling of the Pandora myth, Doomed has something for gaming fans, dystopian fans, and romance fans alike.
Comments
39 comments posted.
Re: Doomed

ilike the book cover and then i love to read and blog on it for you if i had chance
(Desiree Reilly 11:41pm January 14, 2013)
I like the story of Heracles the best. He is better known to us as Hercules from the roman stories.
(Kathleen Yohanna 5:52am January 15, 2013)
I hadn't thought about Pandora in a long time. I like Atlas, but thing that he had better shift the earth a little bit. We seem to be off kilter.
Blessings,
Marjorie
(Marjorie Carmony 6:33am January 15, 2013)
Oedipus. Might be my psychology training but I find the concept very
intriguing.
(Liesl Lane 7:19am January 15, 2013)
I had mythology in eighth grade and fell in love with it. I have been reading about it ever since. My favorite story is about Perseus, when he's trying to save his mom from being married to that king. My least fave is about Medusa. It's so sad how it wasn't even her fault that she got raped but she got turned into a monster anyway. I can't wait to read this book. I bet it will be a great one. Hope you have a great day and continue writing :)
(Meghan Anderson 7:43am January 15, 2013)
I love the story of Anthena and Arachne to explain how spiders came to be.
(Pam Howell 8:15am January 15, 2013)
Gotta love Zeus!
(Suzanne Constein 8:25am January 15, 2013)
looks good..
(Kent Cook 9:29am January 15, 2013)
This sounds like a book I'd love to read
(Bonnie Capuano 9:50am January 15, 2013)
Just read the intro to this book and I soooo wish it was sitting right here, right now so that I could just pick it up and read it. Thanks for sharing!
(Stephanie Strausberger 9:53am January 15, 2013)
Persephone and Hades, I do love the book cover!
(Vicki Wurgler 10:26am January 15, 2013)
The book and cover are both intrigueing. I'd love to win.
(Mary Hay 10:40am January 15, 2013)
Wonderful post. My favorite is Achilles. Best wishes and much
happiness.
(Sharon Berger 10:45am January 15, 2013)
My favourite creation of Greek mythology has to be the winged horse Pegasus - I'm a horsey person.
Your comment about high-tech ruling our lives is a good one and we do indeed find it hard to sort out our lives when something like a bank computer goes down.
(Clare O'Beara 10:51am January 15, 2013)
It is always interesting to hear how an author comes up with the idea for a story. I love stories that include Greek mythology. My favorite Greek myth is Persephone.
(Bonnie H 11:52am January 15, 2013)
I like Hades
(Sandy Giden 12:23pm January 15, 2013)
Even since I've read and reread Bulfinche's Greek Mythology I enjoy reading those kinds of stories. Pandora's box is an interesting tale to which there are many self discoveries. Mythology also takes up back to a simplier time which is a welcome break from the tech world that we live in.
(David McKinney 12:59pm January 15, 2013)
I must admit that I am not very familiar with the Greek
Pantheon of mythology. Viking and Norse lore was always my
favorite subject to dive into. However, as I was a
young(er) woman in the 90's when Kevin Sorbo rocked out the
Legendary Adventures of Hercules, I have some small, and
probably totally wrong, idea. Then Disney took a turn at
Hercules and we all know how off base that one was. But it
does hold a special place in my heart because Megara totally
rocks as a girl power figure for Disney.
(Judith Cauthan 1:38pm January 15, 2013)
I like the Cassandra and Apollo one. Orpheus is another favorite although its is so sad!
(May Pau 2:12pm January 15, 2013)
Love that you set myth up in current technology frame. Sounds
fascinating.
(G. Bisbjerg 2:13pm January 15, 2013)
I love dystopia and combined with Greek mythology-so cool!
(Diane Pollock 2:49pm January 15, 2013)
All Greek mythology is interesting, my favorite would probably be for today anyway would be Aphrodite and her lover Aros.
(Pamela McPherson 2:55pm January 15, 2013)
I've always thought Medusa and Ariadne got the short end of the stick in their myths and wouldn't mind re-tellings of them. Actually I think Ariadne has one The Bull God by Gellis.
(Lisa Elwood 3:46pm January 15, 2013)
Favorite myth -- the one where Icarus flew too close to the sun and his wings melted. Your books sounds interesting.
(Michelle Fidler 4:38pm January 15, 2013)
my favorite greek myth would be Hercules.
(Lisa Fitzgibbons 5:34pm January 15, 2013)
Favorite greek myth would be about Hercules and Hydra (with her many snake heads, that would grow two more if he or his twin brother chopped one off). Your books sounds very interesting and would be fascinating to read!
(Linda Luinstra 6:58pm January 15, 2013)
Not sure whhich legend or part of mythology it comes from, but I like the story behind the movie Clash of the Titans. This one encompases several stories run together, I think, and it really lends itself to the making of a great movie.
(Donna Holmberg 8:33pm January 15, 2013)
I like most greek myths, depending on how their stories get told. Thank you for the chance to win. Sounds like a great read.
(Sally Hannoush 8:46pm January 15, 2013)
the cover is very cool and the book sounds great...love to win
(Kimberly Hoefs 9:27pm January 15, 2013)
achilles is my fav, but this sounds WOW> thanks
(Debbi Shaw 10:09pm January 15, 2013)
I really hate to admit this, but when I was younger, I used to read Greek Mythology, and knew it like the back of my hand. When you get to be my age, and especially when you are recovering from a closed-head injury, you can't recall things like that, and it actually makes you angry, because it should just pop out of your head like History would, especially the way I used to read it. Anyway, your story intrigued me, and not only would I read this book, but I would pass it on to my Husband, who I know would enjoy the story as well. I love where it takes place, and besides Pandora, who I am a bit familiar with, should make the book a real page-turner. Thank you for the extra background on the book. It always adds a little extra flavor, when you know where the Author is going with her story.
(Peggy Roberson 10:11pm January 15, 2013)
Well, don't know if it really counts as a myth but the Lost
City of Atlantis is rumoured to be Santorini and it is such an
amazing story and it would be crazy to find this ruin.
(Kylie Plester 10:21pm January 15, 2013)
I have always been fascinated by Sirens. The way they can bring a sailor to
his doom, wow. Medusa is also another woman in mythology that has
amazing power
(Ann Sheiring 11:20pm January 15, 2013)
Book sounds great, also the cover. Would love to win. Thanks
(Linda Hall 11:25pm January 15, 2013)
Eros and Psyche is my favorite story. It has that Beauty and the Beast theme.
(Kai Wong 12:20pm January 16, 2013)
Narcisus.
(Roxana Perez 3:38am January 17, 2013)
Has to be Pandora for me. Just fascinating.
(Mary Preston 6:25am January 17, 2013)
I love all of mythology, the nature of the gods and goddesses still are captivating and amazing.
(Carla Carlson 11:25am January 17, 2013)
all mythology is great !
(Danielle McDonald 9:50pm January 20, 2013)
Registered users may leave comments.
Log in or register now!