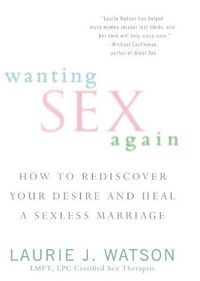 Purchase
How to Rediscover Your Desire and Heal a Sexless Marriage
Berkley
December 2012
On Sale: December 4, 2012
384 pages
ISBN: 0425257142
EAN: 9780425257142
Kindle: B008JHXRGK
Trade Size / e-Book
Add to Wish List

Self-Help Relationships | Non-Fiction
"I never want to have sex again."
If you feel like sex just isn't worth the effort, you're not alone. Forty million American women are frustrated by their lack of sexual passion. They know something's missing—and their husbands know it, too—but the emotional, physical, and mental obstacles to healthy desire can be a knot that seems too tangled to unravel.
Drawing on twenty years of clinical experience, Laurie Watson shows that it really is possible to restore the thrill of sex, using proven psychological methods and personal accounts from actual therapy sessions. Her strategies will:
• Offer a glimpse into the reality of other people's bedrooms
• Address the sexual problems that can develop with life changes—from marriage to motherhood to menopause
• Uncover the hidden factors that impact desire—stress, cultural messages, emotional connection, chemical and hormonal challenges, physical appearance issues, and more
• Show how joyful, meaningful, satisfying sex can be yours again
Candid, practical, and much needed, this book can help you rediscover your sexual self or discover it for the first time. Instead of dreading bedtime, you can look forward to it again.

Media Buzz
Katie - July 24, 2013

Comments
20 comments posted.
sounds interesting...
(Michelle Schafer 1:21am December 9, 2012)
This book is long overdue and I can't wait to read it!
(Edwina Cowgill 9:02am December 9, 2012)
This is so spot-on!!
(Terry Carter 9:38am December 9, 2012)
Really? A lack of sex drive? My husband can't believe I have none! LOL
(Amy Conley 10:00am December 9, 2012)
I think tis is the first time that I saw a sex therapist, other than Dr. Ruth, and I don't know if she would really qualify, write a book about how to rekindle a romance between a couple. This book is long overdue, and can help a lot of people, and also save many couples from divorces, since that alone is a strong reason for many. I'm anxious to read it, and am sure that I'll keep it handy, and pass it along as a book to borrow to someone who is having problems in their marriage. Thank you for writing such an informative book!!
(Peggy Roberson 10:04am December 9, 2012)
I would very much like to read your book. This is such a big problem and women seem to be unwilling to discuss this topic. Even some medical doctors are clueless. I would appreciate a straight forward approach on this taboo subject.
(Beth Charette 10:46am December 9, 2012)
Thanks [email protected] - I can safely say that most medical doctors have NO training in sexual functioning. Even Gyns. I teach the only hour if that, at both Duke and UNC-CH that medical residents and gyns may ever receive. @Peggy - lol re: only sex therapist seen...I don't even wear flowing gowns like Streisand on the Fockers! That's how the doctors refer to me... "you'll like her - she's normal."
(Laurie Watson 11:12am December 9, 2012)
I can relate to this struggle. My DH is older and now we have separate rooms. I think that it is as much my doing why for some reason the reconnecting is not happening. I can joke about it and say I last longer than a camel, but this is not really how I wish to be. Thank you for addressing this, so many don't.
(Carla Carlson 1:37pm December 9, 2012)
I CAN'T WAIT TO READ THIS BOOK IT SOUND VERY INTERESTING. LOVE
TO WIN.
(Shelly Caggiano 3:19pm December 9, 2012)
This book sounds great. I would enjoy learning from it.
Thanks.
(Sharon Berger 4:13pm December 9, 2012)
Interesting.....4
(Liesl Lane 4:17pm December 9, 2012)
Looks interesting, hope I win.
(Diane Lapierre 4:23pm December 9, 2012)
Wow! this sounds like I great read, certainly plan on reading it.
(Shirley Younger 4:41pm December 9, 2012)
cant wait to read!!!
(Jennifer Beck 5:26pm December 9, 2012)
+ great contest
(Kent Cook 5:39pm December 9, 2012)
Oh, the dilemmas and thrills of being a woman. Your story looks like it has a lot of "Oomph" in it.
(Alyson Widen 5:45pm December 9, 2012)
Wow! Sounds like a great book, anything that helps us get our romance back is wonderful & refreshing. Thanks, for a great contest.
(Lois Imel 7:46pm December 9, 2012)
I am really interested in reading this. Thanks for the giveaway.
(Jennifer Beyer 7:58pm December 9, 2012)
This book sounds helpful. Thank you.
(Darlene Thompson 8:26pm December 9, 2012)
Sounds fine until one or other partner is suffering from a long-term illness which makes lovemaking difficult or impossible.
(Clare O'Beara 5:33am December 12, 2012)
Registered users may leave comments.
Log in or register now!