Purchase
Black Sheep Knitting #5
Gallery Books
February 2013
On Sale: January 22, 2013
Featuring: Ellie Krueger; Ben Krueger
304 pages
ISBN: 1451644795
EAN: 9781451644791
Kindle: B007EDOS0E
Paperback / e-Book
Add to Wish List

Llama Drama!
Ellie and Ben Krueger arrived in Plum Harbor eager to live out their dream—tending a herd of gentle, friendly llamas for fun and profit, on a farm just beyond the village. Their grand opening fiber festival kicks off on a bright note but abruptly ends in malicious mayhem. Knitting shop owner Maggie Messina and her friends soon learn that this is not the first time a vicious visitor has called.
The Kruegers suspect that Justin Ridley, their eccentric neighbor, is the troublemaker. A misfit and loner, he's known to roam the woods all night, though no one knows for sure what he's hunting. Then there's Angelica Rossi—the lovely owner of a rival fiber farm—who's been as busy as a spider, spinning spiteful lies about the Kruegers' yarns. Or, are the naïve newcomers merely caught in the tangle of Plum Harbor politics, and an intense land protection debate?
Suddenly, vandalism turns to murder—and the Kruegers' dream descends into a nightmare. The Black Sheep knitters must pull the threads together and uncover this crafty menace . . . before more lives—and more llamas— are lost.
Black Sheep Knitting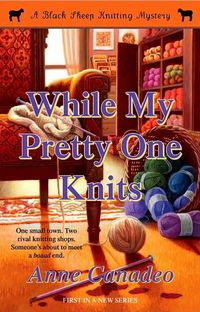 While My Pretty One Knits
#1.0
Amazon.com | BN.com | | |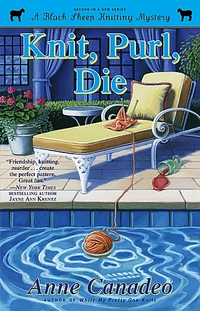 Knit, Purl, Die
#2.0
Amazon.com | BN.com | | |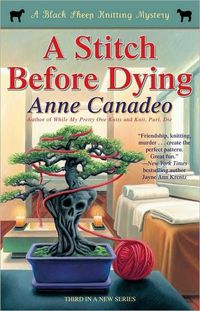 A Stitch Before Dying
#3.0
Amazon.com | BN.com | | |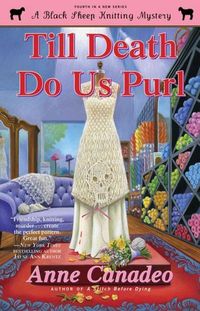 Till Death Do Us Purl
#4.0
Amazon.com | BN.com | | |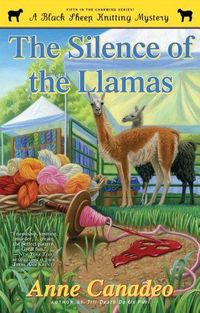 Silence Of The Llamas
#5.0
Amazon.com | BN.com | | |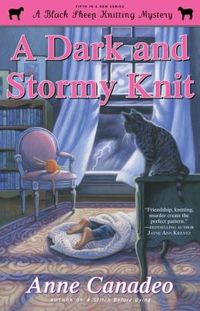 A Dark and Stormy Knit
#6.0
Amazon.com | BN.com | | |
Comments
22 comments posted.
I love your weakness for eavesdropping, and look forward to your future post to answer the question whether llamas are really silent. My guess is no.
(Shirley Younger 5:43pm February 25, 2013)
I often am in a restaurant alone--I find it a great place to eavesdrop and try to learn more about my fellow man.
(Sue Farrell 5:47pm February 25, 2013)
I get many of my ideas from the novels I read. My other ideas come from my day to day activities be it sitting in my favorite coffee shop or browsing in my awesome thrift shop. Can you imagine the memories that are hidden in each plate, each garment, each painting?
(Susan Coster 5:55pm February 25, 2013)
I have used llama roving for yarn art and would like to read more about them.
(Connie Schultz 6:06pm February 25, 2013)
As much as I hate to admit, I love eavesdropping. I think
everyone does it but not everyone will admit it, lol.
(Vicki Hancock 6:07pm February 25, 2013)
I remember a few years ago travelling from WI. to MN. along I-90 and surprised to see many llamas on a llama farm near LaCrosse, WI. I had no clue as to why someone would want to raise llamas in the cold winter climate and so many. They are beautiful to look at with their big eyes and different colors. Eavesdropping can lead to having interesting conversations with complete strangers, along with getting good ideas or finding someplace new to shop or eat. So I think it's a good thing, and most people do listen to anything they can't help overhearing.
(Linda Luinstra 6:49pm February 25, 2013)
I am certainly going to read this one!
Blessings,
Marjorie
(Marjorie Carmony 7:00pm February 25, 2013)
I made the mistake of identifying an alpaca as a llama at a 4-H fair in upstate NY. Boy did the owner let me know about all the differences! Love reading this series and happy to see you're a fellow Long Islander like me :)
(Mary Vehlies 7:21pm February 25, 2013)
daydreaming - I get just little flashes of ideas or answers to questions or concerns while daydreaming. I've never kept a list of each day's odd little bits, but I bet I'd finally get a handle on the crazy dreams I have every night!
enjoy your books - I hunt them down on our library network!
(Beth Fuller 7:39pm February 25, 2013)
sounds like a good read! Putting it on my list. thanks for the draw:)
(Barbara Studer 7:57pm February 25, 2013)
have a place that has a lot a llamas. in the summer i will ride by early AM on my bicycle and they look at me like i am interrupting their peaceful morning:)
(Lisa Fitzgibbons 8:02pm February 25, 2013)
I would love to win as this book holds an interest to me..also love the cover..nice job done
(Kimberly Hoefs 8:40pm February 25, 2013)
would love to win the book, looks interesting.
(Diane Lapierre 9:30pm February 25, 2013)
I love that book title: The Silence of the Llamas instead of
Lambs. Catchy Title for sure. I would love to win this great
contest. Are Llamas really silent? NO, I do not believe they
are because I was raised on farm in Kansas with animals as
my best friends growing up and they speak their own language
and No Animals are Not Dumb like some people think. They are
beautiful and belong to God and we have No right to kill any
beautiful animals. Thanks so much and God Bless Everyone!
Cecilia CECE
(Cecilia Dunbar Hernandez 11:56pm February 25, 2013)
Down the street from my grandmother a family bought land and created an alpaca farm. I love going to visit her and on the way seeing these amazing creatures going about their day
(Carla Carlson 11:58pm February 25, 2013)
So great to hear an author put it out there on the line... you're HUMAN - just like those of us in the rest of the world! In crowds, or places where people sit and wait, it is inevitable that people will "listen in" to random conversations, and I too find them great fodder for writing materials.
(Donna Holmberg 1:22am February 26, 2013)
Research is absolutely necessary for an author. It adds so many details even when you think you know a subject inside out - there is always someone doing it differently!
Hope your book does well, I enjoy practical craft mysteries and love animals.
(Clare O'Beara 7:19am February 26, 2013)
I had the pleasure of seeing an alpaca in person. I thought that it was the neatest animal, and although I was a bit afraid of it, due to the fact that it was taller than I was, I still got to within 4 or 5 inches of it. I was also able to pet it, and that was one thing that this particular alpaca didn't appreciate. :-) The reason I was able to get so close was because I happen to be a knitter and crocheter, and someone brought one to our knitting group, so that we could see the alpaca in person, and get more familiar with the fiber we use in knitting!! Anyway, if I could, I would love to raise some myself, but there is a lot involved in the shearing of the animal, and then you either have to send the wool out for spinning it into yarn, or learning how to do it yourself, which is no easy process!! Thank you for such a great article!! I can't wait to read your book!!
(Peggy Roberson 3:48pm February 26, 2013)
I understand that llamas are used as pack animals. They are rented out to hikers to carry the supplies for a hike.
(Carol Woodruff 6:41pm February 26, 2013)
Llamas are quiet animals. I have never heard what kind of sound that they make. You perk my curiosity. Time to google for llamas and sounds.
(Kai Wong 9:53pm February 26, 2013)
That must have been a fun article to read. The book look
fabulous.
(Mary Preston 5:11am February 27, 2013)
I agree that a phrase or a certain word can trigger a whole slew of others to follow, so a journal comes in mighty handy. There are a few Llama farms in Ohio and they sure are a gently animal prized for their coats that can be spun into yarn.
(Alyson Widen 9:52pm February 28, 2013)
Registered users may leave comments.
Log in or register now!