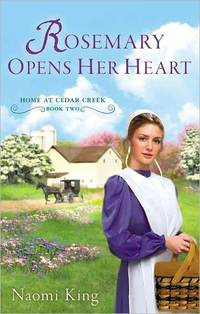 Purchase
Rosemary Opens Her Heart
Naomi King
Home at Cedar Creek #2
NAL Trade
November 2012
On Sale: November 6, 2012
304 pages
ISBN: 0451237978
EAN: 9780451237972
Kindle: B0083P1ROW
Paperback / e-Book
Add to Wish List

Other Editions
Mass Market Paperback (reprint - July 2020)
Another spring reminds the Amish of Cedar Creek, Missouri, that for everything there is a season.
Zanna Lambright is finally marrying Jonny Ropp, and friends and family have come from far and wide to celebrate. Among them is young widow Rosemary Yutzy, mother of toddler Katie, whose husband was tragically killed last fall. With a willing heart Rosemary has taken over care of her in-law's family and continued to run a baked goods business from home, but privately she still mourns her lost Joe...and is unprepared for the changes that are coming...
Rosemary's father-in-law wants to merge his lamb-raising business with Matt Lambright's—a move that will require the Yutzys to relocate from their nearby town to Cedar Creek. Moreover, it will bring Rosemary into constant contact with Matt, who is making no secret of his romantic interest in her. The challenges of contemplating a future unlike any she expected are overwhelming for Rosemary. And although Matt is strong and kind, his courtship is so persistent, she often wants to run the other way. As Rosemary struggles to see beyond her immediate joys and sorrows, will she embrace the outpouring of welcome and support from the people of Cedar Creek...and accept this new chance to open her heart to a more abundant life?
Comments
5 comments posted.
Would love to read this as the first in the series was excellent and I am sure this one is to!
(Kim Tompkins 2:55pm October 30, 2012)
I just love your books as you know and truly get so lost in them it is wonderful I can't wait till this one comes out as it sounds so good.
(Peggy Clayton 12:57pm January 25, 2013)
Life in the Amish community is very interesting to read about. The fact that you stray in your books from the vision we have of the Amish is probably more apt than most folks think.
(Marilyn Nowlin 6:48pm January 25, 2013)
I love reading stories about the Amish people. I find them to be very uplifting, and I feel good when I finish the book. I've met a couple of Amish people, and they are very nice, polite, people, who will carry on a conversation, but yet they tend to be reserved. Since I live in the country, I can relate to part of their lifestyle, and without going into detail, my life is similar to theirs in many ways. I suppose that's another reason why I enjoy reading about them. Congratulations on your latest book. I'm sure that it's going to be another winner!!
(Peggy Roberson 9:38pm January 25, 2013)
Lovely cover art.
I do find the life of Amish people interesting as they prefer natural farming methods and community support. However in one book I read recently the community kept being told that they must be falling into sin and that was why the weather kept ruining their crops. Firstly, the people didn't seem to have a single opportunity to carry out any sins, and secondly don't intelligent people understand that weather is nobody's fault?
(Clare O'Beara 7:05am January 26, 2013)
Registered users may leave comments.
Log in or register now!