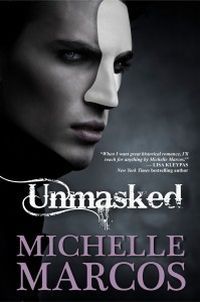 Purchase
Author Self-Published
October 2012
On Sale: October 6, 2012
Featuring: Paulette
ISBN: 1301801445
EAN: 2940044979963
Kindle: B00A1H86T4
e-Book
Add to Wish List

Some curses exist in secret, but some cannot be hidden from view. For a woman like Paulette, one glance in the mirror will remind her how monstrous she will always appear to others. But when she stumbles into the netherworld of the notorious Paris Opera House and encounters a sinister man even more deformed than she, she learns that things are not always as they seem. Of all the men she's come across, only this man has been able—or willing—to see her for the beauty she is. The frightening yet hopeful bond they forge might be just enough to prove that some curses—though unbreakable—may be overcome.
Comments
34 comments posted.
Re: Unmasked

I'm embarrassed about my lackluster bust. Today's enhanced bras really are a wonder and I find that a with a little "boost"...the grass does seem to be greener.
(p c 1:20am November 20, 2012)
I am suffering through hair loss. OK, I am old, so that should not be a surprise, but it is still difficult. The question is, a wig or not.
Blessing,s
Marjorie
(Marjorie Carmony 6:24am November 20, 2012)
I have at times been embarrassed by my wide rear(thunder thighs)...when they speak of pear shape,that is me.Took me many years to accept that that is just the way I was supposed to be.
No wig for me :)
(Jackie Preas 6:38am November 20, 2012)
Scars on my face make me shy from photos. I have learned makeup applications to camouflage them somewhat.
(Beth Charette 7:31am November 20, 2012)
I'd love to read this book. Thanks for the chance
(Bonnie Capuano 8:26am November 20, 2012)
My weight is over the top. I have learned to live with it and
try to keep it under control. My husband loves me anyway.
Your book sounds good.
(Mary Hay 9:11am November 20, 2012)
I don't have any problems. I love your books.
(Wilma Frana 10:07am November 20, 2012)
I don't like my smile, my parents spent a fortune on the orthodontist so it's not my teeth, but I just feel like I don't know how to smile right. When I smile I look like I'm in pain or something, wish there was a smile teacher.
(Sheila Mulholland 10:10am November 20, 2012)
I have a small weight problem! I'm like a yo-yo. As I grow older, I have learned to accept myself. My husband is the cook at home and loves me anyway. Just received last week "Lessons in loving a Laird" (nice cover) and "Secrets to seducing a Scot", can't wait to read them. The story behind "Unmasked" looks a bit different, but I would love to read it.
(Nicole Laverdure 10:46am November 20, 2012)
I too am older and have hair loss. I have found a new love for hats. What I love
about it is I find hats that are just perfect for me and within a certain amount of
time others in my neighborhood are finding the courage to wear the same hats!
Thank you for the lack of perfection in your characters. It makes a reader
believe there is hope for all.
(Sandra Spilecki 11:23am November 20, 2012)
I wish that I don't have to wear glasses. it doesn't look that great....
(May Pau 11:30am November 20, 2012)
probably my thighs -- but I try to run a lot to get over it!
(Eva Segerblom 12:59pm November 20, 2012)
short - fat - wear glasses - but my dog LOVED me!!
would love to win & read! PICK ME!!!
(Pamela Faye Howell 1:02pm November 20, 2012)
I wear glasses. Growing up I had to get the cheap kind and was made fun of. But now that there are many styles, I can look good and see :)
(Elizabeth Haney 1:56pm November 20, 2012)
My big fat gut. My big breasts rest on my belly and I look like a round fat blob. I would love to get help, but its hard. I try.
(Shonda Abercrombie 2:49pm November 20, 2012)
I am 6'0 tall and have huge feet. I always been self consious being so tall and towering over everyone...I owercame this because people would always ask me to reach for things on shelves they couldn't get and as I got older I have received many other compliments by woman who wish they were taller. It just seems we always want what we don't have.
(Nicole Davis 2:56pm November 20, 2012)
my weight. thanks for this chance to win. sounds like a great book too
(Debbi Shaw 3:15pm November 20, 2012)
I'm just not attractive at all--plus I'm overweight. I can control my weight, but the other problem just won't go away.
(Sue Farrell 3:24pm November 20, 2012)
ai Great contest
(Kent Cook 3:34pm November 20, 2012)
Oh I am one behind you in seeing "The Phantom of the Opera" on stage!!! I truly love the story and look forward to reading your story of Paulette as I am also overweight and hide behind large hoodies to try and hide this but as we all know nothing is hidden!!
(Sheila Schwartz 3:49pm November 20, 2012)
One thing I do not like... I have this small wart like thing at the edge of one of my eyebrows... no one really notices, but I know it is there and it bugs me sometimes.
(Colleen Conklin 3:59pm November 20, 2012)
I LOVE THE PHANTOM OF THE OPERA TOO. I EVEN HAVE THE MOVIE
PHANTOM OF THE OPERA. LOVE THE SONGS. LOVE YOUR BOOKS THEY ARE
MARVELOUS. EXCELLENT GIVEAWAY!!!!!
(Shelly Caggiano 5:37pm November 20, 2012)
Sounds like a wonderful read
(Cynthia St. Germain 6:17pm November 20, 2012)
I have always disliked my limp, fine hair. I have learned to accept it at my
age and just want to grow old gracefully.
(Lisa Garrett 6:18pm November 20, 2012)
Fat around my midsection - ugh!
(Janie McGaugh 6:41pm November 20, 2012)
Because of medications I'm on, due to several health issues, they have affected my teeth. I wish that I could go without them, but every day is a struggle as it is. Anyway, I don't have dental insurance, nor can I afford it. We're still trying to get back on our feet after losing our house ( my Husband lost his job - long story ). Anyway, for now, I had to have a couple of them pulled, which was the last thing I wanted done, but it was the cheaper option. I use an over-the-counter patch for the other teeth, and don't smile as wide so you can't see how bad they really are. I really am embarassed, because my teeth used to be so beautiful. I'm really hoping that something will happen soon down the road so that I can get my teeth repaired, and I can be like a "normal" person again!! My thighs might not be quite where I'd like them, either, but it's my teeth that are the 1st thing a person sees when they talk to me. Now if I could wear a mask like the Phantom.....
(Peggy Roberson 9:48pm November 20, 2012)
I have thinning hair due to a hormonal condition and now have loose skin on my abdomen, triceps and thighs from losing 85 lbs in the past year. Happy to lose the weight though... Good luck on your new release!
(Michele Hayes 10:36pm November 20, 2012)
What a strange question... I don't feel ashamed of any part of me. I wear glasses and they give great protection to me eyes while cycling, riding, cutting hedges, felling trees etc. But they didn't look great in photos and even thouugh mine were plastic lenses they were quite heavy. Then the new high-density lenses came along so I could have thinner smaller lenses and still see as well. Now I look better. I kept the larger glasses and use them to protect my eyes while working.
Good luck with your new book.
(Clare O'Beara 6:57am November 21, 2012)
I love this story already - boy can I so relate - as do all of the other commenters here, for sure. I have had a weight problem for most of my life - especially after my son was born - I TOTALLY ballooned out and look like...well, I cannot mention in polite company!My son and I are both on Weight Watchers - he has lost about 150 pounds and has 50 or so more to go - I have lost around 70 - and have several tons left to go - but we are both stalled - anyway, THAT is my main life challenge - well, one of them at any rate!
(Felicia Ciaudelli 7:52am November 21, 2012)
My weight is what embarrasses me the most. your book sounds wonderful! Thanks for the giveaway!
(Christine Mead 8:20am November 21, 2012)
Ladies, I'm really touched that all of you opened up so much. I hate that so many of us suffer the same hang-ups--but at the same time, I'm comforted that none of us suffer alone. There's a sort of sisterhood in that, isn't there? For that reason, I'd like to give you all, as my gift, a copy of UNMASKED. I hope that you enjoy the story, and that you're able to draw some measure of solace from it. Just send me your email, and I'll reply with a coupon that will let you download it for free. Blessings!
(Michelle Marcos 11:39am November 21, 2012)
P.S., You can write me at michelle(at)michellemarcos.com
(Michelle Marcos 11:42am November 21, 2012)
There is nothing I am ashamed or embarrassed about. It's all
me.
(Mary Preston 11:01pm November 21, 2012)
The pouf where my belly used to be flat before kids is something I'd like to tone, but food keeps calling my name and I answer especially around the holidays.
(Alyson Widen 8:37pm November 26, 2012)
Registered users may leave comments.
Log in or register now!