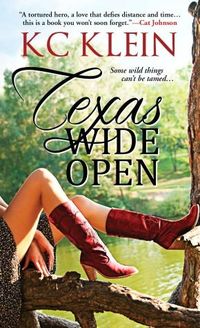 Purchase
Kensington
November 2012
On Sale: November 15, 2012
ISBN: 1601830211
EAN: 9781601830210
Kindle: B008H6GJ4K
e-Book
Add to Wish List

Katie Harris loved growing up on a ranch. She had her horse, the beautiful Texas prairie, and Cole Logan, the cowboy next door. But there are a lot of secrets hidden under a Texas sky . . .
Katie always knew she'd marry Cole one day-until he broke her dreams and her heart. But now that Katie's father is sick, she's back home, older, wiser and nowhere near the love-sick fool she once was.
Cole knows Katie doesn't want anything to do with him. But after so many years, he can't pretend she's no more than a neighbor. Not when thinking about her cherry lip gloss and hell-for-leather passion is keeping him up all night. Holding his ground was hard enough when she was seventeen. Now that she's her own woman, Cole's heart doesn't stand a chance . . .
Comments
32 comments posted.
Re: Texas Wide Open

Sounds like a great book with more to come!
(Cate Sparks 10:13am November 14, 2012)
Tortured heroes are the best!
(Lisa Elwood 10:22am November 14, 2012)
I can only imagine how exciting it is to have a book published, and then another, etc!
Blessings,
Marjorie
(Marjorie Carmony 10:26am November 14, 2012)
Hi KC - all I can say is, this is candy on a stick and then some. This one tastes like more!! Read it, loved it, reviewed it - folks, KC rocks it! xoxo
(Amy Valentini 10:49am November 14, 2012)
yummy! Can't wait to read it!
(Meredith Blair 11:33am November 14, 2012)
This sounds good. It just went on my tbr list. I'd love to win a copy.
(Cathy Thomas 11:52am November 14, 2012)
Whew, this is a must read book. The book's cover is a zigger when you look at it, makes the imagination a bit lusty. I would love to win a copy.
(Rosemary Simm 12:04pm November 14, 2012)
Ooooh sounds like a book I would enjoy! Thanks for sharing and congrats on the release! :)
(Colleen Conklin 12:12pm November 14, 2012)
Sounds really good..Would love to read. Thanks for the chance to enter!
(Nicole Davis 12:20pm November 14, 2012)
This sounds like an interesting book. I hope I'm fortunate enough to win it.
(Anna Speed 12:23pm November 14, 2012)
book sounds fun reading. thanks
(Debbi Shaw 12:34pm November 14, 2012)
Don't dismiss what you have written, just because it isn't dark! Providing material that people enjoy reading is a wonderful achievement and for your own sake it is good not to get stereotyped as a writer.
Good luck with the book, great cover!
(Clare O'Beara 2:17pm November 14, 2012)
SOUNDS LIKE AN EXCELLENT AND INTERESTING BOOK LOVE TO WIN IT
AND READ IT.
(Shelly Caggiano 3:35pm November 14, 2012)
Tormented cowboy+returning heroine = interesting reading!
(Joanne Hicks 4:06pm November 14, 2012)
It sounds like a great story.
(Maureen Emmons 5:42pm November 14, 2012)
love a cowboy
(Kathy Fowler 5:44pm November 14, 2012)
Really enjoyed your blog, book sounds like my kinda read.
(Sheila True 6:56pm November 14, 2012)
Haven' ever read any of your books and would like to sample
one
(Kathryn Clark 7:25pm November 14, 2012)
Romance on a stick---conjures up all sorts of ideas!!
(Sue Farrell 8:28pm November 14, 2012)
I love anything with Texas in the name.
(Debra Guyette 9:02pm November 14, 2012)
Sounds fantastic, thank you.
(Holly Vanderhule 9:12pm November 14, 2012)
Love the cowboy and his baggage. The hero is always trying to do the right thing but it takes someone like Kate to make him see that sometimes it takes two people to make things right especially when they work together and have that special thing that keep bringing them back together.
(Kai Wong 9:21pm November 14, 2012)
WOW thanks everyone for some great commenting. I can't wait to pick a winner!!
(Kc Klein 9:52pm November 14, 2012)
I do love a good romance. Thanks for the giveaway.
(Jennifer Beyer 10:19pm November 14, 2012)
i love the cover, can't wait to read it...hope i win...thanks
(Kimberly Hoefs 11:00pm November 14, 2012)
Congratulations on the release of TEXAS WIDE OPEN! I think Katie needed the time to become a woman strong enough to help Cole come to terms with the baggage that's weighing him down.
(Mary C 11:03pm November 14, 2012)
You had me hook, line and sinker!! It sounded so finger, lickin' good, that I was reading as fast as my eyes could fly!! Then I got to the bottom of the page, and it said that the winner got an e-book!! I don't own an e-reader, and I'm totally crushed!! I hate not being able to get in on these contests, especially when the books are going to be this good!! How upsetting!!
(Peggy Roberson 11:07pm November 14, 2012)
sounds like a great read; anything cowboy!!! thanks for the draw
(Barbara Studer 11:52pm November 14, 2012)
I do enjoy tortured heroes. They make for fascinating reading.
(Mary Preston 6:26am November 15, 2012)
A new author for thanks for the blurb ... a new book to add to my tbr list
(Shelby S 9:56am November 15, 2012)
I love the sound of your book and would love to win! Thanks so much for the great blurb and giveaway!!!
(Christine Mead 10:21am November 16, 2012)
Cowboys, ranches and trouble. What's not to like?
(Alyson Widen 5:39pm November 18, 2012)
Registered users may leave comments.
Log in or register now!