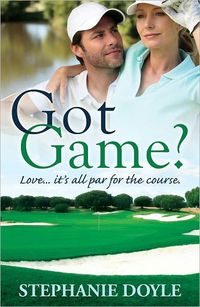 Purchase
TKA Distribution
September 2012
On Sale: September 9, 2012
ISBN: 0013836064
EAN: 2940013836068
Kindle: B006KY9F0G
e-Book
Add to Wish List

Oh, Yeah. Game On!
The world of professional golf is rocked when the new ranking system allows Reilly Carr – the country's best female player––to compete with the big boys. Now everyone wants to know if she will or won't play in golf's premier event...The American.
But her tough choices are complicated further when Luke Nolan – her on again, off again lover – suddenly decides now is the time to turn their friends–with–benefits set up into a real relationship!
If she's going to make the cut she'll need to battle her game, the press and most of all her heart. The stakes have never been higher.
Comments
35 comments posted.
Re: Got Game?

Well done to the US ladies! And to all the other ladies in the Olympic and Paralympic teams.
Women are often the world leaders in showjumping and eventing as they ride well. All the horses are required to carry a minimum weight - 12 stone last time I looked - while competing.
Women invented overarm bowling in cricket. Everyone bowled underarm but the ladies who wanted to join in the fun on the lawn, found that their big hooped skirts got in the way. So they bowled overarm and the idea took off.
But maybe Americans don't know what cricket is....
(Clare O'Beara 7:11am September 22, 2012)
I am glad you decided to self publish and not listen to those who said no
one would be interested in a story about a female athlete. I think it sounds
like an interesting story and I liked your comment that throwing like a girl
may not mean what it used too.
(Ann Sheiring 9:34am September 22, 2012)
As a golf widow, I would love GOT GAME. Even though I tried to play the game, which my husband loves, I prefer to read about it. I follow the Tour and know most of the USA Players as well as the Europeans. Willl be immersed in the Ryder Cup this week end. Go USA.
(Patricia (Pat) Pascale 9:41am September 22, 2012)
I love golf and this sounds like a great book I'd love to read!!!! Thanks
(Bonnie Capuano 10:05am September 22, 2012)
I love watching women succeed and your book sounds like a refreshing
change. I would love to read Got Game? As for Golf, the closest I can come
to playing golf is driving the golf cart. It's always good times when you let
them get close to the cart and then take off.
(Val Pearson 10:20am September 22, 2012)
I'm not into golf, but I would love to read the book.
(Wilma Frana 10:31am September 22, 2012)
I loved watching the Olympics. the US women did great.
Thanks for the chance to win.
(Mary Hay 10:43am September 22, 2012)
I am very proud of our women athletes.
(Rita Wray 11:04am September 22, 2012)
Do I have to love golf to enjoy this book?
(Shelly Itkin 11:21am September 22, 2012)
As an avid golfer---I'm tired of all the men thinking they are better than I am---then are afraid to play with me because I can beat them. I'd love to read this book.
(Sue Farrell 11:33am September 22, 2012)
I loved watching the Summer Olympics. The women really dominated.
(Pam Howell 11:46am September 22, 2012)
Since to me, Volkeyball is a womens' sport, I once told a guy that he
served like s guy - meant slightly as a put down. ;)
(Kelli Jo Calvert 11:46am September 22, 2012)
Bless you heart for paying tribute to Annika! I certainly miss seeing her on the golf tour. She was always so fair and cheerful. She has become a wonderful Wife and Mother as well.
Blessings,
Marjorie
(Marjorie Carmony 11:52am September 22, 2012)
I love the Olympics. And it was wonderful that there were so many more women on our team this year.
(Cynthia St. Germain 12:06pm September 22, 2012)
Golf is not my game but this looks like an interesting read.
(Kathy Fowler 12:08pm September 22, 2012)
Not a big golf fan, but the book sounds great.
(Robin Weatherington 12:53pm September 22, 2012)
Putt Putt is the extent of my golfing ability but my hubby lives and breathes
golf. The golf channel is on regularly at our house. Sounds like an interesting
read.... I'll add it to my TBR stack.
(Jane Limback 1:22pm September 22, 2012)
I tip my hat to all the women who are trailbrazers and not shutting the door when they go thru, but reach back and give a hand to another woman. Look what Annika accomplished? Finally in 2012 there are woman members at the Masters. As for the Olympics, what a joy it was to see all of those women representing the USA. From the Fab Five, beach volleyball (watched every single game)and I have to mention, a Gold medal in Boxing. Our ladies represented not only the USA but all the young girls all over the country who know that their dreams can come true. You keep writing and if you have to publish your books yourself, just let us know, we got your back!
(Darnell Davis 1:27pm September 22, 2012)
Have not read a book before with a golf player as a character... sounds interesting!
(Colleen Conklin 1:38pm September 22, 2012)
My athletic abilities is a few years behind my age. I couldn't play or coordinated in sports. When I watch woman athletes complete, I'm in awe of them. Nice to know that there are stories where the woman challenge the man in his domains.
(Kai Wong 1:48pm September 22, 2012)
I feel that many women work just as hard, if not harder than men at the same sports. They have just as much drive and determination, whether it comes to winning a game, or a gold medal at the olympics. I used to be a tomboy growing up well into my twenties, and I was taught to be the best at whatever I tried to do. I always gave it my all at whatever sport I played - be it basketball or baseball, which was my favorite. The other sports I played for fun, but I still gave them my all. When I won my first trophy, I was over the moon!! It took me until my twenties to win it, but I never gave up. My husband isn't into sports, and throws more like a girl, but I love him anyway. If it weren't for a bad arm, I'd still be into sports in some capacity. Anyone who has this type of drive, I take my hat off to and admire. Any Author who writes about such an athlete should have the same type of admiration as well, since it does take a bit of digging to pull up all of the information. I do love the cover of your book, by the way, and think it would make for a great read!!
(Peggy Roberson 1:57pm September 22, 2012)
This looks really good and it's going on my tbr list. I am currently on my third week of gold lessons myself and I am not very good at all. I have never been good at any sport with a ball involved. When I was young I was a great gymnast but anything with a ball is beyond me. I am trying this because his family love the game. Pray for me...lol
Wishing you great success with your book.
(Patti Paonessa 2:42pm September 22, 2012)
When my son was on the golf team in high school, there wasn't a girl's team but girls were allowed to play on the boy's team. Some schools have girl's teams and others do not but I think it depends on the school and the region you live in. My son was MVP and All-Conference all 4-years of high school yet apparently was not good enough to get a golf scholarship to college. He is now 27 and plays golf to this day with his fiance!
(Susan Coster 5:09pm September 22, 2012)
I have never golfed, except I have played mini golf a few times. I am intrigued by your book. My sons all golf, so I know they find much enjoyment in the sport. Much success with your book.
(Linda Luinstra 5:43pm September 22, 2012)
Congrat on your new book. Sounds good. Thanks for giving me a chance to win your book.
(Linda Hall 7:19pm September 22, 2012)
I have never read a book about golf. This seems incredibly
interesting and I am very curious to discover your writing style.
(Samantha King 7:24pm September 22, 2012)
Your book sounds wonderful, I am glad that you didn't give up and you decided to self publish! Thanks for the chance to win!
(Christine Mead 7:26pm September 22, 2012)
Love the premise of your book! Can't wait to read it. "Got Game?" will make a great gift for the women in my family.
(Joanne Hicks 8:00pm September 22, 2012)
I would love to read GOT GAME? thank you. It looks fabulous.
(Mary Preston 8:46pm September 22, 2012)
My kids love hockey and most sports, this would be great to read!
(Darci Paice 9:11pm September 22, 2012)
Women athletes are gaining more respect and attention. Thank you for helping to increase our awareness and appreciation of women athletes and their accomplishme
(Margaret Sackrison 12:43pm September 23, 2012)
Thank you for the wonderful tribute you have given to our American women. I would love to reaad your book. Thank you again
(Diane Castiglione 6:42am September 23, 2012)
I love playing and watching women play sports-the beach olleybally team are my hero's for I play and its rough playing on sand...all the teams were awesome! Your book sounds really good to read!
(Carole Fiore 9:25am September 23, 2012)
I LOVE watching the Olympics - and you GO, ladies - they really rocked - I am fascinated with the Olympics mainly because I am such an untalented couch potato/armchair athlete and would never be able to do the slightest fraction of what these athletes can do.
(Felicia Ciaudelli 12:54pm September 24, 2012)
Female athletes have had my attention ever since Title IX was passed into law in 1970. I think it's taken awhile for broadcast TV to recognize the contributions and give more attention to women in sports. I love watching the Olympics and seeing the determination on the faces of girls of all ages.
(Alyson Widen 5:45pm September 26, 2012)
Registered users may leave comments.
Log in or register now!