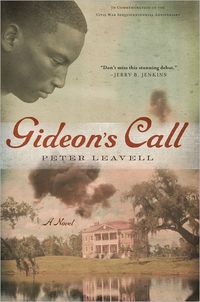 Purchase
Worthy Publishing
November 2012
On Sale: October 23, 2012
368 pages
ISBN: 161795117X
EAN: 9781617951176
Kindle: B009PTNWLG
Paperback / e-Book
Add to Wish List

Historical | Inspirational Historical
Tad, a very clever slave boy, comes of age as the American Civil War intrudes on the tropical sea islands of South Carolina. But his desire to better himself is obstructed by the color of his skin, until Northern soldiers force the evacuation of white plantation owners, setting 10,000 slaves free in a single day. These circumstances seem like a dream, but the newly freed slaves have no money, no education, no leadership, and little hope for the future.
This is the story of how a boy grows into a man facing the horrors of war and unimaginable prejudice - fighting the urge to run from the shame of his family and his past - to become the leader and deliverer of thousands of freed slaves.
Award- winning author Peter Leavell explores new territory in the familiar literary backdrop of the Civil War, forging an unprecedented tale of tragedy and triumph based on true events.
Comments
52 comments posted.
Re: Gideon's Call

Yes, I am... I have many books that I haven't read yet but really, really want to! There's just not enough time... They are sitting on my shelves now...
(May Pau 8:59am September 21, 2013)
I am definitely a book hoarder. I cherish all my books. I like the quote you put in about Disney, who said, 'There is more treasure in books than in all the pirate's loot on Treasure Island.' That is so right!! Thanks and can't wait to read this book!
(Bonnie Capuano 9:35am September 21, 2013)
I have stacks and stacks of books that I have no intention of reading in the near future. I also have a huge list of free kindle and nook books that I dont know that I will ever have the time to read either.
(Elizabeth Hurlburt 9:52am September 21, 2013)
I LOVE books!! We lost our house after my Husband lost his job a few years ago, and one thing I made sure I packed was my books!! Now we're living in an apartment, and my books are still in boxes, but I still manage to get more!! My Husband is an avid reader, yet he doesn't see the love I have for books. On top of that, I knit and crochet, and there are always new pattern books that come out, so that makes it a double curse for me!! When you put all of those books out ( in my case, wherever you can find room ), the spines look so inviting, and they've taken me to places you can't even begin to imagine!! I may be poor like you, but I'm rich in literature!!
(Peggy Roberson 9:53am September 21, 2013)
This looks really good. If I don't win I'll have to get it.
(Cathy Thomas 10:06am September 21, 2013)
Books are a wonderful part of life and I have so many I am running out of room! I love them and can never get enough. This book is going to be a goodie! I love the civil war era and look forward to reading it.
(Vennie Martinisi 10:35am September 21, 2013)
I love books and the stacks of books to read keeps multiplying like rabbits. But luckily my condo has a book swap every year where I get rid of the ones I have read and get some new books. That cuts down on some of the expense.
(Pam Howell 11:08am September 21, 2013)
Books are my window to see the world. I love to read, and just cant leave this habit. Reading makes me know much
(Rina Darmayanti 2:32pm September 21, 2013)
I love books. When I built my house 30 years ago, I made sure I had built-in bookcase shelves on each side of my fireplace. It started out that they looked a little bare with very few books on each of the ten shelves. In about five years, they were all getting full. Then, I filled the deep ledges meant for knicknacks, 3 rows deep. Now, I've moved on to storing them in boxes. I have trouble parting with the good ones I've already read, but force myself to, a few at a time. I love reading and have learned a lot more that I didn't in school. To me, it makes a home cozy and comfy. I love being in my family room with all my books!
(Linda Luinstra 4:49pm September 21, 2013)
Wow, Congrats on your new book: GIDEON'S CALL. The book
cover is nice too! Yes, I have quite a few books that I love
to read and hoard at my place too. I have even won some
great books from contests on freshfiction.com. I love to
enter these daily and love reading. I love the idea of
reading 1,000 pages for every page you write in your book.
Yes, you can learn a lot from books and reading daily. I
would love to win and read your book this Fall. Thank You so
much. Cecilia CECE
(Cecilia Dunbar Hernandez 5:10pm September 21, 2013)
Books allow our minds to venture to different times and places. My collection of books takes several book shelves. Each book represents a different time period in my life. Yes, I'm a book hoarder. I look forward to reading GIDEON'S CALL and venturing into the Civil War era.
(Judi Estrin 6:44pm September 21, 2013)
I am not a buyer of books but I do go to the LIBRARY at least once a week. I have a stash of special books, some signed, some not, that are near and dear to my heart. My absolute favorite genre is Southern Lit and I would love to win Gideon's Call!
(Susan Coster 7:00pm September 21, 2013)
LOVE THIS STORY! I can certainly relate as books are my favorite things!! I look forward to reading GIDEON'S CALL and thank you for the opportunity to win a copy!
(Britney Adams 7:57pm September 21, 2013)
OMG. When I became a school librarian, it was the happiest day of my husband's life. He thought that while I would still be buying books, it would be with someone else's money. Sigh...I have a bad Amazon habit. I had to call the bank last week because they decided I could only have 20 transactions on my credit card a day. I explained that that was totally unreasonable and if they only checked, the money was there and most of the transactions were only for $.99. They agreed to up the amount of transactions. I am a self confessed bibioholic.
(Marcia Berbeza 8:01pm September 21, 2013)
Your book sounds great! Thanks for the chance to a copy of it.
(Kathy Morrison 9:39pm September 21, 2013)
Can hardly wait to read this story of yours. Great cover. Yes I love to read books, I have lots of books I've read and reread and some I haven't in boxes and on bookshelves. I borrow them from the library, purchase them, and win them on-line---what fun. I'm a slower reader I read every word no skimming for me. Thank you for this chance to win, hope I do. All The Best To You.
(Esther Somorai 10:42pm September 21, 2013)
I love books and have always appreciated their beauty and
share them with family. Gideon's Call sounds compelling and
very special.
(Sharon Berger 10:48pm September 21, 2013)
I love this post and I love books! Gideon's Call sounds like a book I would enjoy. Keeping my fingers crossed!
(Melanie Backus 11:22pm September 21, 2013)
Hello! I used to be a book hoarder until I realized how many friends and family members, loved reading...I now share with a lot of people and donate books to the local libraries and pantries!
Many thanks, Cindi
jchoppes[at]hotmail[dot]com
(Cindi Hoppes 11:55pm September 21, 2013)
I am such a book hoarder. I've raised my bed to fit my boxes
of books underneath. I now need a stool to get into bed. I've
got a request on this book from my local library. We have two
copies so I should get my hands on it soon.
(Laura Gullickson 12:06pm September 22, 2013)
I am a book hoarder too. More than 700 in my bedroom alone. So I read, review, and share them but still keep getting more. I hate it when they don't publish the paper books. I don't want an ereader. I cannot share it.
(Jane Squires 12:19pm September 22, 2013)
I have not been able to be parted from my books through
multiple moves. Your post made me laugh!
(G. Bisbjerg 1:06am September 22, 2013)
Yes, I am a book hoarder. But we all collect something, right? Books are so much nicer than many alternatives. And some day, I will get around to reading them all.
(G S Moch 1:28am September 22, 2013)
I'm a book hoarder. Even though I have gotten a place of my own, I am shock that one of my room is being filled with books. Soon it will be the whole house. I have tried to cut down but I can't stop. I'm going to have to move to ebooks than printed books, no matter how much I love printed books.
(Kai Wong 1:34am September 22, 2013)
There's nothing sweeter than when marital partners are in
harmony. :)
(Mary Ann Dimand 8:17am September 22, 2013)
Oh, a Kindred Spirit - another book hoarder - how cool - I have boxes and boxes and boxes of books and get nervous when my TBR pile starts going down - heaven forbid that I have a shortage of books!
(Felicia Ciaudelli 8:23am September 22, 2013)
Love books. You can never have enough books. I have books every where
in my house. I have books I haven't read and I keep buying more. I now
have a Kindle, filling it up with more than I can read.
Would love to win this give away.
(Charlotte Wills 9:10am September 22, 2013)
I admit I am a book hoarder. I am trying to go digital but love the smell and feel more than I don't have the space.
(Beth Elder 9:10am September 22, 2013)
I am definitely a book hoarder. I will be retiring in a couple months and want to read, read, read---so I'm now busy accummulating books of all kinds in hard copy and digital format so I will have plenty to read when I finally have lots of time to do it.
(Sue Farrell 10:21am September 22, 2013)
I am a recovering book addict. I've gone digital except for a couple of
authors that I collect. Because of space I had to get rid of 25 years of
hardcover books. I couldn't find any charity to take them. I couldn't believe
it! They said they took up too much room. My husband ended up hauling
then to work and let anybody take them. I'm a book snob, I don't like library
books because they are filthy. I loaned some of mine to a friend once and
she folded the edges down and wrote in pen in them. I told her she
couldn't borrow anymore. I really don't like digital, but ...no room at the inn.
Still, nothing better than a new hardcover, feel and smells like heaven. Did
I mention I'm a recovering book addict?
(Susan Falkler 10:48am September 22, 2013)
no..i pass them on..and for a number of years took the discarded books from community library and donated them to a library and nursing homes.
(Mal Kaplan 12:31pm September 22, 2013)
I love your true life story. What a great couple you are. "Great minds think alike".
(Catherine Myers 12:48pm September 22, 2013)
Major book hoarder.
(LeeAnne Hardin 2:45pm September 22, 2013)
Yes I am. My husband just shakes his head
(Debbie Rudder 2:58pm September 22, 2013)
Yes, I am and my collection is growing. The good news is there is always a book around when I want to read any particular genre.
(Leni Kaye 3:00pm September 22, 2013)
I love my books,I have a whole room full. I read all the time. Your book sound great. Thanks for a chance to win it.
(Linda Hall 3:04pm September 22, 2013)
Lol. Love my kindle and all the 24,000 bks on it!!!
(Vicki Hancock 3:15pm September 22, 2013)
OH...I do hoard books! I am always having to get new bookshelfs!!
(Diane Pollock 3:37pm September 22, 2013)
I particularly enjoyed your story about you and your wife both ordering the books. Talk about a sweet relationship.
I, too, have that special relationship with my mate and it is wonderful. Hoping I will get to put your book in my growing collection of gems.
Keep writing!
(Patricia (Pat) Pascale 4:21pm September 22, 2013)
Hi Peter -

I'm trying to type this as fast as I can so my husband doesn't see it because he thinks I'm a book hoarder which I firmly deny! I keep telling him all the bookcases are full because I'm saving them for posterity! He keeps telling me the encylopedia set we have are out of date and I tell him they're a note in history and how we view it! He tells me I really don't need to hold onto the old history book that refers to the Indians as "aborigines" and I tell him it shows how far we've come.

Yes, I also have those books I read while in High School during the 1960's - most of which are now on the banned book list along with some from earlier years of my life like Tom Sawyer and Huckleberry Finn! I read them to my grandchildren to teach them about how "things used to be".

Of course there are also history books, historical fiction, fiction, romance (both contemporary and Regency, etc.) but there are also Dr. Suess books, make-your own adventure books and numerous others so the grandchildren always have their pick as well (yes - they have their own bookcase).

Did I mention there are large books cases on either side of the fireplace as well as in the living room, the kitchen, and of course ALL the bedrooms?

So in some peoples mind I may "hoard" books but as far as I'm concerned I'm saving them for posterity!
(Jeanne Miro 4:55pm September 22, 2013)
I used to be a book hoarder until my husband put an end (??)
to it. I try harder now but still find that I have more than
reasonable amounts of books.
(Mary Hay 5:05pm September 22, 2013)
I have close to 2,000 books, some of which have been read. My bookshelves are packed and boxes are now used as well as books stacked up on the floor. I guess this makes me a hoarder too. I love to read, what can I say?
(Linda Harrison 8:04pm September 22, 2013)
I have thousands of first edition signed books. My dream has always been to have a huge room devoted strictly for these wonderful friends. I love reading them but find I don't have enough hours available for all of them, while I'm always on the prowl for more.
(Karen Blossom 9:12pm September 22, 2013)
One can never have too many books!
(Mary C 9:12pm September 22, 2013)
Yes, I'm a hoarder!! Can't stand to part with them. Don't unless I'm running out of room to put them. I spend way more than I should on books!!
(Martha Lawson 9:22pm September 22, 2013)
Like everyone else, I find there is just not enough time
to read all of the wonderful books I have stacked around the
house.
(Robert Folstad 11:09pm September 22, 2013)
I would certainly qualify. Books are so precious & it is hard
to let go of them.
(Mary Preston 5:48am September 23, 2013)
Yes, I'm a book hoarder. I keep buying more bookcases. There are books I will never part with and I read them over again.
(Rita Wray 10:08am September 23, 2013)
I have cases filled with books and a Kindle too.
(Sandy Giden 10:35am September 23, 2013)
Love to read. Send it on. To win, would be great.
(Joyce Yanney 2:54pm September 23, 2013)
I can't discipline myself not to keep buying, but at least I
now donate almost everything as soon as I finish reading it.
Then I've bought a Kindle, & it's harder than ever to make
inroads in my backlog
(Janet Martin 6:30pm September 23, 2013)
We have lots of books, it's one of our shared interests. But we do try to put the ones we won't read again back in circulation. What an amazing offer on the Penguins!
(Clare O'Beara 10:19am September 27, 2013)
Registered users may leave comments.
Log in or register now!