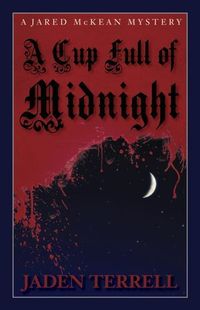 Purchase
Permanent Press
August 2012
On Sale: August 9, 2012
288 pages
ISBN: 1579622259
EAN: 9781579622251
Kindle: B008XJ6YGE
Hardcover / e-Book
Add to Wish List

At thirty-six, private detective Jared mcKean is coming to terms with his unjust dismissal from the Nashville Murder Squad and an unwanted divorce from a woman he still loves. Jared is a natural horseman and horse rescuer whose son has Down Syndrome, whose best friend is dying of AIDS, and whose teenaged nephew, Josh, has fallen under the influence of a dangerous fringe of the Goth subculture. When the fringe group's leader - a mind-manipulating sociopath who considers himself a vampire - is found butchered and posed across a pentagram, Josh is the number one suspect. Jared will need all his skills as a private investigator and former homicide detective to match wits with the most terrifying killer he has ever seen. When he learns that Josh is next on the killer's list, Jared will risk his reputation, his family, and his life in a desperate attempt to save the boy he loves like a son.
Comments
33 comments posted.
A Cup Full of Midnight-- Wow! What a different plot... Intriguing.
(Shari Santella 9:23am September 6, 2012)
I lovev it when authors get the locations right. I lived in Nashville for a few years and hope I can recognize it in your book.
(Pam Howell 10:18am September 6, 2012)
I am an insatiable reader and as a young adult often read my dad's
westerns - including the L'Amour's! A Cup Full of Midnight sounds good. I
guess I'll have to buy book #1 in the series too!
(Beth Kaake 10:43am September 6, 2012)
So far I haven't visited any places I've read about in books, but I hope to one day - it would be great fun to see what the characters have seen, especially if it's a book you really love.
(Michelle Donaldson 11:03am September 6, 2012)
It sounds like a very interesting book to read
(Cynthia St. Germain 11:12am September 6, 2012)
These sounds like great books!
(Julie Parrish 11:26am September 6, 2012)
I'd love a chance to read this. Thanks for a chance to win.
(Mary Hay 11:50am September 6, 2012)
This sounds like a great book and one I'd love to read!!!
(Bonnie Capuano 2:08pm September 6, 2012)
I like the idea of using actual places to make the story more realistic and the plot is intriguing. Just reading about it brought a shivery feeling.
(Anna Speed 2:38pm September 6, 2012)
A Cup Full of Midnight sounds captivating and special. When a
locale is vividly described it makes the novel realistic and
memorable.
(Sharon Berger 3:31pm September 6, 2012)
Sounds great. Thank you for the chance to win this book..
(Holly Vanderhule 4:59pm September 6, 2012)
I think the mix of actual and imaginary places can be interesting in a book.
(Sue Farrell 5:00pm September 6, 2012)
Sounds like a great read, can't wait to read it.
(Mary Smith 5:14pm September 6, 2012)
It's cool that you mix real and imagined locations to suit the story line. Your description of the real restaurant scene is really neat.
(Marguerite Guinn 5:21pm September 6, 2012)
You certainly put a lot of thought into your writing to make it believable. Good for you!
Blessings,
Marjorie
(Marjorie Carmony 5:54pm September 6, 2012)
Found it interesting how you use real places for settings and incorporate them into your books! Really draws me in and am anxious to read these books!
(Linda Luinstra 6:57pm September 6, 2012)
Just reading the excerpt from the book, Jared McKean sounds like a modern day Job (from the Bible) where everything is against him. La Hacienda could be the turning point of his life. I will have to read the book just to find the similarity from Job and Jared characters.
(Kai Wong 8:36pm September 6, 2012)
After reading your posting today, as well as your excerpt, I would love to win a copy of A Cup Full of Midnight. Although I've never been to Nashville, I have been to parts of Tennessee, and am in love with the state, as well as its' people. It sounds like you've put in your attention to detail, and it should make for a most exciting read!! I love the print on the cover, which is as mysterious as the artwork. Congratulations on your latest book, and I'll be looking forward to reading it.
(Peggy Roberson 9:00pm September 6, 2012)
can i say that you get the person in the right place for his job and then i have read books that are in certain place and then the time changes but Jared sound like he can get in to trouble and prevent trouble at the same time i would love to blog on the book and then put it on u tube
(Desiree Reilly 9:20pm September 6, 2012)
I love it when an author talks about someplave I know. It always makes me feel as if I am really IN the book.
mom1248@att.net
(Patsy Hagen 9:25pm September 6, 2012)
I love reading about places I've been and wish more authors would use real places when writing. Thanks for the contest! I am putting both books on my TBR list.
(Teresa Ward 9:43pm September 6, 2012)
I like the mix of factual places included. :) Thanks for the
contest.
(Leslie Davis 9:48pm September 6, 2012)
I enjoy reading about places I haven't gotten to visit yet.
(Mary C 10:39pm September 6, 2012)
Thank you for all the comments, everyone. I'll draw for the prize tomorrow!
(Jaden Terrell 1:08am September 7, 2012)
I always put myslf in the books I read as a teenager. It was more exciting to me than my real life was! Can't wait to read your books, they sound like quite an adventure.
Thanks!
(Teresa Sullivan 10:18am September 7, 2012)
Well you are right about not wanting to be sued by real businesses. At the same time adding genuine landmarks, institutions and scenery makes the book come alive for the readers. Sounds like you go to a lot of trouble to bring your books to life.
(Clare O'Beara 11:41am September 7, 2012)
It adds an extra dimension when there are books that have authentic local flavor. I love to travel, so I often put places on "my list" because the book makes them sound interesting!
(Kathleen Conner 12:11pm September 7, 2012)
I love reading fictional stories that take place in real places. It makes the story so much more interesting and believable. I have visited a few places after reading about them in a book. The most fun however, is visiting a place and then finding it referenced later in a story I am reading! I am excited to read your books! :)
(Joyce Kernan 4:16pm September 7, 2012)
interesting read; book looks good!!!
(Barbara Studer 7:52pm September 7, 2012)
Oh, I love this story! And I love the TRUE places the characters go!
(Felicia Ciaudelli 9:18pm September 7, 2012)
I would love to read A CUP FULL OF MIDNIGHT. It looks incredible.
(Mary Preston 8:33am September 8, 2012)
Setting a place in a book with toches of reality lets the mind see what's the same and what's different and go between the contrasts and follow the parallels to the end. Sounds like a meaty read.
(Alyson Widen 2:20pm September 8, 2012)
Thank you all again for commenting. Like many of you, I get a thrill from reading a book and finding places I know in it, and I also enjoy reading about places I've never been so I can enjoy them vicariously.

I wish I could give everyone a book! Unfortunately, I don't have that many. But because there were so many good comments, I'm going to do a few extra drawings and will work with the lovely people at Fresh Fiction to choose the winners.
(Jaden Terrell 12:44pm September 10, 2012)
Registered users may leave comments.
Log in or register now!