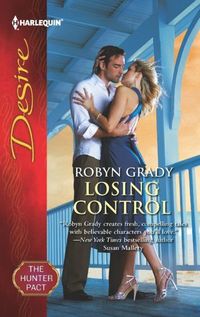 Purchase
Harlequin Desire
October 2012
On Sale: October 2, 2012
192 pages
ISBN: 0373732023
EAN: 9780373732029
Kindle: B008ENJ89Y
Paperback / e-Book
Add to Wish List

"You'll be working for me."
Taking charge comes naturally to workaholic media mogul Cole Hunter. That includes dealing with headstrong TV producer Taryn Quinn. Cole may not like her idea for a travel show, but Taryn intrigues him. Enough for Cole to join her on a location-scouting trip to an isolated Pacific island, despite the family drama at home.
Soon the tantalizing Taryn makes Cole forget about everything…except making love to her in the moonlight. But once reality intrudes, will he risk losing all he's worked for to keep this woman in his life?
Comments
38 comments posted.
Re: Losing Control

A family linked series is good reading! Debbie Macomber does a wonderful job with her series.
(Karen Barnett 8:07am October 24, 2012)
Ohh, sounds great. I do love connected books. Hope I can win this!
(Pat Freely 8:08am October 24, 2012)
I do like linked series. Lately I've enjoyed Sarah Morgan's Ferrara series.
(Rebecca Whitehead-Schwarz 8:39am October 24, 2012)
I love series, it is fun to get to know a group or family and see how they all link together. I love Marie Force, and many others. I would love to win...thanks
(Linda Scarchuk 9:00am October 24, 2012)
I'd love to win this book!!! Thanks for the chance.
(Bonnie Capuano 9:02am October 24, 2012)
Linked series about family or location such as Robyn Carr's Virgin River are my favorite genre. After reading each book I love the anticipation and reflection on what is coming in the next release. I would very much enjoy reading your Desire Series.
(Beth Charette 9:15am October 24, 2012)
I read about 90% linked books/series. It's a bit like revisiting friends when I read the next book. My most favorite series are the ones which feature the same characters in the lead role because you get to know them better and better in each book. I read series in many genres. The top two right now are in the urban fantasy genre: The Kate Daniels series by Ilona Andrews and The Mercy Thompson series by Patricia Briggs.
(Anne Muller 9:26am October 24, 2012)
I think linked books bring an intimacy between the reader, the writer, and the story. I love when secondary characters are well developed that they get their own book/story. I compare it to seeing and catching up with people at a reunion or a family gathering.
I don't think I have a favorite
(Carla Carlson 9:53am October 24, 2012)
I loved linked books - you really feel like you get to know everyone. I love Robyn Carr, Emily March, Linda Howard, Carla Neggers. I especially like it if each book CAN be stand alone and you don't HAVE to read the others. I would LOVE to win a copy of your book. Best of luck with it.
(Nancy Reynolds 10:09am October 24, 2012)
Yes, I enjoy linked books where secondary characters in previous books get their HEAs. Right now I am reading Shannon McKenna's McCloud Brothers series. It's also nice that it is not necessary to read the books in order
(Monica Vargo 10:21am October 24, 2012)
I like linked - the more characters/relationships make the stories richer. Lucy Monroe is a fave.
(Beth Elder 10:23am October 24, 2012)
I love the idea and hope I can read them in order. Family relationships can be
tough to get around and to keep track of. Thanks for planning the variety of
brothers and A SISTER! You go girl!!
(Sandra Spilecki 10:46am October 24, 2012)
I smetimes like linked series, like Robyn Carr. But I also like the one off books, as soemtimes the linked ones can go on for too long.
(Pam Howell 10:53am October 24, 2012)
Love Linked stories. :) Susan Elizabeth Phillips does have some pretty good ones. :)
(May Pau 11:09am October 24, 2012)
I do enjoy linked/series books... the only things that bugs me is when I miss a book.
(Colleen Conklin 1:06pm October 24, 2012)
I enjoy linked stories because they give you the chance to revisit favorite charachters. I love Cynthia Eden, Shelly Laurenston, Joey W. Hill. Caridad Pineiro, and on and on.
(Larena Hubble 1:53pm October 24, 2012)
thanks
(Debbi Shaw 2:57pm October 24, 2012)
I like linked books as long as they can be read as a stand-alone book too. One author's linked books I can recall would be Josie Metcalfe's trilogy; really enjoyed her medical stories.
(Elaine Seymour 3:10pm October 24, 2012)
i love linked stories/books!
(Eva Segerblom 4:58pm October 24, 2012)
I love series books
(Nancy Gallagher 8:08pm October 24, 2012)
Depending on my mood, I'll look for my linked series books, when I'm in the mood for some comfort, or when I just want to feel good!! I always know I can depend on those Authors to come through at the right time. My favorite Author is Janet Evanovich, and another one is Jennifer Chiaverini. I also like Kate Jacobs, and Gregory Maguire, when I'm in a slightly darker mood. I'm also looking forward to reading your series very much, since it's not easy for me to find a series that I can really feel comfortable enough to stay with. I'm sure I won't have that problem with your books. Congratulations!!
(Peggy Roberson 8:34pm October 24, 2012)
I love reading linked books!
(Mary C 9:12pm October 24, 2012)
I always enjoy a series linking family members - so much fun
to see how they interact before & after they get their own
HEA.
(Diane Sallans 9:58pm October 24, 2012)
I love the connectivity of a family or close friends within a series, being able to watch them grow and prosper.

Good luck and happy writing!
(Tracie Travis 11:21pm October 24, 2012)
Linked or series books are my favorite. I enjoy seeing the characters and
story grow. I like Nora Roberts trilogy's and there are so many good
paranormal series that I enjoy.
(Ann Sheiring 11:32pm October 24, 2012)
Debbie Macomber and Nora Roberts.
(Kathy Fowler 11:41pm October 24, 2012)
I love reading books in series. Would love to win.
(Linda Hall 11:58pm October 24, 2012)
Linked stories are great because we have a chance to follow the 'life' of characters we have got to know and like or dislike. But many of those I read, are crime stories with featured police officers, such as DCI Banks or the Stephen Booth books which I'm reading right now. The police officer is usually changed by the investigation or the outcome of the case and modern techniques are explained, so it is not like the old-fashioned whodunits.
A linked series about a community is interesting but could feel like a TV soap opera if it was done poorly. I read one Robyn Carr recently and enjoyed it although I had not read the previous books, so a standalone is a good idea late in a series - or only the dedicated series followers will but the new releases.
However there is a danger that a series or linked books can become formulaic and that turns of the fans. If a new book is the same as the previous seven, just a few changes of name or location, what is the point?
Given that you clearly enjoy your characters and wish to develop them, linking your books is a great way for you to go.
(Clare O'Beara 6:22am October 25, 2012)
I do enjoy reading linked series! Your series sounds very goo! Thanks for the chance to win!
(Christine Mead 6:46am October 25, 2012)
I love linked books. Robyn Carr's Virgin River series is great.
(Rita Wray 9:34am October 25, 2012)
The Hunter Pact looks like great reads! I like reading linked books if the books come out close together or the books can stand on their own. One of my favorites is Carly Phillips' Chandler Brothers series (The Bachelor, The Playboy, & The Heartbreaker.
(QuenKne M 1:30pm October 25, 2012)
Thanks, everyone, for the comments!
There's a lot of fans for connected books here, and some authors mentioned that I love, too! Robyn Carr (I once received her author copies of a book by mistake - she was so lovely when I emailed to let her know!) Janet Evanovich and Nora Roberts are both simply brilliant. And there's some authors you've all suggested that I need to follow up.
I'm off on vacation in a week, a cruise around the Pacific Islands. Hopefully we'll find one as beautiful as Cole and Taryn's! I plan to do loads of reading in between other activities, so I'll check out those names.
Thanks again for having me!
(Robyn Grady 6:58pm October 25, 2012)
Royal House of Shadows series was pretty good considering that there are 4 different authors writing this particular Nocturne Book series. They have their own style of writing and yet somehow they mush the story together.
(Kai Wong 9:05pm October 25, 2012)
I like series books especially the ones by Les Roberts where a detective solves myseries and is named Milan.
(Alyson Widen 9:48pm October 25, 2012)
I love linked series!! It's nice to read about a previous couple HEA in a new
story focussing on a new couple.

Would love to win a couple of your book, Robyn!
(Lia van Rooden 3:45am October 26, 2012)
Linked stories are always welcome. When you come to love families, characters & their world you don't want to let go.
(Mary Preston 7:38am October 26, 2012)
Robyn I love the idea of linked books and have dipped into the St. Piran's Medical Romance series lately as well as your Hunter Pact. I love seeing old, favorite characters popping up again and again and catching up with them. But category romance being what it is, with the short shelf life of books, I think that the books should still be a complete read in themselves. I find it disappointing when certain matters are left hanging unresolved until the next book in the series. Maybe it's just me. It wouldn't put me off a serial though.
(Maria Mohan 8:08am November 1, 2012)
I LOVE LINKED BOOKS ! MY FAVORITE IS DEBBIE MACCOMBERS BOOKS
(Danielle McDonald 5:34pm November 3, 2012)
Registered users may leave comments.
Log in or register now!