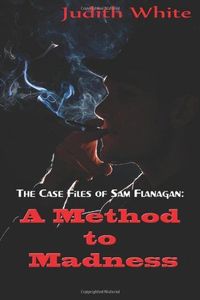 Purchase
1940's detective
The Case Files of Sam Flanagan #1
World Castle Publishing
May 2012
On Sale: May 11, 2012
Featuring: Sam Flanagan
260 pages
ISBN: 1938243560
EAN: 9781938243561
Kindle: B008325VF6
Paperback / e-Book
Add to Wish List

Mystery Historical | Mystery Private Eye | Mystery
It's January 1943 and things are slow for Sam Flanagan, Detroit private detective. He's about to call it a day and return to the woman he shares a home with; his eighty two year old grandmother, when in walks Chicago socialite Phyllis Killburn. She's the daughter of the late tire tycoon, Alden Whitaker, and she's got troubles. It seems her husband may be stepping out on her with another woman and he's keeping a big secret as to his involvement with the military. She wants to know what's going on and she's willing to pay big bucks for the information. Sam travels to the Windy City and looks up his longtime friend, Harry Blevins, journalist for the Chicago Tribune. With Harry's assistance, and with the inadvertent ramblings of his grandmother, will Sam be able to put all the pieces together to solve what is happening within the walls of the Whitaker Estate to stop a murder plot? The deeper Sam digs into the case, he uncovers more twists. Does Sam find a method to this madness?
Comments
36 comments posted.
Would you believe this is the first I have heard of The Purple
Gang? I'm ready to buckle up for a wild ride here.
(Mary Preston 5:28am April 16, 2013)
Can see this as my new favorite read! Awesome
(Brittany Savage 5:40am April 16, 2013)
I think that i am hooked on Sam!
Blessings,
marjorie
(Marjorie Carmony 6:18am April 16, 2013)
Wow, these books sound great!!!
(Vicki Hancock 6:36am April 16, 2013)
I would love to read about Sam Flanagan! This sounds like a fun read!!
(Betty Hamilton 8:54am April 16, 2013)
Great post
(Barbara Hightower 9:09am April 16, 2013)
This novel is compelling and unique. What a great character
that you have created. Best wishes.
(Sharon Berger 9:11am April 16, 2013)
I am so looking forward to reading this book!! Thanks
(Bonnie Capuano 9:25am April 16, 2013)
Sounds like a great book. Thanks.
(Pam Howell 9:38am April 16, 2013)
This sounds like a great read. Thanks.
(Mary Hay 9:47am April 16, 2013)
The Purple Gang sounds like a good read---Thanks for the drawing.
(Sue Farrell 10:18am April 16, 2013)
I love that time period! And Sam sounds like fun. I'll have to
check him (ahem, his story) out!
(Elizabeth Seckman 10:56am April 16, 2013)
Sounds like a great read!
(Mary Ting 11:34am April 16, 2013)
This sounds like another winner! Can't wait to read it.
(Gloria Muniz 11:42am April 16, 2013)
Purple Gang??? I've never heard of it.
(Anna Speed 11:46am April 16, 2013)
Hi Judith: This definitely is a book that appeals to me, especially since I was born in 1943!!! (yes I am as old as dirt....:)) So this book would definitely be enjoyed a lot. Looking forward to reading your book one way or another, but hopefully with a copy that I have won!!!! :) Thank you.
(Cynthia Blain 11:51am April 16, 2013)
I am a great fan of historical novels. This sounds like a great read.
(Kathleen Yohanna 1:53pm April 16, 2013)
wow... haven't heard about this before... Sounds terrific!
(May Pau 2:35pm April 16, 2013)
I absolutely love reading about old time detectives and the gangster era. It's really hard to believe that this was actually happening in our country and was so wide ranged. Makes for a good reading that makes our minds work a little too. Thanks Judith.
(Rosemary Simm 2:45pm April 16, 2013)
I am so thrilled that you came here today to tell us about your books!! I grew up in Detroit, and still live in Michigan, so I'm really anxious to get my hands on your books and start reading!! It's really great when you can find an Author who not only writes a story that you know you'll enjoy, but it's written about an area that you know you'll be able to relate to!! I love the mysterious cover for your latest book, too!! Congratulations, and I'm sure you just picked up your latest fan!! I'll be sure to pass it along to my Husband as well, and be sure that a copy sits in our local library!!
(Peggy Roberson 3:11pm April 16, 2013)
I will definitely be reading Sam and The Purple Gang!
(Timothy Younger 3:12pm April 16, 2013)
Thanks for sharing this exciting read, Judith!
(Debbie Kump 3:22pm April 16, 2013)
Sounds interesting and I live in Toledo, about an hour away from Detroit.
(Michelle Fidler 3:59pm April 16, 2013)
Thank you for informing us about the purple gang - you didn't tell us why they called themselves The Purple gang? Sounds like an interesting book
(Janis Milford 5:02pm April 16, 2013)
Your books sound great--I'm anxious to read this interesting story about the Purple Gang and how they got started and operated.
(Rich Cook 5:10pm April 16, 2013)
I would love to start reading your books starting with the first one and find out what Sam learns during his investigation to the "Windy City", and then, work my way up to your third book, "Opened Wounds" and learn about the Purple Gang and all their criminal involvements, and learn some interesting facts along the way!
(Linda Luinstra 6:04pm April 16, 2013)
Enjoyed your blog. Crime fiction my favorite read.
(Sheila True 8:08pm April 16, 2013)
Capone and Dillinger are the most infamous crime lords in the 1920's. It is a wonder how they have gotten away with so many crimes. Capone has so many syndicates working for him which history don't mentioned much about them. I would definitely love to know about these harden criminals.
(Kai Wong 9:49pm April 16, 2013)
THANKS FOR THE GIVEAWAY AND GOOD LUCK WITH YOUR BOOK!
(Shelley Summers 10:15pm April 16, 2013)
Wow, these stories of Sam Flanagan and the Purple Gang in
Detroit sound very fascinating and I would love to read your
fantastic books. These crime books will keep readers on the
edge of their seats till the end. Thanks for the great
contest and may God bless You with success always. Thanks,
Cecilia CECE
(Cecilia Dunbar Hernandez 10:25pm April 16, 2013)
As a resident of Canton (about 20 minutes form downtown
Detroit) this fascinates me! What a great setting and
character for gritty noirish detective stories!
(Diana Troldahl 10:46pm April 16, 2013)
What a great concept! Sounds like a terrific story!
(Jeff Horton 10:50pm April 16, 2013)
You're a new to me author too. I do enjoy mysteries and crime novels.
(Anne Muller 12:28pm April 17, 2013)
Good luck with the latest in your series. I am not much into gangland crime but this does sound an interesting read.
(Clare O'Beara 7:14am April 19, 2013)
The Purple gang? what an idea, sounds fascinating. TFS.
(Sherry Butcher 10:35pm April 20, 2013)
I love reading about Sam and his adventures, I can't wait for the next book to
come out. It feels like you are right there with him, I think being from the area
makes it that much more real feeling.
(Pamela LeBar 10:46am December 22, 2013)
Registered users may leave comments.
Log in or register now!