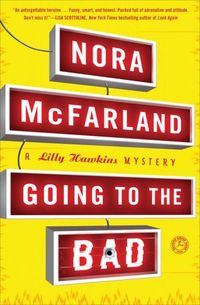 Purchase
Touchstone
August 2012
On Sale: August 7, 2012
304 pages
ISBN: 1439155577
EAN: 9781439155578
Kindle: B0061NX98U
Paperback / e-Book
Add to Wish List

Other Editions
Trade Size (August 2012)
NEWSHOUND LILLY HAWKINS IS BACK, AND THIS TIME THE STORY SHE'S CHASING IS HER OWN.
Working as a TV news photographer at her hometown television station, Lilly has documented Bakersfield's most violent crimes and tragic accidents. To stay sane and avoid burnout, she's developed a wicked sense of humor and a very thick skin. For her, a vicious shooting is just another day on the job. But what if the victim is someone she loves? Thrown off balance by the brutal attack on her uncle Bud in her own home, Lilly decides to handle the tragedy the only way she knows how. Using all her TV station's resources and her own considerable skills, Lilly dives headlong into the investigation. But even with the assistance of her well-meaning but eccentric coworkers, this story may prove her last. Because as Lilly untangles a history of her uncle's misdeeds and betrayals, a clever killer is preparing to strike again. Can she break the story in time to prevent another murder, or will Lilly be the next victim?
Comments
52 comments posted.
Re: Going To The Bad

Maggie Furey killed off a main supporting man in one of her Aurian books. These are fantasy novels and while young Aurian is learning how to be a magic-user she is protected by a military man who becomes her lover. Then Maggie realised that Aurian was always going to remain under his protection and was not going to grow and survive on her own, as long as he was in her life. Sadly, she said, she had to kill him off.
And Boromir got killed in the Lord of The Rings. Sometimes somebody has to die, just so we know it isn't easy to survive.
(Clare O'Beara 5:50am August 4, 2012)
Just like in life people come and go for many different reasons to include death. It makes it more real and as you said adds to the character either makes them grew or it can really effect them where they struggle. To see them overcome and build new relationships makes for a character one can relate to more.
(Deborah Garcia 2:57pm August 4, 2012)
I JUST LOVE YOUR BOOKS THEY ARE FANTASTIC. YOUR MY FAVORITE
AUTHOR OF ALL TIME. I REALLY WOULD LOVE TO WIN THIS CONTEST. I
NEVER WON ANYTHING IN MY LIFE BEFORE. I HOPE I WIN THIS
CONTEST THOUGH.
(Shelly Caggiano 3:54pm August 4, 2012)
Sacrificing a book or movie character and killing off a real human being are like comparing apples and oranges. Having said that, I am reminded of the powerful characters that were killed off in Kitchen House by K. Grissom.....Hoping I win your blog contest. I am amazed at the talent of ALL authors and the diligence it takes to complete a novel.
(Susan Coster 4:35pm August 4, 2012)
I have not read any of your books in this series. I think it's wise for an author to find ways for their main character to remain memorable in each book in some way as you have, from being a loner, to having and experiencing friends, to having Uncle Bud to her rescue in time of need! It builds a stronger character as she evolves. Looking forward to reading these and would LOVE TO WIN a copy of... GOING TO THE BAD which has me hooked already! THANKS!
(Linda Luinstra 4:40pm August 4, 2012)
I don't like it when a favorite character dies but i realize that it has to happen sometimes. I look forward to reading your books. This series looks great!
(Bonnie Gault 4:45pm August 4, 2012)
Have not yet read any of your books, but I am ready to!!! Just
give me the chance.
(Ashley C 5:21pm August 4, 2012)
Not Uncle Bud!
(Donna Temple 5:41pm August 4, 2012)
I do not like to see a favorite character have to leave a book, but sometimes it just is. That also makes it nice to bring in a new cast of characters.
(Susan Atkins 6:56pm August 4, 2012)
i haven't read all of your books,but am look forward to. would be nice if a had a chance to win this book,thank you..
(Rosalina Rusli 7:15pm August 4, 2012)
I hate to see a favorite character die!
(Kathleen Bianchi 8:42pm August 4, 2012)
I haven't read one of your books. But thanks for the chance to win and read book.
(Linda Hall 9:49pm August 4, 2012)
I have to say that I haven't had the pleasure of reading your books. Even though you put out a spoiler, that isn't going to stop me!! Killing off the character is giving your main character a final chance to grow up. I suppose we all hit that crossroads in our life, and as painful as it is, it also gives you a chance to make your series grow up as well, so to speak. I don't mean it as a put down in any way. It would be a pleasure and an honor to read your books, knowing what you went through to write them. Thank you for the wonderful posting today, and good luck with the book. It's a great title, and the cover is quite different from others I've seen. It's actually up-to-date, or shall we say "grown up" as the main character as well??
(Peggy Roberson 9:55pm August 4, 2012)
Loosing those we love is part of life and it is often has a major impact on our
lives. Hate to say it, but he had to go some time. Using that passing at the
perfect time for your characters growth and development adds much to the
story. He will be missed, but even that is important to the story and her growth.
I hope GOING TO THE BAD does well for you.
(Patricia Barraclough 10:21pm August 4, 2012)
It's always sad to lose a beloved character, but sometimes it is necessary for the main character's growth.
(Mary C 11:30pm August 4, 2012)
I can understand why he had to be sacrificed, but I'm sure it was still like losing a good friend.
rsgrandinetti@yahoo(DOT)com
(Renee Grandinetti 11:57pm August 4, 2012)
I respect your ability to write about the loss of a valuable character. It couldn't have been easy but like in real life there are the memories that live on.

Good luck and happy writing!
(Tracie Travis 12:58pm August 5, 2012)
Love your books. This one sounds great. Hope to win a copy.
(Sharon Extine 1:10am August 5, 2012)
I get so emotional when I read that a certain celebrity has died so I could never kill off a beloved supporting character. I suppose it makes for a good story line and adds demention to the story. But, I could not do it.
(Kathleen Yohanna 2:45am August 5, 2012)
Would love to read your books!
(Dianne McVetty 3:00am August 5, 2012)
Thanks so much for a chance to win one of your books!!!
(Bonnie Capuano 3:24am August 5, 2012)
I love a mystery and would love to own one of your books! Thanks, this sounds like great fun!
(Karen Williams 3:57am August 5, 2012)
Supporting characters so ofter become main person, and they stay or go, just as we all do.
Blessings,
Marjorie
(Marjorie Carmony 5:51am August 5, 2012)
Sometimes the killing off of characters gives a story or series such a twist. I love that.
(Mary Preston 6:22am August 5, 2012)
To me it's always hard when a beloved character dies.
(Roxana Perez 9:02am August 5, 2012)
I always hate to see a recurring character killed off but like life I guess its
inevitable. But we can always re read our favorite books again. Looking
forward to this one!
(Nancy Gallagher 9:33am August 5, 2012)
It's always hard to see a favorite character killed off---but it does make the series more true to life.
(Sue Farrell 11:47am August 5, 2012)
The hardest part as a reader (especially of a series) is knowing that sometimes characters you love may not make it. The best example I can think of is the Game of Thrones books. I try not to get attached to characters there because he tends to have bloodbaths and kill off characters I'm not ready to let go.
(Pam Howell 12:06pm August 5, 2012)
Losing a favorite character might be good for the story but can leave a hole until that person is replaced.
(MaryEllen Hanneman 12:27pm August 5, 2012)
sounds like a great book, will read it!
(Debbi Shaw 12:29pm August 5, 2012)
Sounds great. However I hate when a character in a series I like is killed
off. Kind of ruins it sometimes.
(Vicki Hancock 12:46pm August 5, 2012)
I love your books and I always believed in following your heart wherever it leads you.
Linda Cacaci
LinCaca3@aol.com
(Linda Cacaci 1:01pm August 5, 2012)
Looking forward to read this book. I don't like it when characters I have come to know in the series are killed off (unless they deserve it, of course) but understand it is sometimes necessary.
(Pat Walker 1:04pm August 5, 2012)
I agree with Vicki that it can sometimes ruin a series, if the wrong character is killed off. I think it also depends on whether a new character is introduced straight away to replace them and how well they are received.
(Michelle Donaldson 1:34pm August 5, 2012)
I don't like to read about the death of a favorite character. It's like losing a friend.
(Anna Speed 1:41pm August 5, 2012)
I have not read your books, but they sound like something I would enjoy very much.
(Anne Pichette 2:06pm August 5, 2012)
Enjoyed your blog. Book sounds like a great read/
(Sheila True 2:11pm August 5, 2012)
sometimes people have to go in a story to make a point. It is very sad. Shocking when reading it though.
(Kathleen Bianchi 2:21pm August 5, 2012)
Nora,
It's sad to have to sacrifice and lose a valued, beloved character but sometimes necessary for the main character's growth, even though it's a difficult decision to let go (I'm sure). Enjoyed your blog and looking forward to another great book to read!
(Rich Cook 3:46pm August 5, 2012)
very good post; always sad when a good character dies but interesting to know how it effects the writer. thanks for the draw.
(Barbara Studer 3:54pm August 5, 2012)
I have an Uncle Bud, age 92, in real life, and he's not long for this world. Just sayin'. ;-) Anyway, I hate when a good, main character dies, but in the end, the author knows when it's time.
(Connie Williamson 4:25pm August 5, 2012)
LOVE YOUR BOOKS. I CAN'T STOP READING THEM THEY ARE SO GOOD.
KEEP WRITING THOSE MARVELOUS BOOKS. I CAN'T WAIT FOR THE NEXT
BOOK TO COME OUT.
(Shelly Caggiano 5:43pm August 5, 2012)
Can't wait to read the latest. Thanks for the chance.
(Mary Hay 5:46pm August 5, 2012)
Deaths of supporting characters are memorable to me
because it's usually unexpected.
(Jan D 6:05pm August 5, 2012)
I cried buckets when the mentor of the main character is killed off. As you said, sometimes,when a close friend/mentor of the main character is killed off, the main character shows more strength and gain wisdom from it.
(Kai Wong 6:16pm August 5, 2012)
This book sounds great - wicked sense of humor - that's enough to sell me on the book!!
Thanks for the giveaway!
(Joanne Schultz 6:22pm August 5, 2012)
The description of your book sounds great. I would love to win a copy But if I'm
not the lucky winner, I plan to get the book to read because it has me intrigued.
Best of luck with it - and all you do.
(Nancy Reynolds 7:03pm August 5, 2012)
Great post and I'm sorry for your loss! I'm sure more great characters are right around the corner for you.
(Debbie Walker-Lass 8:13pm August 5, 2012)
Always hate to see a favorite character die but know it is sometimes necessary to continue the storyline. Thanks for the contest!
(Teresa Ward 11:08pm August 5, 2012)
I hate to see a good character killed/died off, especially in a longer running series. And killing off Ramses?? That would be a true travesty. I couldn't bear the thought!

But yes, sometimes we need to lose someone even in a book. After all, we do lose beloved people in reality and still keep living.
(Sigrun Schulz 1:15am August 6, 2012)
I always hate losing someone I like, even if it is "only" a
book person. My hubby can't get over it when I cry over a
person that he does not see as real.
(Vanessa Primer 8:56am August 6, 2012)
Sounds like a great book.
(Shirley Nienkark 2:49pm August 6, 2012)
Registered users may leave comments.
Log in or register now!