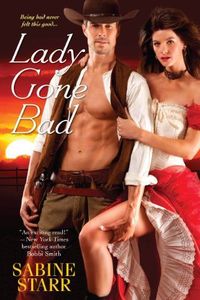 Purchase
Being bad never felt this good . . .
Gone Bad #1
Kensington Brava
September 2012
On Sale: September 1, 2012
Featuring: Deputy U.S. Marshal Rafe Morgan; Lady Gone Bad
304 pages
ISBN: 0758266006
EAN: 9780758266002
Kindle: B007T9WVBQ
Trade Size / e-Book
Add to Wish List

A WOMAN'S SECRETS
The saloon singer known as Lady Gone Bad is the most drop-dead gorgeous outlaw the West has ever seen. Lady has never met a cowboy she couldn't entice, or a lawman she couldn't outrun. But when Lady tangles with a sexy U.S. Marshal, she's tempted to stick around long enough to watch him lay down the law . . . in her bed.
A MAN'S DESIRES
U.S. Marshal Rafe Morgan wants to lock up Lady Gone Bad for good . . . and he won't let his attraction to her slow him down. But when his attempt to bring Lady to justice goes awry, Rafe is nearly hanged . . . and by dawn, his face is plastered next to hers on every ʺWantedʺ poster in Texas.
A PASSION UNLEASHED
Now on the run together, Rafe and Lady find themselves in very close quarters . . . and even more compromising positions. As Lady surrenders to Rafe's touch, she slowly begins to reveal all her secrets, including her real name. Maybe Lady Gone Bad isn't beyond redemption after all. Either way, Rafe is in for one wild ride . . .
Videos
Gone Bad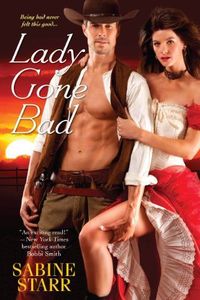 Lady Gone Bad
#1.0
Amazon.com | BN.com | | |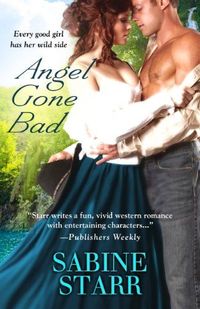 Angel Gone Bad
#2.0
Amazon.com | BN.com | | |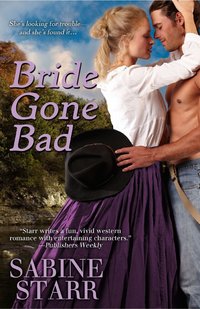 Bride Gone Bad
#3.0
Kindle | BN.com | | |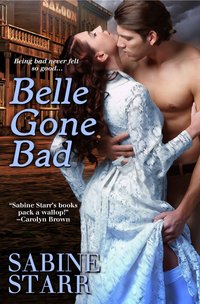 Belle Gone Bad
#4.0
Kindle | BN.com | | |
Comments
21 comments posted.
Re: Lady Gone Bad

No. I couldn't handle the little woman mentality or the hot
dresses. ;-)
(Karin Anderson 9:50am May 19, 2014)
I could not handle living in the old west, Im too spoiled on my "creature comforts"!
(Julie Parrish 12:05pm May 19, 2014)
No thank you! I enjoy reading books about that period of time but prefer the present.
(Anna Speed 12:22pm May 19, 2014)
I am not sure I would be able to survive that time period.
Yes it was exciting in its own way, but I have grown
accustomed to the conveniences of today. If I was asked
about another time period I would have to say the same
thing. Thank you but ONLY if I can have my running water and
electricity and etc. LOL
(Tina Ullrich 2:44pm May 19, 2014)
No, I don't think I could survive in another time period with my health problems. Also, I don't like the thought of women just being chattel.
(Cathy Phillips 8:34pm May 19, 2014)
I would like to see what it was like, but honestly do not know if I could have lived that way...
(Colleen Conklin 9:31pm May 19, 2014)
Only in books! I'd like to visit, but I know I'd be a
seriously rebellious woman if I were stuck in that time. :-)
(Glenda Martillotti 1:03am May 20, 2014)
no i wouldnt
(Denise Smith 7:14am May 20, 2014)
yes I think it was a more simpler time!
(Ron Frampton 7:50am May 20, 2014)
The old west would be fun to visit but not to live in.
(Pam Howell 10:24am May 20, 2014)
I am to use to technology to survive in the old west. If I didn't know any better than yes bring it on!
(Denise Austin 2:25pm May 20, 2014)
I think I would've liked it. I loved roughing it and traipsing around the deserts and mountains as a kid. My great grandparents settled parts of Arizona and I loved hearing their stories.

I love reading your books - you bring the old west alive.
(Kathleen Baldwin 3:12pm May 20, 2014)
I love this series! I've now read them all and enjoyed each one. What's next for Sabine? When is your next series coming out?
(Sylvia McDaniel 3:16pm May 20, 2014)
Bad guys chasing good guys?? Wow! That's about all you really need to know!
(Lisa Hutson 3:25pm May 20, 2014)
What great comments! Yep, there's a lot to be said for electricity and running water. Plus, those side-saddles had to be torture, although I always give good excuses for my heroines to ride a regular saddle. On the other hand, like Ron, Kathleen and Lisa, there was the amazing freedom and wide open spaces, even for women, during that time. Glenda, you'd join the ranks of all the seriously rebellious ladies who went West to seek their fortunes.
(Sabine Starr 4:08pm May 20, 2014)
Sylvia, I'm so happy you're enjoying my Gone Bad Series. I love your novels, too. I'm looking forward to your upcoming bounty hunters series. "Darlings & Desperados" is my next Old West series set in Texas.
(Sabine Starr 4:16pm May 20, 2014)

(Sabine Starr 4:36pm May 20, 2014)
Kathleen, thanks for reading my books. I love your novels, too. You peel back the ages with your light-hearted, heart-warming Regency Romances.
(Sabine Starr 4:39pm May 20, 2014)
I love going there in your wonderful books,but I'm too much of
a creature comfort and internet gal!
(Michele Thompson 9:57pm May 20, 2014)
I wouldn't mind the dresses, but hauling water, chopping
wood, lack of medical care? I like today's like much
better. I remember visiting my grandma in the hills of NC
and helping her to churn butter, cook on a wood burning
stove, trying to bathe in a little tin tub, believe me, the
modern conveniences cannot be trivialized!
(Marcia Berbeza 11:13pm May 20, 2014)
No, I would not like to live in the old west. I really love my air-conditioning and allergy medicine.
(Laura Gullickson 11:53pm May 20, 2014)
Registered users may leave comments.
Log in or register now!