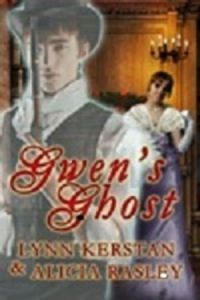 Purchase
Midsummer Books
March 2012
On Sale: May 1, 2012
Featuring: Valerian Caine; Sevaric
ISBN: 0014443546
EAN: 2940014443548
Kindle: B007ZV0VWY
e-Book (reprint)
Add to Wish List

Romance Historical | Romance Paranormal
Eternity is a bloody bore for Valerian Caine. A swashbuckling, amoral 18th Century rake, he was cut down in a duel at age 27 by a ricocheting bullet fired by a cuckolded husband. Now stewing resentfully in a bureaucratic afterlife, he leaps at the chance to regain his human form and return to his previous existence.
But there's a catch. He'll be transported to the England of a hundred years later, where he'll have one month to end the family feud launched by that fatal duel and ensure the happiness of the Caine and Sevaric descendants. If he succeeds, he'll be transported back to his former life and the bullet will miss him. But standing between him and his goal is the obstinately unhappy and ascerbic Gwen Sevaric—and his surprising desire to be forever the one who makes her smile.
Comments
36 comments posted.
Re: Gwen's Ghost

Grear job working together. I really like the paragraph where you discuss what underlies the relationship between Gwen and the ghost. It made me more interested in reading the book.
(Pam Howell 11:06am July 12, 2012)
Teamwork is a wonderful thing. The book sounds pretty good, too! Thanks for viiting today.
(G S Moch 11:29am July 12, 2012)
What fun you must have had coming to an agreement on characters and happenings.
Blessings,
Marjorie
(Marjorie Carmony 11:39am July 12, 2012)
Sounds like a real challenge to write a book together when you
are so far apart. Congrats on the success with it. I'd love
to win and get a chance to read these books.
(Mary Hay 11:45am July 12, 2012)
It sounds like the two of you worked really well together! I love that the process involved a lot of humor!
(Marguerite Guinn 12:09pm July 12, 2012)
I really like ghost stories! I watch Celebrity Ghost Stories on Bio Channel ALL the time!
(Sandy Fielder 12:14pm July 12, 2012)
GWEN'S GHOST is one of my favorite books! I enjoyed the insight into the
working collaboration that helped creat it.
(Cathy Maxwell 12:48pm July 12, 2012)
i will def read this book
(Debbi Shaw 12:57pm July 12, 2012)
I would love to win a paperback copy of both books...'The Golden Leopard'...by writer Lynn Kerstan...and 'Gwen's Ghost' by writers Alicia Rasley & Lynn Kerstan...both books sound very intriguing
(Lnda McFarland 1:19pm July 12, 2012)
i've never read any of your books... but would be grateful if im one of the lucky to win this and read your book...
(Rosalina Rusli 1:23pm July 12, 2012)
Both books sound great. I think team work can only enhance a story with each author contributing to the dynamics with their writing skills.
Good luck and happy writing!
(Tracie Travis 1:25pm July 12, 2012)
It was amazing how well you two worked together so far apart! No e-mails, unbeliveable. I am so glad the book turned out so well. I really look forward to reading this one.
(Kathleen Bianchi 1:32pm July 12, 2012)
Both books sound interesting. Writing together sounds challenging, but the two of you seem to know the secret of doing it successfully.
(Anna Speed 1:35pm July 12, 2012)
What a wonderful idea to decide to write together. Great teamwork and the books sound wonderful; hope I win
(Shirley Younger 2:24pm July 12, 2012)
I love when more than one author is able to blend their ideas together to create something... sounds terrific!
(Colleen Conklin 2:50pm July 12, 2012)
I can't imagine working together that closely, yet that far apart.
(Sue Farrell 4:15pm July 12, 2012)
Congratulations on the ego-suppression!
(Lisa Elwood 4:47pm July 12, 2012)
Enjoyed your blog very much, looking forward to reading your books
(Sheila True 4:56pm July 12, 2012)
It's great that you two were able to work together so well. The books sound really great and combine two of my favorite genre's.
(Janie McGaugh 5:06pm July 12, 2012)
These books are books I would enjoy reading, I hope I win:)
(Shelby Snider 5:16pm July 12, 2012)
Both of these sound like great reads. :)
(Amber Hall 5:23pm July 12, 2012)
HI I JUST LOVE YOUR BOOKS THEY ARE GREAT
(Shelly Caggiano 5:40pm July 12, 2012)
It's wonderful that you both were able to work far apart from each other and produce a successful book together...HOW AMAZING! I'd love to read both of these!
(Linda Luinstra 6:08pm July 12, 2012)
I think it is awesome that you could work together and create something wonderful together. I can't wait to enjoy the "baby" that was born.
(Patti Paonessa 6:43pm July 12, 2012)
It sounds like you two figured out the way to write a duet anthology without sweating all the tiny details. Having an overall arc and keeping each chapter in one POV or voice seems to help a lot. I bet it was intriguing what you came up with to finish the book.
(Alyson Widen 6:46pm July 12, 2012)
They both sound like great books.
(Rita Wray 7:48pm July 12, 2012)
Because the collaboration got to be such a complicated effort at times, I hope that my response doesn't get to be compicated as well!! :-) It must have been an amazing experience to write a book with a co-writer, but you must have felt like sisters in a way, since there had to be some closeness there, and you obviously had to think alike at times. The books sound wonderful, and I can't wait to get my hands on them and read them!! I also love the cover that is being shown for Gwen's Ghost. The artist did your book proud!!! Congratulations to you both for a job well done!!
(Peggy Roberson 8:10pm July 12, 2012)
It's very interesting to learn about the thought process. The books look amazing.
(Mary Preston 9:48pm July 12, 2012)
What lovely picture of a leopard! Heck with the ghosts I'm afraid, I want that leopard!
(Clare O'Beara 7:19am July 13, 2012)
Sounds like a good book there and interesting. would like to read this one.
(Diane Castiglione 10:08am July 13, 2012)
I am extremely impressed with how you were able to manage
distance! Definitely quite a challenge, and you both pulled together
and wrote a book as if it was no big deal at all =) A job well done.
(Samantha King 12:44pm July 13, 2012)
Together you guys created a wonderful book--it's still one of my favorites!
(April Kihlstrom 1:49pm July 14, 2012)
What an interesting post! I love a good ghost story,
especially it's a romance. I've only coordinated with other
authors on one project--a novella collection of 3 stories
happening simultaneously, each told from a different point
of view at a college reunion. I learned so much, and it
turned out beautifully. (If I do say so!)
(Kathleen Eagle 4:18pm July 14, 2012)
I am already a fan of Lynn, having read The Golden Leopard years ago, so I am intrigued by the idea of a collaboration on this most interesting idea. Sounds like one I would enjoy on different levels.
(Dolores Feagin 8:09pm July 14, 2012)
I remember when you two were doing this, back in the old GEnie days! And I remember how loudly I cheered when it won the RITA award. Thanks so much for the trip down Memory Lane, Lynn, and for a reason to reread this gem!
(Brenda Hiatt 4:09pm July 16, 2012)
Hi- I just read the list of winners for june and I won a copy of Gwens Ghost ! Thank you. Is there something I need to do to get my book, if so just let me know.
(Susan Atkins 2:41am July 31, 2012)
Registered users may leave comments.
Log in or register now!