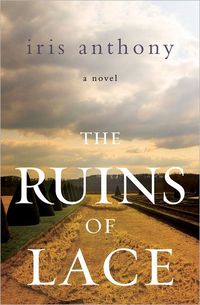 Purchase
Sourcebooks Landmark
October 2012
On Sale: October 16, 2012
Featuring: Katharina; Lisette
336 pages
ISBN: 1402268033
EAN: 9781402268038
Kindle: B007ZI00HS
Paperback / e-Book
Add to Wish List

Lace is a thing like hope.
It is beauty; it is grace.
It was never meant to destroy so many lives.
The mad passion for forbidden lace has infiltrated France, pulling soldier and courtier into its web. For those who want the best, Flemish lace is the only choice, an exquisite perfection of thread and air. For those who want something they don't have, Flemish lace can buy almost anything-or anyone.
For Lisette, lace begins her downfall, and the only way to atone for her sins is to outwit the noble who know demands an impossible length of it. To fail means certain destruction. But for Katharina, lace is her salvation. It is who she is; it is what she does. If she cannot make this stunning tempest of threads, a dreaded fate awaits.
A taut, mesmerizing story, The Ruins of Lace explores the intricate tangle of fleeting beauty, mad obsession, and ephemeral hope.
Comments
14 comments posted.
Looks like a great book!
(Vicki Hancock 1:33am October 5, 2012)
How were the dogs used? Pack dogs? Why not mules? Where was the activity conducted - one country to another? Seems like a strange and cruel trade. But smugglers today use people for drug carrying and never care about the people who get caught or killed.
(Clare O'Beara 5:24am October 5, 2012)
Hi Clare -- the dogs were used to carry lace from Flanders to France. The lace was so light that a traditional pack animal like a mule wasn't needed and dogs had the advantage of being more nimble and swift. They could also be trained to avoid people like border guards and bounty hunters. It was most definitely a strange cruel trade!
(Iris Anthony 7:00am October 5, 2012)
Interesting post
(Sandy Giden 11:13am October 5, 2012)
What a fascinating and lovely post today. It was great to
learn about your writing.
(Sharon Berger 3:29pm October 5, 2012)
I was wondering about the dogs, too. I was envisioning them having to swallow bundles of lace, and then, once over the border, being killed so that the bundles could be retrieved. Very glad to be proven wrong!!

It sounds like a fascinating book. I'm glad you were finally able to write it!

Later,

Lynn
(Lynn Rettig 3:58pm October 5, 2012)
Anything used for smuggling is quite mysterious and interesting. The dog angle would be a twist since there are dog sniffers for drugs and that is ironic.
(Alyson Widen 8:33pm October 5, 2012)
I just can't understand why would anyone abuse and torture dogs and other animals. They are our companions.

Your book peek my curiousity. I need to know what the story is about.
(Kai Wong 8:33pm October 5, 2012)
This is a sad way to keep History alive, but I'm glad that you put pen to paper and told the story. It's going to make for some interesting reading, and there are plenty of people out there, myself included, that want to know what happened. Thank you for taking the time to do the research. You have a beautiful cover to go with the book, too!! Congratulations!!
(Peggy Roberson 8:41pm October 5, 2012)
sounds like an interesting book. I have heard from other authors about books they wrote that they never did anything with. I always think those stories make the most interesting ones.
(Larena Hubble 1:04am October 6, 2012)
Sounds like a great book! I'm glad that you were able to figure out how to write it and then get it published!
(Christine Mead 9:25am October 6, 2012)
It does sound like a hard but fascinating concept. I had heard of the lace
size thing, but not the smuggling. But smuggling does make
sense...whenever something is banned it seems that it gets smuggled! :)
(Penny Mettert 1:39pm October 6, 2012)
Very interesting story with the history behind lace. So glad you were finally able to get your book finished to get it published for us to read. I'm sure a lot of research went into this, and it's fascinating to be able to read such a well thought out story you worked diligently on with all the rewrites and revisions. I'm really looking forward to reading it!
(Linda Luinstra 3:20pm October 6, 2012)
Wish I could put words together like you!
(P Noda 5:17pm October 7, 2012)
Registered users may leave comments.
Log in or register now!